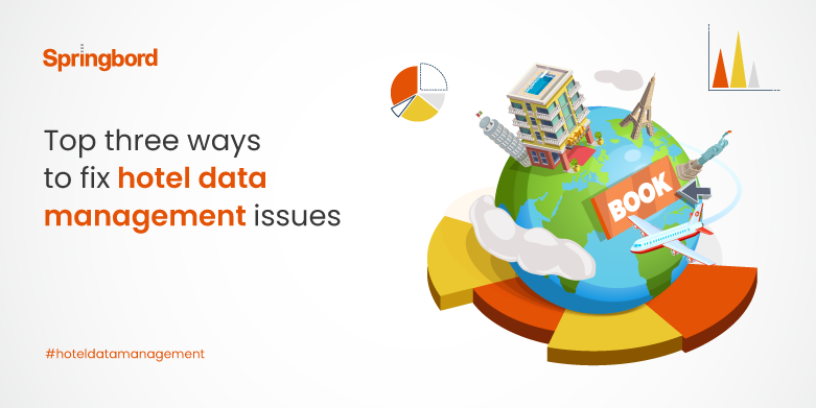 Read time

2

min
An online travel agency or online travel aggregator (OTA) is a familiar term within the hotel and hospitality industry. A segment that has rapidly gained popularity among travelers around the world owing to its convenience of finding and booking hotels.
These online platforms offer great potential for hotels to promote their property and gain greater visibility and extend reach. While that may be the case, managing data on these platforms comes with its own set of challenges and if not handled well can derail the entire purpose of listing a hotel on the OTA platform. Here are three fundamental steps you can take to address the common hotel data management issues.
Handling booking related issues
Managing hotel data on an OTA platform is a complex and ongoing task. It demands dedicated focus and resources because of the time-consuming and laborious nature of the task. You need to have a skilled data management team and the right tools to continually update room information, deals, pricing, and others while ensuring this information is updated correctly and accurately.
Improving user experience
It is aggressively competitive on an OTA platform that is all vying for the users/travelers' attention and business. In such a landscape, manual and siloed processes to handle hotel data will not yield desirable results. Users need accurate and comprehensive information along with high-quality visuals to make an informed decision. Having the right tools and ability to regularly update hotel information, description and images can help gain a competitive advantage. Having professionals write descriptions and managing data can help improve search engine optimization (SEO), thereby enhancing discoverability, visibility, and in turn conversion.
Using competitive pricing intelligence
Everyone is looking for a deal in a world with a myriad of choices. If you fail to price your property competitively or offer seasonal deals you may lose your market share to your competitor. Use competitive pricing analysis to gain pricing insight and visibility into trends. This would enable you to better respond to market demands. Competitive pricing is a powerful strategy that can help stay ahead of the curve.
You can choose to outsource hotel data management to a professional service provider who brings data management capabilities and resources, that can help address challenges and economize the efforts.
At Springbord we have been helping hoteliers and online travel aggregators realize the potential of data to their advantage. Combining industry best practices and talented resources we offer custom services designed to fit your data management requirements and budget. We are known for our top-of-the-line data privacy, integrity, and protection practices. Talk to us today to know more about how we can help you make your data work for you, maximize revenue, and offer distinct and differentiated experience.