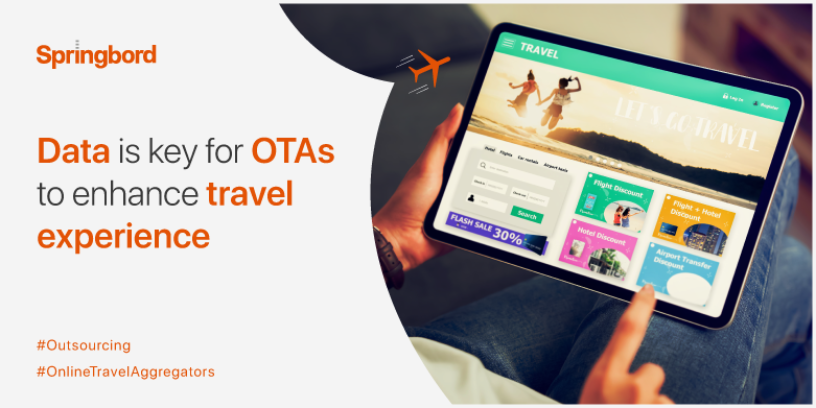 Read time

2

min
The rise of online travel aggregators (OTA) has not only disrupted the travel business but also paved a way for a superior and better travel experience. While OTAs capture almost 40% of the market share, it also means the market is super saturated making it aggressively competitive.
Rapidly emerging new OTAs and intensifying competition are making it extremely difficult for industry players to gain and retain their market share who are continually struggling to sustain profitability.
OTAs' are online marketplaces, and their core business depends on the fact that users should be able to search, research travel options, and make necessary bookings seamlessly. This is a fundamental requirement, which in turn means as OTA if you wish to stay ahead of the competition, your data aggregation capability has to be robust.
The continually evolving business of travel
With rapid digital advancements, every business is evolving, this is especially true for any online business. And as travel booking moves completely onto the digital platform, the only way to stand out would be to offer up-to-date, comprehensive information that can be easily searched and booked. Information aggregation is at the heart of creating a create a travel experience for customers. It is the very backbone or linchpin of every OTA business. The only way to keep up with the pace of the market and consumer demand and draw a wider audience is for OTAs need to continually invest in managing data collection and aggregation.
The need for maximizing revenue
While this is a no-brainer, it is worth emphasizing the fact that data aggregation is at the very core of an OTA business. It not only helps stand out in the crowd, creates competitive differentiation, but also builds a brand reputation. This means the ability to drive higher revenue solely depends on the OTAs' capability to offer customized extensive and unique information about travel products and services and deliver it to the customer at the right time on the preferred channel.
The growing need for responsiveness
Varied travel demands, price sensitivity, new business models, and increasingly demanding and discerning travelers would only prefer to use platforms that can keep pace and cater to their demands. There is a burgeoning need for OTAs to be responsive if they wish to stay in the game. With travelers demanding more information and greater value for money, OTAs need to offer extensive travel-related information to help travelers choose and book travel that fits their budget, plan, and preference.
At Springbord we bring extensive data management experience. Our travel data aggregation services are designed to help OTAs attract more travelers, offer customized deals, and improve engagement. We guarantee accurate, enriched, and updated data that enables you to deliver an outstanding customer experience. To know more about our Data aggregation services, connect with us today!