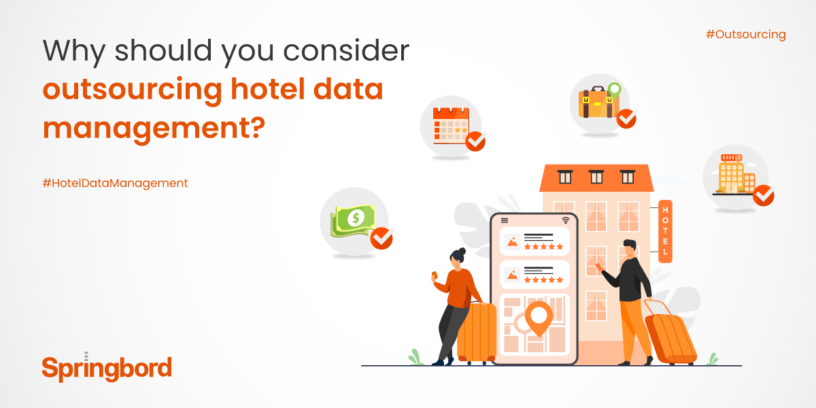 Read time

2

min
Millions of people travel around the globe today. Whether it is for leisure or business traveling is constantly on the rise. Evolving traveling trends and demands combined with rapid digitization have led to the rise of online travel aggregators (OTAs). It is estimated that approximately 40% of global travel market share is held by OTAs.
Considering the rapid rise of OTAs, the online travel agency landscape has become aggressively competitive. OTAs as well as hotel listings across these platforms need to manage their data with a keen focus and accuracy across data capture, processing, and management processes to be able to increase visibility and maximize traffic.
The need for robust data management capability
From data capturing, updating, processing, cleaning, transforming to enriching each of these steps demand real time coordination, specialized skills, and advanced tools. With travelers becoming increasingly discerning, price sensitive, and demanding greater value for money, OTAs need to ensure they offer extensive information about hotel listings to meet these demands.
With each OTA and hotel vying to woo travelers by offering best deals and smarter experience, to have any degree of success you need to deliver comprehensive, exhaustive, and accurate hotel information. However, most hotels and OTAs lack data management capability, technical know-how and bandwidth to handle such time-consuming and ever scaling task. Given the volume and complexity of hotel data management without the ability to dedicate resources and time it would be increasingly challenging to yield desired results, drive better business outcomes, and maximize ROI.
Outsourcing hotel data management services
Considering the speed at which hotel data changes including events, deals, and other information you should be able to update the same information almost on real time to improve its effectiveness. In a competitive market, offering poorly put together itineraries for both leisure and corporate travels would drive your travelers to the competitors' site or property. The need of the hour is comprehensive data that is up-to-date and showcases current hotel rates, policies, transportation facilities, restaurant information, and other recreational facilities and activities. Having access to right and comprehensive data would not just help you offer right information to your visitors but also plan great itineraries/trips for your travelers, improving brand affinity and loyalty.
By outsourcing hotel data management services, you can realize the power of data in maximizing traffic, conversion, and site visits and achieving larger business objectives. Specialized service providers bring in comprehensive capabilities that help you streamline and improve efficacy of each of the process along the way, boosting end-to-end hotel data management. From increasing visibility, attracting the right visitors, enabling informed decision making, to increasing hotel reservations, efficient hotel data management and enrichment can help you drive profitable outcomes.
At Springbord we have been helping hoteliers and online travel aggregators realize the potential of data to their competitive advantage. Talk to us today to know more about how we can help you make your data work for you, maximize revenue, create branding, and offer distinct and differentiated experience.