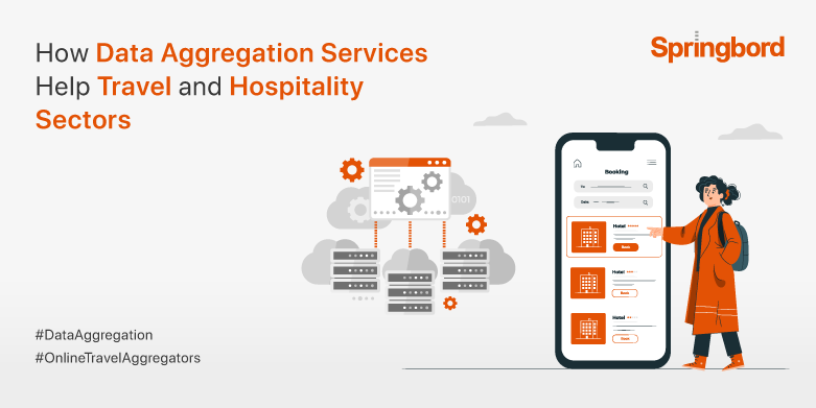 Read time

3

min
The travel and hospitality industries are gaining much popularity among people. This is due to the advancements in these sectors and the offers they provide. To attract more and more customers, these industries use data aggregation services that will transform the customers' travel experience. To better understand how data aggregation services influence the travel and hospitality sectors, let us first look at what data aggregation means.
Data aggregation
Data aggregation is the process of collecting information from the database and presenting it in summary form that will help in business operations and achieving desired goals. Data aggregation services are used widely in the travel and hospitality industries for price and promotion modeling, enterprise decision-making, and concise predictive analytics. Make informed decisions by knowing your customers' patterns and trends when they book online travel tickets and hotel rooms. With the obtained insights and analytics, you can take strategic initiatives and make informed decisions that will usher in driving tourism, improving your business performance, and boosting revenue.
Data aggregators can be employed to customize web and social media content to target audience, design marketing campaigns, execute promotions, refining advertising, launch email campaigns to targeted markets, and give heads up to hotel members about upcoming need periods. To get the maximum benefit out of travel data aggregation, you need to constantly change your operational processes, corporate cultures, and decision-making styles and upgrade your employees' skill set. When hiring people, see to it that they are highly trained and have experience in business analytics, data management, and problem-solving.
We hope you are now aware of what data aggregation actually means. Let us discuss its benefits below:
Enables you to make better decisions

Server Error

503

Service Temporarily Unavailable

The server is temporarily unable to service your request due to maintenance downtime or capacity problems. Please try again later.

---

That's what you can do