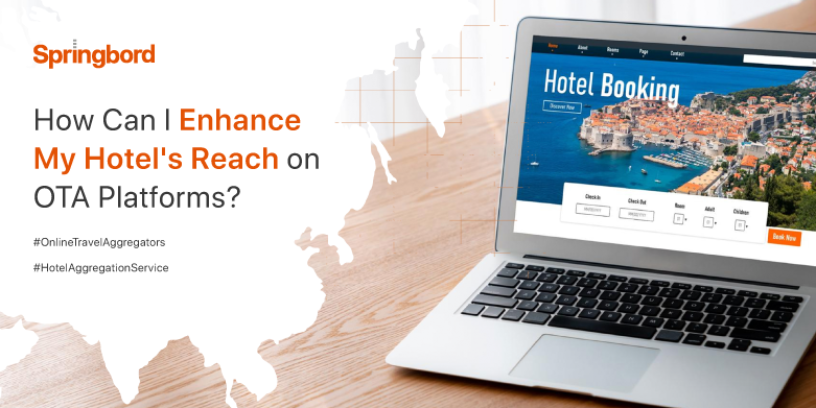 Read time

3

min
Let's take a close look at it:
Online travel agency (OTA) rankings evaluate lodging establishments by their level of detail and professionalism in their promotional materials. Online travel agencies use these ratings to rank accommodations based on criteria such as:
Photographs and explanatory text
Reviews
Commission
Conversion
Superiority in terms of content quality
In addition, many OTAs provide hoteliers with a means to view their property's ranking learn from it, and make improvements.
Any successful hotel will constantly evaluate both its physical and digital operations with an eye toward enhancement. Boosting position in OTA directories is a subset goal.
Having the right number of rooms at the right prices, but selling the right rooms to guests is the top priority.
There is one constant when working to improve your property's position in the OTA rankings, and that is the CONVERSION RATE. For one thing, booking platforms' best interest is to have their customers find what they're looking for as quickly as possible. As a result, qualities like these are consistently rewarded with elevated standings.
Moving forward, let's examine ways to improve your OTA ranking:
The various OTAs out there today all use slightly different booking systems. Therefore, it is critical that you not just sign up on any OTA, but rather choose the ones that are RIGHT for your property.
Selecting an OTA requires thinking about things like your ideal client base, the type of property you have, the commission structure, the OTA's demographic reach, and so on.
The number of rooms, star rating, room types, cancellation policy, and check-in/check-out times should all be updated consistently across all OTAs.
Maintaining an accurate listing with current information.
Online travel agencies do not show customers listings that are missing information. Additionally, the OTA will punish hotels with outdated content, poor-quality photographs, and unique room types. Guests may become frustrated because of this and their overall experience may suffer as a result.
More bookings and higher placement on OTAs are the direct results of more up-to-date listings.
Share high-definition media
Social proof in the form of photos and videos is a great way to encourage guests to come to your event.
Visitors can get a comprehensive feel for your hotel with the help of high-quality photos posted on OTAs. Moreover, it will paint a vivid picture of your hotel's setting and location.
In addition, providing high-quality videos will encourage more immediate bookings by letting guests see more of your hotel in action.
Obtain feedback and respond to it.
Not responding to a negative review or responding too slowly to a positive review can be taken as a sign of poor service. So, whether the review is positive or negative, always respond promptly.
Reviews from anywhere on the web can be gathered, followed, replied to, and analysed in one convenient place.
The equality of interest rates is also crucial. Online travel agencies (OTAs) figure this out by comparing the room rates listed on your hotel's profile on their site to those listed on other OTAs and those of competing hotels.
However, your OTA rankings will suffer if you don't maintain consistent pricing across all OTAs. As a result of failing to comply, you may receive warnings, a ban notice, or even have your listing removed from OTAs permanently.
Lower the percentage of cancellations.
Before making yourself available across multiple platforms, make sure you have a proper and foolproof cancellation policy in place. Avoid making rash decisions when crafting cancellation policies.
You should avoid being either too lenient or too strict. You can then use this information to fine-tune your policies, increase the number of OTA confirmed bookings, and decrease the number of cancellations.
Take part in OTA promotions
OTAs promote hotels using discounts, special offers, loyalty, and rewards programs. Participating in these will boost your bookings and position on OTAs.
If you want to make your property stand out from the competition and increase the number of extra services and amenities you sell, offering discounts and freebies on OTAs is a great way to do so.
Conclusion:
To increase traffic and conversions, OTA must manage its data effectively. They can get full-service assistance from hotel listing management services providers. Are you looking for the top company to meet your needs? Then stop right here! Springbord has been serving the hospitality industry for quite some time now, and its team is made up of creative thinkers who are always on the lookout for new ways to improve your company. Learn more about our hotel aggregation service by contacting us today.