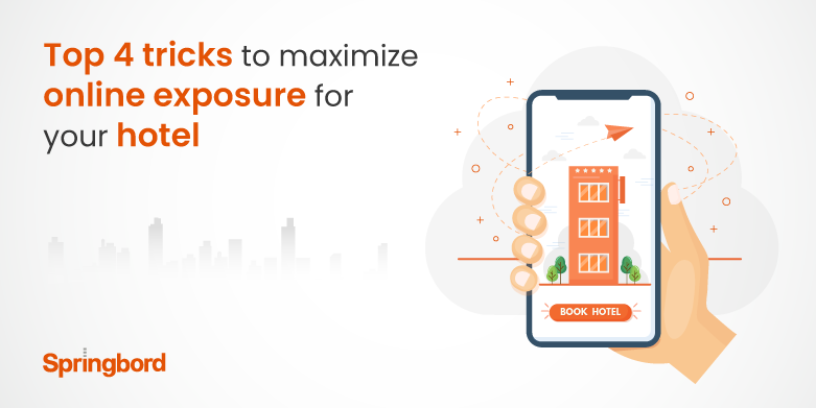 Read time

2

min
Planning a trip, whether it is for business or leisure, starts with an internet search. From deciding on a location, places to visit, eat and stay, every decision is based on the information gathered online. So, if a hotel is looking to attract more guests, it has to start by maximizing its visibility and exposure online.
Especially during an unprecedented time when the hotel industry is reeling from a damaging impact, marketers need to revisit their hotel marketing strategies and plan effective campaigns that can help boost online visibility. In this blog post, we are sharing the top four tips that can help improve hotel content marketing and prime it for SEO, maximizing exposure and in turn traffic.
#1 Optimizing the website for search engine
Whether it is a standalone hotel website or a travel aggregator's website, ensuring your site is optimized for search engines is the very first and fundamental step towards improving visibility and online traffic. By optimizing the site across on and off-page and adding extensive and detailed meta attributes – you not only help search engine algorithms find your hotel information but also users who can easily search and information as per their travel requirements.
#2 Improving and tagging hotel images
Images play a key role in any online search and decision-making. Therefore, it is increasingly becoming important to ensure you source, upload, and tag right and high-quality images that can help users get a clear view of the property and make better-informed decisions. You need to categorize and tag images correctly so as to optimize them for search engines making your hotel information recognizable and easily searchable.
#3 Analyzing data to predictive user behavior
Another key tactic is to analyze user behavior and search patterns and traffic to determine context, preferences that can help meaningfully define segmentation. But using data aggregation services you can access contextual and customer insights that can power contextual and competitive deals and offerings. It can also help improve search results by matching the attributes with frequently searched queries and deliver a better user experience.
#4 Creating unique and compelling content
While SEO tactics such as using the right keywords and integrating inbound and cross-links within your site can boost overall search rankings, it is equally important to pay attention to the quality of content. The way you describe, and present information is the reflection of your brand and users respond well to authoritative, compelling, and original content are written in an attractive and interesting manner. Add to this, reviews of your hotel are very important and play a major role in improving your brand image and traffic. Reviews also help improve SEO rankings.
These are but a few tips that can help you jump-start your efforts to improve your hotel's online visibility. Digital marketing and site optimization is an ongoing process that yields results when done correctly and consistently. Apart from what has been listed here, pricing the deals competitively also plays a key role in this aggressively competitive landscape. Therefore, competitive price analysis should be a regular part of online marketing strategies, so that you can effectively respond to competition and match and beat market pricing trends.
No matter where you are in your hotel online marketing efforts, we can help you take it up a notch and gain competitive advantage in no time. Talk to us today and we would be happy to discuss possible solutions and engagement options.