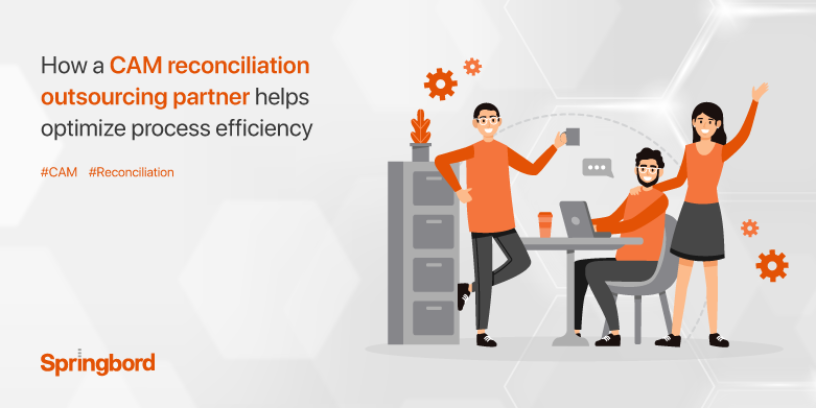 Read time

2

min
Common area maintenance (CAM) reconciliation is an annual process that forms an integral part of any commercial lease administration. It is critical for property managers, who are tasked with handling this task, to understand how the process progresses through the year and have clear visibility into the relevant data.
CAM reconciliation is a complex, time-consuming and tedious task, and if not done correctly can lead to significant losses. With property managers already swamped with conflicting priorities with tight deadlines, they are usually under immense pressure to get CAM reconciliation done on time. A factor that often leads to mistakes and errors, compounding the challenges further.
For this reason, outsourcing CAM reconciliation services have emerged to be a go-to strategy for many real estate owners and property management companies as it helps improve process efficiency at an optimized cost. Here is how a specialized CAM recon service provider can help you achieve your operational and business objectives.
Budgeting right at the start
A lot depends on this process and how it would unfold through the year. Therefore, getting the process right is as crucial as the year-end reconciliation. Estimates are based on this budget and billed monthly to tenants. By engaging a service provider, you can streamline the process right from the start. They bring years of experience and industry best practices that help create accurate and nuanced budgets.
Data management through the year
Most of the times CAM reconciliation becomes a herculean task because of poor data management, making it difficult to access relevant data with teams scouring for information. By outsourcing, you can rest assured that lease data will be managed centrally and efficiently throughout the year. Every recoverable operating expense that includes operational, maintenance, and repair costs is categorized and stored in a standardized format to make it easy to access at the year-end during reconciliation.
Reconciliation at the year-end
The final year process of reconciliation. While it is a simple task of reconciling actuals against the estimated amount paid over the year, the myriad of expenses regulated by varied lease terms and clauses, make the process quite complex. An outsourcing partner brings in not only dedicated focus, the right tools but also, domain knowledge and an in-depth understanding of every type of commercial lease contract and its terms. This helps correctly interpret the terms associated with recovering operating expenses and reconciling CAM charges accurately that benefits both the parties involved.
When done efficiently, CAM reconciliation is a great way to optimize recovery of operating expenses, reduces the risk of leaving any money on the table, as well overcharges tenants that could lead to conflicts/litigations later. It does not help maintain profitability but also a good working landlord-tenant relationship.
At Springbord we have been helping real estate companies easily and timely manage the CAM reconciliation process. We guarantee accuracy and help optimize the bottom line. To know more about our CAM reconciliation services, connect with us today!