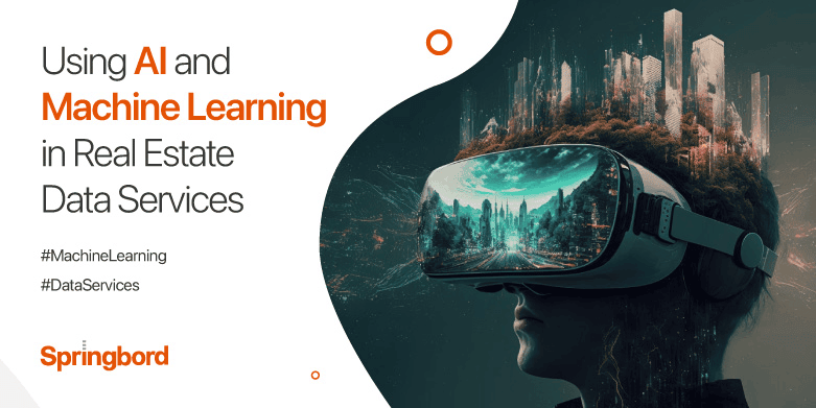 Read time

8

min
Integrating Machine learning in real estate has emerged as a transformational force.
Machine learning in real estate allows for analyzing and interpreting massive data sets, enabling industry experts to make data-driven decisions, provide better customer experiences, and obtain significant market insights.
---
This article examines the multidimensional influence of machine learning in real estate data services, emphasizing its role in transforming property valuation, client engagement, and market analysis.
Leveraging AI for Real Estate Data Analysis
The integration of AI into numerous real estate-related processes in recent years has caused a seismic upheaval in the sector. Data analysis is one of the most important uses of AI in the real estate industry.
Real estate professionals may streamline the decision-making process and gain invaluable insights by collecting, integrating, and analyzing massive amounts of data with AI.
Data collection and integration through AI-powered systems: The real estate industry's approach to data collection and integration has undergone a sea change due to AI-powered technologies. Historically, it took a lot of time and effort to compile meaningful data from many sources.
However, automation of this procedure has been made possible by AI technologies. Real estate listings, past sales records, demographic statistics, and market trends are just some information that AI can automatically compile with machine learning algorithms.
This helps real estate agents save time and guarantees they have the most recent and complete data.
AI also makes data integration from unstructured sources like photographs and text possible.
Insights about market mood and customer preferences can be gleaned from property descriptions, news articles, and social media posts using Natural Language Processing (NLP) algorithms.
Thanks to AI's ability to integrate disparate data sets, all parties involved in the real estate industry can see the whole picture and make educated decisions.
Predictive analytics for property valuation and market trends: In the past, appraisers relied on past sales and their own opinions when setting a property's value. However, predictive analytics powered by AI has altered the landscape of property appraisal.
A property's value can be predicted with high precision using an AI algorithm to analyze past sales data, the property's features, the neighborhood's qualities, and other criteria.
Financial institutions can use these forecasting models to evaluate property values for mortgage lending and risk assessment, in addition to helping sellers and purchasers establish fair market pricing.
In addition, AI can spot patterns and trends in the market that would otherwise be invisible to human eyes. Artificial intelligence systems can analyze massive volumes of market data to spot new developments and anticipate future changes in demand and pricing.
This foresight gives real estate agents and brokers an edge over the competition by allowing them to respond quickly to market changes.
Identifying investment opportunities and risk assessment using ML algorithms: Machine learning algorithms driven by artificial intelligence can accurately analyze large datasets and find promising investment opportunities.
Artificial intelligence algorithms can identify promising investment opportunities by considering various factors. These factors include, among others, geographical position, economic indicators, population growth, and infrastructure improvements.
By basing their selections on empirical evidence, investors can reduce the inherent uncertainty in their portfolios.
---
Additionally, AI helps with risk assessment by looking at past data and current market tendencies. Artificial intelligence can aid real estate professionals in assessing the risk associated with a property or market segment by finding trends linked with risk indicators, including delinquency rates, foreclosure rates, and economic downturns.
More resilient and long-lasting real estate investments result from this risk analysis empowering stakeholders to make educated decisions.
Enhancing Customer Experience Through AI
The real estate industry has undergone a profound transformation with the advent of artificial intelligence (AI). Improving the quality of the interaction between the company and the client is one of the most impressive uses of AI in the real estate industry.
Real estate agents may build closer relationships with clients and improve their experience using AI-driven solutions to deliver individualized care, rapid responses, and efficient operations.
---
Personalized property recommendations and virtual tours: The process of recommending real estate to potential purchasers have been revolutionized by AI-powered technologies.
Artificial intelligence algorithms can tailor real estate suggestions to each consumer by poring through mountains of data to identify buying tendencies, preferences, and search trends. Time is saved by both buyers and agents thanks to these recommendations' pinpoint accuracy.
Furthermore, virtual tours have become an indispensable tool in the real estate market, especially in the wakeafter19 pandemic. Buyers may get a feel for a property without leaving the comfort of their own home thanks to AI-enabled virtual tours.
Customers can get a better feel for the property's layout, design, and features with a virtual tour before deciding whether or not to visit in person. This improves the customer service that real estate brokers provide and increases their potential client base worldwide.
---
AI-driven chatbots for responsive customer support and queries: Chatbots powered by artificial intelligence have been a game-changer in the customer service sector of the real estate market. These smart chatbots can interact with clients in real time, answering their queries and addressing their concerns.
Artificially intelligent chatbots improve the user experience by interacting with customers more naturally than ever, thanks to their natural language processing (NLP) capabilities.
Also, unlike human employees, AI chatbots never take a break, even while the business is closed. Since customers can get help whenever they need it, which leads to faster response times and faster issue resolution, this accessibility increases customer happiness.
AI chatbots can help with more than just customer service; they can also be used to generate and qualify leads. Chatbots can collect crucial data and identify serious prospects by discussing with potential customers. This helps real estate brokers prioritize the leads that will impact their business the most.
---
Streamlining the buying and selling process with automation: Numerous mundane and time-consuming procedures populate the real estate purchasing and selling process. AI-powered automation solutions can expedite these procedures, drastically reducing manual labor while raising productivity.
For instance, AI-powered platforms can instantly pair prospective homebuyers with residences that meet their needs.
Artificial intelligence algorithms can streamline property selection by analyzing massive datasets and considering various characteristics, such as a buyer's desired location, price range, and amenities.
Regarding closing deals, AI can help real estate salespeople with lead management and follow-up. Personalized follow-up emails and updates can be sent to prospective buyers using automated lead-tracking systems.
The odds of making a sale increase and customer loyalty is maintained through this nurturing process.
AI and Machine Learning in Property Management
Property management is a multifaceted field that involves numerous tasks, challenges, and responsibilities. Artificial intelligence (AI) and machine learning (ML) have allowed property management firms to use cutting-edge technology to improve the quality of their services to landlords and tenants.
More efficient, data-driven, and cost-effective procedures result from using AI and ML in property management.
Optimizing rental prices and predicting tenant behavior: Establishing fair rental rates is essential to managing rental properties. Property managers used to rely on market data and their own experience when setting rents, but this method was only sometimes efficient.
Artificial intelligence (AI) and machine learning (ML) algorithms have revolutionized this procedure by analyzing massive amounts of data, including rent history, property features, geography, market trends, and even external factors like economic indicators.
Companies that manage rental properties can use this information to set profitable and attractive tenant rents.
---
Predictive maintenance for property upkeep and cost reduction: Predictive maintenance enabled by AI has revolutionized an essential facet of property management: keeping buildings in good working order.
Conventional maintenance methods typically include periodic inspections or problem-solving only after they have occurred.
However, AI and ML algorithms make a predictive method possible by analyzing sensor data, maintenance records, and weather trends to foresee probable maintenance requirements.
Smart sensors in buildings may keep tabs on the HVAC, plumbing, and electrical systems. These sensors can monitor for irregularities or early warning signals of failure, letting building managers know about issues before they become catastrophic.
Property managers can save money by avoiding unexpected repairs and extending the life of their buildings' infrastructure and fixtures. Because of this, property management becomes more streamlined and pleasant for tenants.
---
Property management organizations routinely handle risk assessment and fraud detection for property management companies: Tenants' and property owners' financial and personal information. When it comes to improving data security and risk assessment, AI and ML play a pivotal role.
The property management firm and its clients can benefit from the ability of AI algorithms to recognize and analyze trends indicative of fraud or hostile activity.
Property managers can also benefit from AI-driven risk assessment tools when determining a tenant's financial stability. Artificial intelligence can help determine applicants' financial stability by analyzing their credit reports, income history, and other data.
---
This helps property managers make better selections when approving tenants, ultimately lowering the likelihood of tenants defaulting on their leases.
AI-Driven Market Analysis and Insights in Real Estate
Market analysis is a cornerstone of the real estate industry, driving critical decisions for investors, developers, and property professionals. The real estate market analysis field has been revolutionized by the development of artificial intelligence (AI) and its incorporation with machine learning (ML).
Improved data processing is just one benefit of AI-driven market analysis; this method also yields useful information about market tendencies, demand projections, investment prospects, and the potential for reducing risk.
---
Analyzing real estate market trends and forecasting future demand: Economic conditions, demography, government regulations, and even local developments can all impact the real estate market.
Market researchers may now easily sift through massive datasets, identifying relevant patterns and trends that conventional statistical models cannot capture.
Artificial intelligence algorithms can understand market dynamics by analyzing past sales data, property listings, demographic data, and economic factors.
This helps experts spot recurrent shifts in demand and supply and seasonal patterns. Real estate agents and brokers can use this data to look at market patterns and predict future demand, allowing them to take advantage of opportunities.
---
Identifying investment hotspots and potential growth areas: Market analysis powered by AI is particularly good at pinpointing promising new sectors to make investments.
A variety of characteristics, including population growth, job possibilities, infrastructure development, transit connectivity, and accessibility to services, can be assessed by AI algorithms by analyzing massive geographical data.
Using this information, financiers can zero in on neighborhoods with the best prospects for capital growth and rental income.
Artificial intelligence (AI) can also do comparison analysis, facilitating the simultaneous assessment and informed decision-making of numerous potential investment sites.
Artificial intelligence can aid investors in evaluating the relative merits of various investment opportunities to minimize risk and maximize return by considering aspects such as price-to-rent ratios, historical price appreciation, and local economic indicators.
---
Mitigating risks and making data-driven investment decisions: Artificial intelligence (AI) is essential in reducing the dangers of real estate investments.
To determine what elements are related to profitable and unprofitable investments, machine learning algorithms can analyze market data from the past. This paves the way for rational investment choices by allowing investors to draw lessons from history.
Artificial intelligence (AI) is useful in risk assessment since it can examine external and macroeconomic factors that may impact the real estate market.
AI can assess how factors like interest rate shifts, economic downturns, and geopolitical events affect investment performance and the value of properties. With this knowledge, investors can take preventative measures in their risk management.
---
To Sum Up
The integration of machine learning in real estate has demonstrated immense potential in revolutionizing the industry by offering valuable insights, streamlining processes, and enhancing customer experiences. Real estate companies may improve their performance by using AI to analyze data, create predictive models, and personalize customer interactions.
Businesses like Springbord, a leading worldwide information service provider, play a vital role when tailoring data collecting and processing solutions for industries like real estate.
---
Springbord's business process outsourcing services allow the real estate industry to leverage machine learning to increase innovation, efficiency, and success by leveraging cutting-edge Internet-based skills and resources.
Server Error
503
Service Temporarily Unavailable
The server is temporarily unable to service your request due to maintenance downtime or capacity problems. Please try again later.
---
That's what you can do