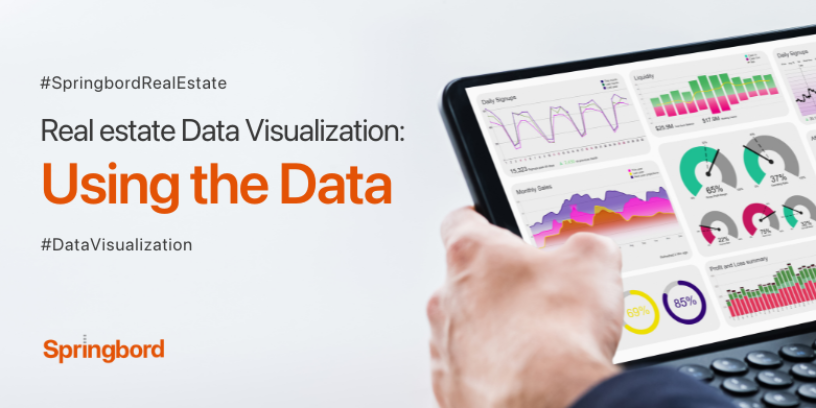 Read time

3

min
In today's world, data is everywhere, and the real estate industry is no exception. From transactional data to property information, the amount of data available can be overwhelming.
However, data is only as good as the insights it can provide, and that's where data visualization comes in.
---
Data visualization is the art of representing data in a visual format, such as charts, graphs, and maps, to help people understand and interpret the data.
In real estate, data visualization is becoming increasingly important for decision-making, as it allows investors, developers, and brokers to make sense of large amounts of data quickly and efficiently.
In this blog post, we will explore how real estate data visualization can help industry professionals make better decisions by understanding the data.
The Benefits of Real Estate Data Visualization
Data visualization can provide many benefits to the real estate industry. A few of the primary advantages are as follows:
---
Identify Trends: Real estate data visualization can help identify trends in the market, such as changes in property values, vacancy rates, and rental prices. With this information, industry professionals can make informed decisions about investments, developments, and marketing strategies.
Compare Data: Visualization allows data from different sources to be compared and analyzed in one place. For example, data on property prices, demographics, and crime rates can be overlaid on a map to identify areas with potential for investment.
Identify Opportunities: Real estate data visualization can help identify opportunities that may not be apparent in raw data. For example, identifying areas with high rental demand or underdeveloped properties that could be converted into profitable developments.
Communicate Data: Visualization makes it easier to communicate complex data to stakeholders, including investors, clients, and team members. This can lead to better decision-making, as stak

Server Error

503

Service Temporarily Unavailable

The server is temporarily unable to service your request due to maintenance downtime or capacity problems. Please try again later.

---

That's what you can do