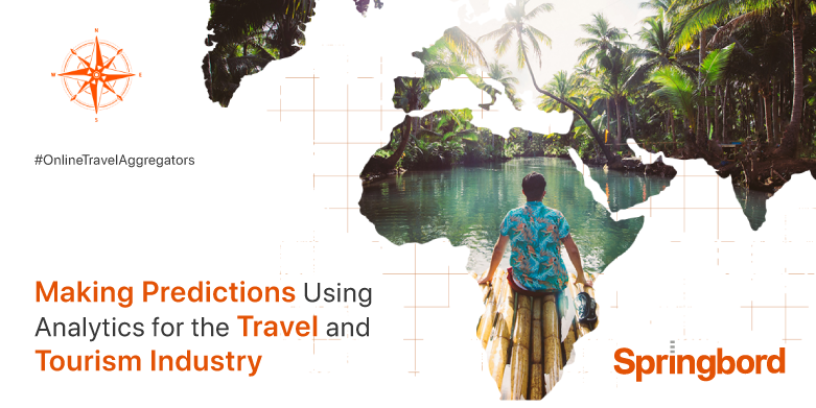 Read time

4

min
The word "data" is strong, and it propels all of our significant advances. It enables organizations to evaluate their weaknesses and strengths and make strategic decisions. This is the reason why firms are spending so much on data collection. They are mining these data sets for insights to improve their operations. Like many other major industries, the travel sector is utilizing big data. They've been able to pick up speed in the appropriate way because of how often they've been used. Travelers create a massive amount of data on the internet. It has already increased dramatically and will continue to do so as more people plan trips. Data insights can give the travel industry a competitive edge if handled properly.
As the second-fastest-growing industry last year, tourism contributed $8.8 trillion to global GDP and created 319 million brand-new employment around the globe. In addition to more people traveling, factors such as social media and widespread media coverage are expanding the impact of these journeys to all corners of the globe. This newfound consciousness has spurred a substantial expansion in many sectors of the tourism business.
Technology and large amounts of data have emerged as critical components of the expansion of this market. In recent years, the travel industry has been disrupted by new digital innovations and developing technology. These developments have spawned a plethora of new industries, such as the hotel chain industry, the independent travel agency business, and many others.
The travel industry is already making use of predictive analytics in several different methods, some of which are included below.
Systems for alerting and keeping tabs 
Businesses create and store vast amounts of data. This amount of data and the irregularities within it are impossible for a human to monitor. To locate bugs in their systems, businesses are turning to supervised machine learning methods. It monitors a variety of conditions and sounds an alarm if anything out of the ordinary occurs. The use of these algorithms is allowing firms to take preventative measures even before the first signs of an accident appear.
Profiling and sentiment analysis 
As the popularity of social media continues to rise, it will likely continue to play an increasingly important role in providing useful information for travelers. Since millions of vacation images, reviews, recommendations, and itineraries are shared every day on social networks, monitoring these platforms would be an enormous task for human beings. With the help of predictive analytics, businesses can comprehend the motivations of their customers' social media posts. To rephrase, we want to know if their effects are favorable, negative, or neutral. Predictive analytics is also useful for learning about consumer preferences and needs in general, such as when designing a travel service for a certain population.
Strategies for Optimal Pricing 
To stay competitive and keep customers happy in the face of new entrants, businesses are turning to predictive analytics to determine the optimal price point for their service. Industry trends, popular travel seasons, top locations, peak travel times, and consumer demand are just some of the key factors taken into account by these algorithms. Insights like this are simpler and more precise to obtain when working with more extensive customer data sets. Profit margins can be boosted by using predictive analytics.
Tourists Choose Their Own Unique Experience 
By taking into account customers' unique traits and interests, businesses may use predictive analytics to design vacation packages that stand out from the crowd. Predictive analytics' future iteration might offer vegan or gluten-free meal options for guests with special dietary needs, honeymoon packages for newly engaged couples, student or recent graduate discounts on airfare and lodging, and flexible payment options for car rental agencies. By taking this strategy, the travel industry may shift its focus from meeting customers' demands to proactively anticipating and satisfying them.
Advise and recommendation engines 
The tourism sector is dominated by word-of-mouth recommendations. Let's say you're looking at airline prices while exploring various Icelandic destinations. Don't you think you'd be persuaded if a pop-up ad for a reasonably priced and aesthetically pleasing Airbnb appeared? You won't necessarily be convinced to book a flight to Iceland right away, but you will be interested in doing so. Everything happens in response to the kinds of searches you've made in the past. To make the most of the information we already have, predictive analytics can develop effective recommendation systems.
Conversion rate enhancement with increased click throughs 
Internet marketing is focused on generating revenue with minimal product exposure. Ad placement and optimization can also be improved with the help of predictive algorithms, which estimate conversion rates. They have a firm grasp on passenger requirements because they have analyzed the many variables that seem to influence vacationers' tastes. An entirely new medium for online commercials is therefore made possible.
Conclusion
At Springbord, We think predictive analytics in hotel is the most reliable strategy for drawing in new business and keeping existing consumers happy. That's why we provide predictive analytics solutions tailored to a specific sector, so you can have access to the information you can put to use throughout the value chain. Travel industry businesses have enlisted our expertise to examine and improve their OTA content score and bottom line. 
We also examine the market to see where you are with the competition and make adjustments accordingly. Additionally, Springbord offers a variety of services to aid in the enhancement of a variety of qualities, such as custom description writing, a hotel amenities listing service, image collection, tagging, and editing for hotel listings.