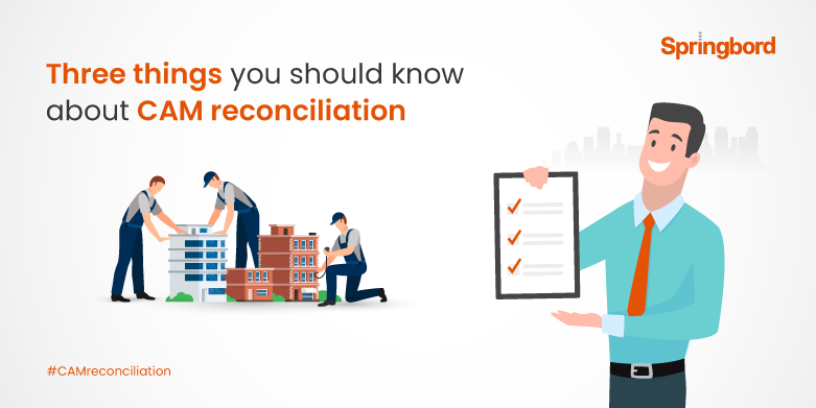 Read time

2

min
Common area maintenance (CAM) expenses are a standard and key part of any commercial lease that helps cover the operating expenses These charges are calculated on a pro-rata basis and passed on to the tenants. That said, despite its importance in the upkeep of a property, the lack of a unified template for reconciling CAM cost makes it one of the most tedious tasks within property management. It is subjective to and varies from property/lease type, market value, and landlord.
Considering the returns CAM charges deliver when reconciled accurately and recovered timely, landlords/property owners need to better focus on this task to accelerate and drive business value. Here are the top three things you need to know about CAM recon in order to ensure it is done correctly.
Reviewing expenses meticulously
Common area maintenance (CAM) reconciliation is a highly error-prone process. It is therefore imperative to pay attention right from the get-go. And this starts with a close review of the expenses. Property managers need to go through every expense included within the invoice with a fine-tooth comb to ensure they are coded correctly with the corresponding building and account. Also, they need to verify whether or not the expenses included are as per the lease terms to avoid any conflicts later.
Accounting for special provisions
Next up is going through the lease to cross-check if there are any waivers or special provisions awarded to a tenant. Most importantly, whether or not these are still applicable or were one-time exemptions. Not being aware or checking for these issues can really escalate into a significant problem at a later stage, compounding the challenges of the reconciliation process.
Calculating with accuracy
While calculation may appear simple in concept, in practice it is way more complex and time-consuming. Any error at this stage again can sabotage the entire effort of reconciliation. When calculating CAM expenses, you need to have a two or a three-step accuracy check process to ensure they are calculated correctly. Some of the key aspects to check to include the pro-rata share, tenancy, gross-ups, or capital improvements. Consider every item to check whether they are covered or not.
At Springbord we have been helping real estate companies manage their CAM reconciliation process with great accuracy, maximizing recovery through timely recovery. To know more about our CAM reconciliation services, connect with us today!