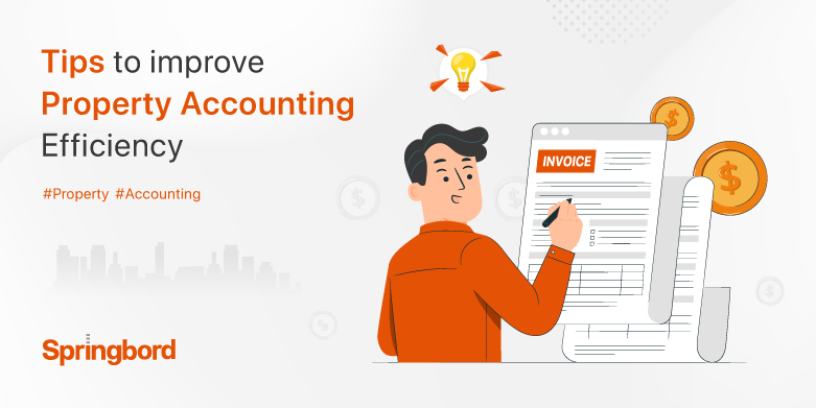 Read time

2

min
Real estate is an asset-heavy business, which makes managing the business quite complex and tedious. Add to this, property managers are also tasked with managing property accounting, which could be increasingly challenging given the volume and type of portfolios.
Poor property accounting is a huge liability resulting in error-riddled books with missed revenues, expenses, and tenants' payments, all of which result in significant financial and compliance risk. It is, therefore, crucial to ensure efficient accounting to drive profitable business outcomes. Here are the top 3 tips and best practices that property managers could adopt to ensure property accounting is on point.
Keeping a record of receipts and invoices
As basic as it may sound, finding an efficient way to track and manage all receipts and invoices is key to any general accounting practice. Whether you have property management software or accounting software, or a proprietary application that is customized to your needs, the focus should be to establish a standard practice of recording every transaction/statement that tracks every penny coming in and going out of the business. In addition to this, you should have reporting schedule for every related stakeholder to be able to closely monitor, review, and have clear visibility of numbers throughout the year.
Charting every financial transaction
Make a list of all the accounts including equity, expense, liabilities, assets, and income. Making a chart of every account would not only provide complete visibility into your financial transactions but also enable you to better label, categorize, and organize them. Now whether you wish to establish a granular level or high-level charts that would depend on your business-specific requirements. No matter what you choose, it is an important step that greatly simplifies the accounting process.
Reconciling accounts periodically
This is a very effective practice that can save you from last-minute errors and pressures. Reconciling accounts every month can help you identify and eliminate errors/mistakes such as missing/erroneous entries, duplicates, typos, and even banking errors. It also helps identify overpayments, missed payments/recoveries et al. This practice enables you to ensure accurate bookkeeping, and in turn have complete control over your financial health.
These are but a few fundamental practices to ensure efficient property accounting. Best practices backed by proper tools, skilled resources, and strong technology can really help ensure your accounting is compliant, on time, and is an accurate representation of your business that also helps you strategize better for growth.
At Springbord we have been helping companies manage property accounting efficiently, minimize financial and non-compliance risk, integrate financial data with other platforms, and improve overall property data management through timely and accurate property accounting services. To know more about our property accounting services, connect with us today!