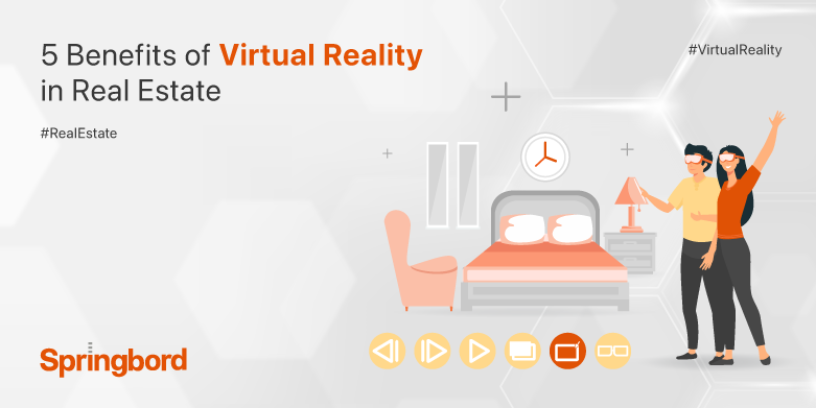 Read time

4

min
The term "virtual reality" refers to the use of computer technology to generate a realistic, interactive, and immersive simulation of a three-dimensional scene or object. Virtual reality (VR) lets people have an experience that can either be exactly like real life or completely different. The use of virtual reality (VR) in real estate advertising has revolutionized the presentation of properties for sale. The improved sales funnel, and massive cost savings are a few examples of the immense value it provides to businesses.
Real estate is a multibillion-dollar sector, so it needs to implement strategies that give customers a good time and encourage them to part with their money. Down below, we've outlined a few of the ways VR can be put to use in the real estate business:
Property viewing with virtual reality headsets
Both time and patience are essential while looking for and purchasing a home or commercial property. If the business and its clients are separated by great distances, the task becomes much more challenging. When a technological advancement like virtual reality can make our lives simpler and more pleasurable, it deserves our attention.
We can save both time and money, two of the most valuable commodities in the real estate market. Using virtual reality (VR), it is possible to search for and examine a home in a short amount of time. Now, a person may conduct their job from the comfort of their own home while wearing a virtual reality headset or gadget, saving themselves countless hours of travel time and hassle.
This is especially helpful when the property is located across the country or in another far-flung location that would otherwise necessitate a significant outlay of time and money to see.
Virtual imaging and staging
Sales of new construction can be aided by virtual reality technology. It is difficult for marketers to sell products that have not yet been created. It's hard for them to promote their products, like the housing that's currently being built.
Because there are no physical products available for customers to see before making a purchase, they fail to gain trust. The lack of furniture, fixtures, etc., and the white paint on the walls can also affect the property's resale potential.
Real estate marketing in the virtual reality era allows potential buyers to preview not only the exterior but also the interior of a home before it is built.
Visualization Methods in Architecture
It has always been challenging for real estate developers and agents to market a property that has not yet been constructed. Big, detailed 3D models of proposed developments are a common sight these days. Buyers can get a better feel for the structure thanks to these models.
Large showrooms with full-scale apartment models are set up by real estate brokers to showcase the interiors of these brand-new developments. Spending heavily on advertising like this is essential. As a viable solution, virtual reality (VR) can be used to provide prospective purchasers with a thorough look around unfinished homes.
With the advent of Virtual reality technology, architectural visualization has become both more accessible financially and more immersive experientially. Agents can utilize Virtual reality technology to provide prospective buyers with a comprehensive look into unfinished homes, from the street level up.
V- Commerce
In addition to helping make a positive first impression, Virtual Interior Design can also be used in online commerce. When staging a property, real estate agents have the option of including a buy button on any accessory displayed for the prospective buyer to click on during the tour.
Allotting clients the freedom to make the areas uniquely theirs is a major selling point. Customers can alter the decor to their desire by choosing a new paint colour, new accessories, and even new furniture.
This will not only improve the overall aesthetic of the property's virtual tour but will also help clients visualize how the space will look after they have made their individual design choices and moved in.
Guide to the Virtual World for Tenants
Communication between property managers and tenants is essential. As you may imagine, this can be a challenge for businesses that specialize in providing holiday rentals for shorter stays. Increased tenant-landlord communication is possible with the help of virtual reality equipment. Tenants can take advantage of virtual reality headsets to experience 3D virtual tours.
Tenants can prevent issues and unwanted communication with landlords by using 3D real estate tours to learn about the property's utility services and how they work. This implementation of VR technology is extremely helpful in the short-term rental market due to the industry's high turnover rates.
Real estate is one industry where virtual reality is making significant strides due to its cost- and time-saving potential. Instead of needing to physically visit a home and take a tour with a real estate agent, interested parties can get a feel for the location through the use of virtual reality and augmented reality technologies. Workers can stand to benefit from virtual reality technology both during development and pre-release.
Conclusion
You can get ahead of the competition and move the sales and marketing process forward more quickly with Springbord, all while providing a cutting-edge experience to your customers. We'll assist you in discovering how to best put this innovative technology to work for you.