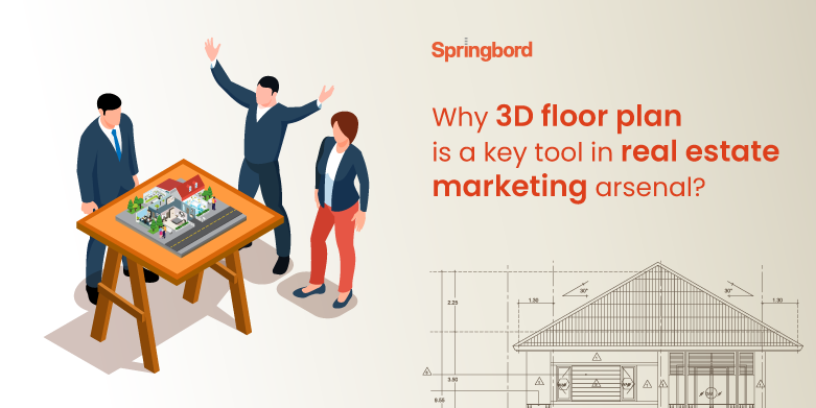 Read time

2

min
The real estate industry is rapidly embracing digital technology to advance and amplify their architectural processes and marketing activities. Given the intensifying and aggressive competitive landscape, the process of marketing and selling a real estate property has undergone a complete shift in the last few years. As more and more virtual and 3D technology find newer applications within the real estate industry, agents and owners are striving hard to exploit these digital technology solutions to power their marketing efforts.
From virtual home tours and videos, online listings, high-quality renderings, to 3D floor plans et al. players are going all out to attract buyers early in the development process and boost property sales. In this post we are going to focus on 3D floor plans and how they are one of the most crucial parts of not just the design and development process but also the real estate marketing campaign.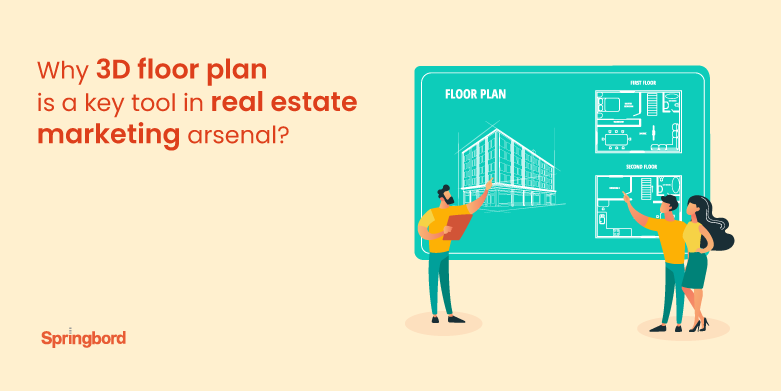 Drive marketing success through differentiation
3D floorplans are a great tool to cut through the noise and make your property listing stand out in a crowded marketplace. These life like renderings are so real that they help your buyers gain a full perspective of the property, its layout and dimensions.
With 3D floor plans you can add furniture and landscape, allowing you to provide a picturesque, beautifully staged, realistic bird-eye perspective of the home. 3D floor plans are way ahead of 2D floor plans, it enables you to convey the real value of the property by making it attractive and providing accurate depiction of the home.
Power online marketing campaigns
Do you know that adding 3D floor plans can boost click-through rate by over 50%? It truly helps you add more firepower to your online marketing efforts. By integrating 3D floor plans across the arsenal of online marketing – social media posts, mobile apps, website, landing pages, newsletters and email campaigns – you can create a lasting impact on the prospects. A well-designed floor plan allows you to captivate prospects' attention and maximizes the chances of conversion as it offers accurate information to the home buyer regarding the property and the layout.
Plus, in case of luxury properties, having a well-planned online marketing campaign help market the project globally, significantly increasing the chances of selling the property. Having 3D floor plans as part of such marketing collaterals allow foreign/remote buyers get a realistic perspective of the dwelling in its entirety, encouraging prospects to book an appointment and even make a visit.
Beautifully showcase attractive and functional features
3D floor plans gives you the power to personalize your brand through beautifully designed floor plans. You have the ability to add color, textures and highlight key spaces and home architecture through a wide range of tools and features that a 3D floor plan rendering software offers.
From landscaping ideas, kitchen floor design, wall and sections to the overall layout you can cover every aspect of the home and represent it as a fully furnished space to help your prospects easily visualize the dwelling. Accurate representation of the layout and dimensions along with beautifully staged spaces that highlights the key areas of the house, offer a sense of space in relation to the entire layout and furnishing. It provides a comprehensive view of and information about the property, helping you better convince prospects and drive sales.
No matter where you are in the project development stage, we can help you create custom 3D floor plans as per your architectural drawings and other inputs quickly and cost-effectively. We are adept in creating photorealistic 3D floor plans that are designed to meet your exact specifications and provide desired architectural styles. Talk to us today to find out more about our services.