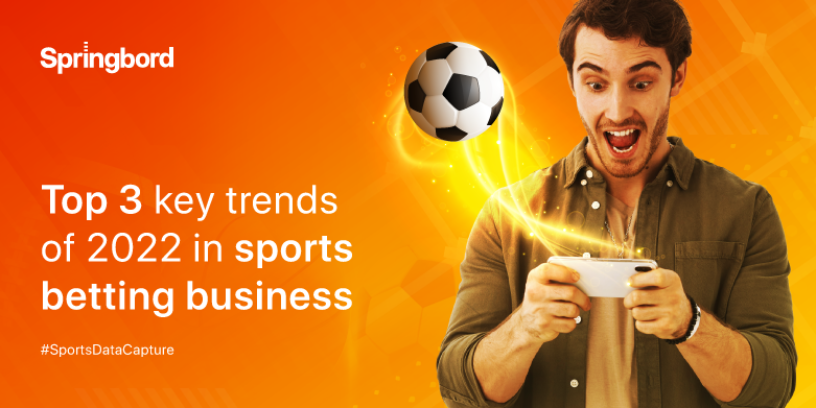 Read time

2

min
While the sports betting industry has been picking up steam, it has gained remarkable growth in recent times and would continue to do so, with research indicating that the global market size is estimated to reach over $140 billion by 2028.
The growth in part is the ever-growing interest in sports and also how industry players are continuing to extend their reach through innovative, interactive, engaging, in-play-based betting. They have created a business model that has gone beyond targeting only the sports fan making it alluring to the masses. It is an interesting time as the betting industry continues to shift into high gear, the potential of this business model is endless. That said, as the business of sports and sports betting continue to traverse new paths and explore the potential of digital disruption, needless to mention sports data capture would remain the central focus. As we kick start 2022, it would be helpful to look at some of the key trends within the sports and sports betting industry.
Bigger growth and wider reach of sports betting industry
The sports betting industry is only going to gain massive momentum, with industry players expanding their reach and new entrants disrupting the market further. This would also open doors for new partnerships and a gaming and sports ecosystem that would lead to newer opportunities and revenue streams.
Focus on fan-centric experience
With the goal of generating more revenue, the sports industry is now shifting its focus on creating a fan-centric experience, similar to other businesses where customer-centricity today defines a brands' approach and reputation. As sports betting makes its way into the mainstream and sports organizations continue to seek and tap into new opportunities, industry players are looking to connect and engage fans at a deeper level, gain loyalty, and forge long-term relationships.
Data capture will move to an advanced level
The above trends are going to further fuel the market for sports data capture and analytics. Technologies like immersive technologies, artificial intelligence (AI), Blockchain, non-fungible tokens (NFTs), and the likes would find newer applications merging the real and digital worlds of sports.
The trend for live data feeds would continue to see a massive growth that promises to deeply engage the audience. On the other hand, instant tracking and measuring of game performance is going to become a norm and would change the pace and gameplay.
Sports data capture has converted our smartphones into arenas paving a way for extensive reach that is being consumed with great fanfare. Sports data capture and analytics is set to and will continue to disrupt the sports business and it promises to create newer possibilities for growth, and revenue generation.
At Springbord, our team of sports enthusiasts and experts are trained and experienced in capturing action across a variety of sports in the format that works best with your applications and platforms. Talk to us today to find out about our sports data capture services that can be designed to fit your business-specific requirements and budget.