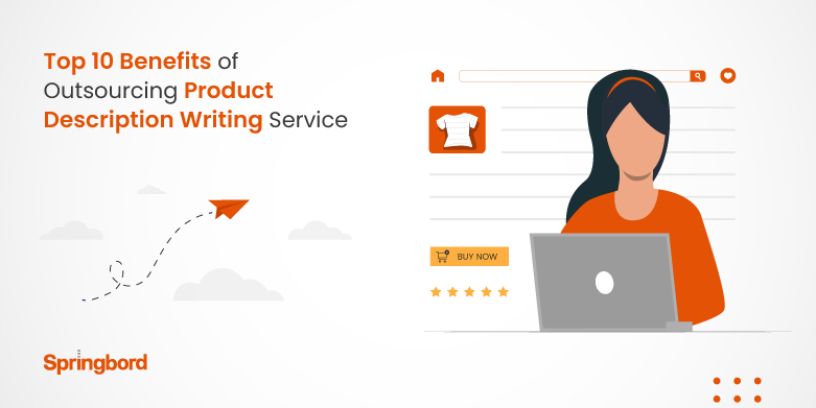 Read time

2

min
It is no secret that in this day and age, especially taking into consideration the sudden paradigm shift of consumerism, everything is about e-commerce. Why go out when you can shop within the comfort of your homes? Buyers now have a variety of options to choose from with just a click of a button.
This poses quite a conundrum for online businesses to stand out. How can you make your product or service more appealing than those of a competitor? Well, we have the answer to that: Product description writing. A unique and enticing product description is all you need to influence your target audience and increase conversion rate. Did you know that most consumers return their products due to poor product description accuracy? Hence, a skilled copywriter, with a flair for language and well-versed with the changing marketing trends, is who you need in order to attract more customers. That being said, who should you choose to write those product descriptions; An in-house employee or a product description writing agency? Outsourcing product descriptions is the smartest move you can make for your business and here's us proving why;
The first and most obvious advantage when you hire a product description writing agency is that you get a team of talented, experienced, and creative writers who are up to date with today's business needs for the price of one full time employee.
Hiring a full-time employee for product description services is quite expensive when compared to hiring a product description writing company, especially when you take into account the salary, training time, benefits, and so on.
You need to invest your valuable time and money in training hired staff to write creative and SEO rich product descriptions. Or you could save all that time and energy and just hire an expert team who knows how to do all that for you./li>
Product descriptions are completely different from any other form of content writing. E-commerce product description writers must be nuanced in the art of converting product features to captivating and search engine friendly descriptions.
A product description writing agency knows what sells and is more in tune with today's marketing needs than a trained in-house employee will ever know.
Writing an appealing description also requires a skill set that comes with experience, which you can easily attain via outsourcing.
Product description writing is seasonal work, which means they won't have a consistent workload. So, outsourcing writers as and when you require makes it an even more cost effective option.
Sometimes, a fresh perspective is all it takes to get a brilliant outcome. Outsourcing your product description services brings in an outsider's perspective that helps better your content.
Outsourcing also helps businesses to focus their energy, time, and resources on the other important tasks without having to worry about quality product descriptions.
Every piece of content requires SEO optimization and editing, which is easily achievable when you hire a product description agency, who specialize in exactly that.
Outsourcing all your product description needs to an experienced organization like Springbord is the best first step you can take for assured keyword rich and alluring product descriptions. We, at Springbord, are just who you need for providing product descriptions designed for eCommerce that help your business reach the right audience, while ensuring it resonates with your brand value. Have a look at the services we provide to know more.