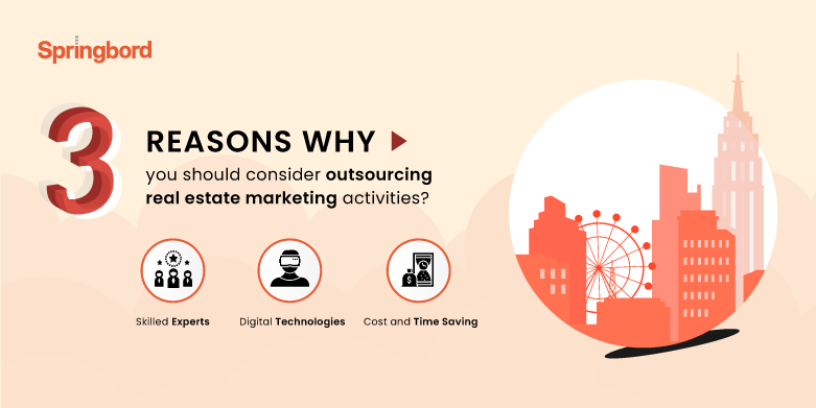 Read time

3

min
Whether you are a real estate developer, real estate management company or real estate agent/brokerage firm, marketing is key for any business to survive and stay ahead of the curve. As evolving technology continues to influence every aspect of a business, organizations who fail to capitalize on this trend and advance their marketing efforts risk losing their position to more progressive players.
Given the dynamic market conditions, intensifying competition, and drastically shifting customer expectations, real estate marketing requires continuous investment and efforts. To consistently generate potential leads and in turn drive growth and success, organizations need well-planned marketing strategies that use variety of techniques and digital technologies.
Differentiating your services/business from the competition, expanding the customer base in a cost-effective manner and continuously creating brand awareness warrant dedicated efforts and multi-faceted approach. However, given the lack of adequate resources vis-à-vis the volume of work real estate companies need to manage, designing new-age real estate marketing collaterals in-house would only add to the burden, and run the risk of compromised productivity and outcome.
It is because of this very reason and the growing importance of next-gen real estate marketing campaigns, industry players are increasingly outsourcing marketing services to professional vendors. And here are three key benefits why partnering with a specialized vendor is the need of the hour.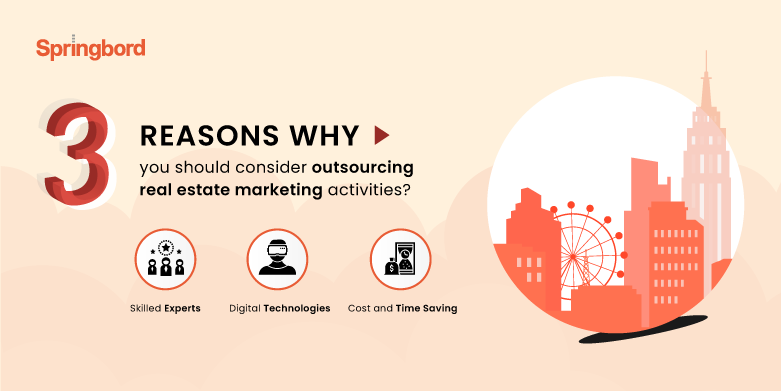 Ready access to skilled experts
By outsourcing real estate marketing services, organizations gain instant access to trained and skilled talent pool with the right domain and industry knowledge. This not only saves time, money and effort but also accelerates go-to-market timeline for the marketing campaigns. With skilled professionals handling your account they can build and optimize engaging marketing strategies based on industry best practices. By partnering with a specialized service provider, you can also gain useful insights into trends and patterns, helping you craft your marketing campaigns in a way that really meet your audience expectations and stand out.
Ability to leverage digital technologies
From data visualization to using virtual reality to designing tours and 3D images, real estate players are continuously striving hard to employ newer technologies and techniques to capture buyers' attention. In this tough race to win prospects and expand market reach, time and ready access to digital technologies and its knowledge is simply indispensable. Outsourcing enables you to skip the cumbersome process of implementing new software and sourcing talents with the right skill set. And quickly get access to both the right software and talent pool trained in handling those technologies. An outsourcing partner can not only help explore latest technologies to your advantage but also optimize and in some cases automate your marketing efforts.
Greater cost and time saving
Outsourcing of any kind, as we are already aware, frees up valuable time for your in-house resources. Which in turn means that they have more time to focus on core and strategic functions that can help drive growth or ensure best services. By outsourcing marketing activities, you can harness the power of latest marketing technologies and techniques at a fraction of cost. It enables you to generate higher number of leads for your sales team and engage your audience in a compelling manner without wasting your time and resources in doing so. With an expert partner taking care of the real estate marketing functions that includes activities such as – creating floor plans, 3D tours, brand awareness, and data visualization – your in-house team can dedicatedly focus on converting prospects, which in turn maximizes the chance and rate of conversion.
From data visualization, 3D floor plans to life-like virtual tours, Springbord is equipped to support you at every step of the way in your real estate marketing efforts. Talk to us to find out how we can help you create engaging and compelling marketing collaterals designed to your business-specific requirements quickly and cost-effectively.