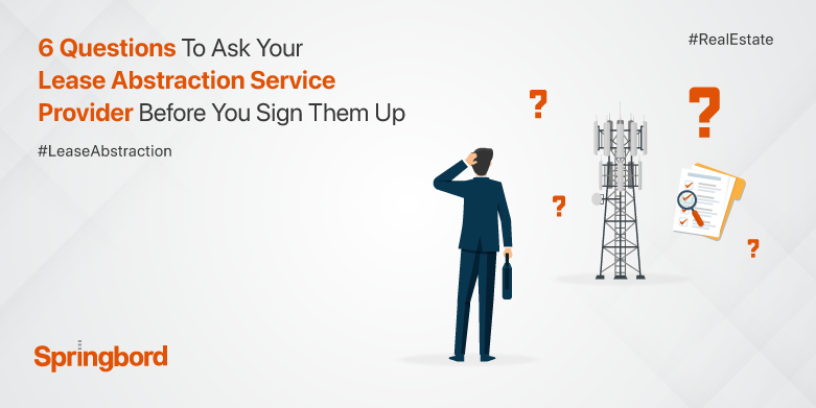 Read time

3

min
There's a lot of rationale for the surge in the popularity of lease abstraction. Faster access to all relevant lease details improves portfolio visibility, facilitates educated decision-making, and streamlines the management of both time and leases. Legal and financial risk can also be mitigated by facilitating timely compliance and accounting. When done correctly, lease abstraction can greatly improve the effectiveness of managing and operating a portfolio of leases.
A substantial amount of time can be saved using a lease abstract because vital lease details are readily available. With less time spent on administrative tasks, you can better manage your lease portfolio and boost productivity. They can be used for a variety of purposes, but not limited to operations management, lease accounting, mergers and acquisitions, asset and property management, and FASB/IASB compliance. Lease abstracts are an invaluable tool for gaining full insight into and control over a company's lease portfolio.
If you're thinking about entrusting a lease abstraction service provider with your cell tower leases, here are six questions you should ask first.
May we get some references from previous customers? 
Request references from other companies who have worked with tower lease abstraction and administration. If you're going to outsource something as crucial as lease portfolio management, make sure your service providers care about making you happy. It is possible to check this by requesting references from previous customers and reading their testimonials. Having clients who are also in your industry is a huge plus.
Does your company handle every project internally? 
Have you heard that many companies offering lease abstraction and administration services hire other firms to handle the job? There are two ways in which you may be adversely affected if you find out that your provider is also involved in subcontracting work of a similar nature:
Security of information and confidentiality: If sensitive information about your cell tower lease is leaked, it could have a devastating effect on your business. You can't feel safe knowing your data is secure unless you have faith in the data security measures implemented by your distributor and any subcontractors.
Possible Delays: If your provider relies on a third party to carry out the required task, any obstacles upon its subcontractor's end will cause delays in the project.Production delays, which is something you cannot reasonably expect to happen when trying to deal with time-bound, needs-based triggers like Due Diligence and acquisitions.
How willing are you to work with the other parties involved? 
Lease administrators for cell towers must frequently communicate with others in the company's accounting and legal departments to ensure a smooth administration process. Particularly in the case of routine lease administration tasks like reconciliations, collections, etc. If you have a dedicated in-house lease administration group, your provider will likely be working closely with that group. Having a lease administration provider who can act as the liaison on your behalf will streamline the process. They can even save you time and effort otherwise spent sending numerous emails and making phone calls to coordinate with all the stakeholders.
How large is your team, and how much experience do they have working together? 
You should inquire about the team's scope and scale of experience with any prospective cell tower lease abstraction provider. The quantity and quality of their output are significantly influenced by these elements. Many telecommunications providers outsource the abstraction and administration of cell tower leases because of the flexibility and scalability it provides. A key benefit of outsourcing is lost if your vendor lacks the manpower to grow exponentially with you during time frames of resource scarcity. It can also happen when you encounter an extremely high load of leases due to, a new consolidation and cell-tower acquisitions.
Additionally, it is important to inquire about the team's collective level of experience. This has an immediate bearing on the output's quality and quantity. A competent crew can complete a task in a shorter amount of time without sacrificing quality.
Do you have any plans for customer service? 
Inquire about the company's customer service system. Can I reach someone at any time of day or night? Where does the interaction take place? Will you be able to work with a single contact person at all times? This is of paramount importance when working with a team spread across the globe. Having a centralised project manager oversee your entire lease portfolio can improve communication, transparency, and efficiency.
Do you have the capability to customize your services? 
Each client and each industry has unique requirements when it comes to leasing portfolio management. So, a cookie-cutter approach won't work. To get the most out of your company's outsource lease portfolio management process, make sure your provider understands your unique business requirements and tailors its service offering accordingly.
Conclusion
Here at Springbord, we've been assisting clients in the real estate industry from all over the world. It helps in making educated decisions, streamlining their lease operations, and completing mergers and acquisitions based on thorough due diligence for years. All while increasing their return on investment.