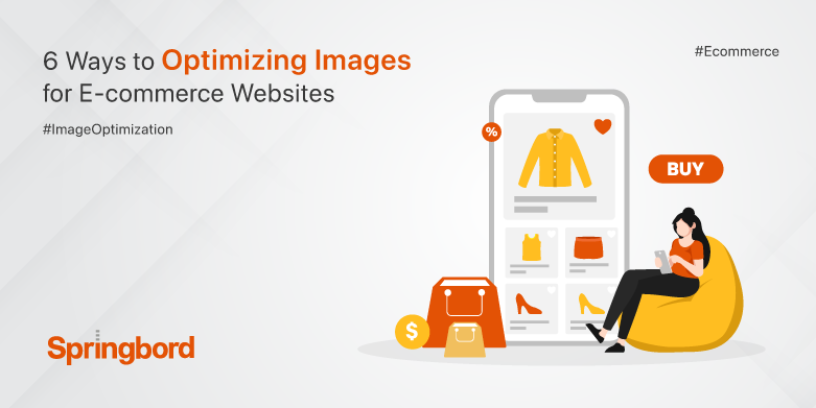 Read time

3

min
The goal of image optimization is to reduce the time it takes for a web page to load by reducing the size of its images without compromising on their quality. We can also think of it in terms of image search engine optimization. This refers to increasing the visibility of your product and designing photos on Google and other image search engines.
Optimizing your product images will help improve the aesthetics of your product pages and encourage more people to make a purchase. A high-quality image of the product can boost its position in search results and make it seem as though the customer is purchasing from a local store. Check the file size, dimensions, picture format, and resolution of any product images you intend to use online. Customers are more likely to return if you focus on improving certain visual aspects of your business. That's how effective image optimization can be.
Image optimization for eCommerce websites
Let's look into the finest practices for optimizing website images.
Carefully select your product's viewing angle and image proportions.
It's crucial to show the product from several perspectives. No one buys a dress based on a single photo of the front of the dress without also seeing the back, sides, etc. If you want to provide high-quality images, give customers enough information, and keep your storage needs in check, you shouldn't provide hundreds of them.
A lazily loaded image 
Lazy-loading images are the most commonly discussed method for enhancing product photos used in online stores. This method is used on sites that don't permanently link to images, but rather only load them when a user scrolls to where they'll be visible. If you want your website to rank highly, this is crucial.
Check the size of your files
Maintaining manageable file sizes is essential because of how they affect page load times. Commonly used units for describing the size of image files are bytes (KB), megabytes (MB), and gigabytes (GB). An image's quality increases as its file size decrease. Photos that aren't too large in file size load quickly on your product page and catch the eye of potential buyers. Despite their apparent superiority, high-resolution images can be detrimental to your business if they take too long to load. To make a purchase, your customers first look at pictures and only look at them for a few seconds. They probably don't want to hang around while images load. Therefore, it is preferable to use images with a smaller file size.
Specify the correct file format
Using the right file type for your images is a great way to improve your website's performance. Every picture you save to your computer will have a unique extension that describes its specific format. PNG, JPG, and GIF are the most widely used image file formats. Contrary to popular belief, the way an image is displayed can vary depending on the file type it is in.
Maximize the effectiveness of your thumbnails
Many online stores will make use of image thumbnails. They are a great space-saving tool for quickly perusing several category pages.
Although thumbnails are a great addition to any website, they have the potential to "slow down" your page load time without drawing attention to themselves. They often appear at a crucial point in the shopping process, and if they cause your category page to load slowly, you may lose a customer. You should know that adding thumbnails to your website will slow down its loading time significantly.
Ensure that your pictures are of high quality
Optimising images for online stores will improve page load times, user satisfaction, and revenue.
Image optimization is useful for reducing file sizes and boosting page load times, but it's crucial to double-check the final product before using it. The quality of the optimized image must be maintained at all costs.
Conclusion
An online store's success must have well-optimized product photos. The page loads faster, which is good for search engine optimization and user experience. However, to guarantee the website's quality, we need to strike a balance between image optimization and post-optimization quality. If you're searching for a company to outsource your picture editing too, however, Springbord has the resources and expertise to get the job done.