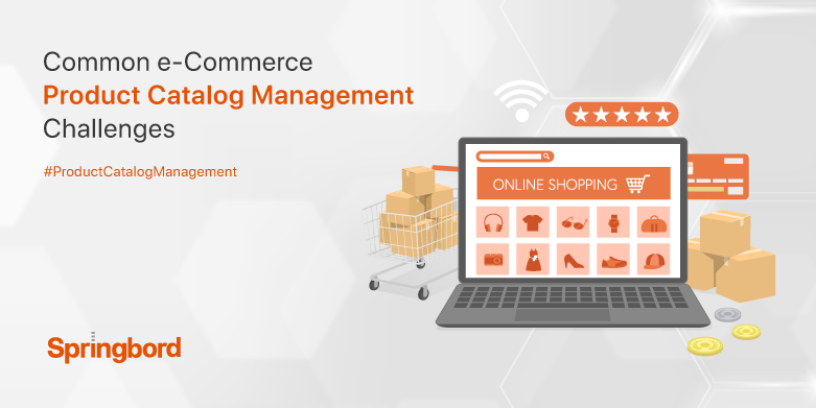 Read time

3

min
E-commerce industry is growing at an incredible pace. With a lot of new products arriving almost every day and high competition in the market, it is not at all a joke to handle the product catalog. Your product catalog needs to be streamlined in order to make it easier for you and for your customers to enjoy a smooth and hassle-free shopping experience. But managing your product catalog involves a lot of challenges let us discuss them now.
Updating product listing
In no time, your inventory will start flooding with a lot of products. Keeping your product listing up-to-date is much essential. Maintaining product data such as availability and non-availability of products, pricing, the addition of new items, the relaunch of existing products, and so on becomes a complex task. This task can be simplified if you are equipped with the latest tools and professionals. Updating your catalog brings credibility to your business and highly satisfies your customers since they get to see all the required information on one single page. Updating your listing on a periodic basis will keep confusion at bay and will also help achieve good conversion.
Managing products across multiple sales channels
You really want your product to be sold on various sales channels to see good business. It is no wrong in doing so. But managing them is one thing that challenges you very often. Your customers don't want to see incorrect data or get misled by incorrect information. This particularly happens when you have your products on multiple channels. Getting accurate product specifications, aligning them in one specific, approved format, and making them consistent is a skill not everyone will possess. Once you have consistent data on all the sales channels you are sure to see good profit and business.
Handling supplier data
It's a rare phenomenon to get entire product data from third parties or suppliers. There is either no or minimal information. In such a case, you fail to impress the customer with your product catalog, which ultimately means losing business. This is one of the common challenges that you face when managing a product catalog. So what can be done? You need to extract product data from various sources, validate them and then publish them online for your customers. Looks like a complicated, time-consuming task? Yes, it obviously is! But, you cannot skip this and head to the next. You need to overcome it to scale up your revenue.
Expanding product catalog
As discussed earlier, the time when the market starts flooding with an 'n' number of products it is no wonder that your inventory too will. You will stand in a scenario where you will have to keep adding products to your catalog to keep the business growing. A chaotic and messy catalog structure will even worsen the situation for you as well as for your customers. To avoid this, all you need to have for a well-organized catalog is the latest tools and technologies that can do the task for you just right. Experts who have worked on various such catalogs can solve this problem and make it a breeze for you to add new products to your listing without any worries.
Dealing with complex product structure
It is not that you sell similar products online all the time. You may be selling apparel currently but would plan to sell mobile phones later. So, the product data and specifications are not the same here. For apparel, minimal information would suffice but mobile phones demand a lot of other information which seems complicated. Maintaining a product structure that is unique to the category is quite a problem to deal with. Reducing the complexity makes it easy for your customers to understand the product and make a purchase without the need to refer to other websites to get relevant information. This will aid you in having a well-managed catalog and also seeing a good profit.
Conclusion
With so many challenges to face, we know you are worried. Stop bothering and leave the rest to us. We, at Springbord, have trained, skilled and experienced professionals who can read what your heart desires and deliver just the same. We have worked on creating various product catalogs for multiple e-commerce stores and have happy customers who keep reaching us very often. Want your business to run successfully? Get in touch with us and we'll make you top the ranking list!