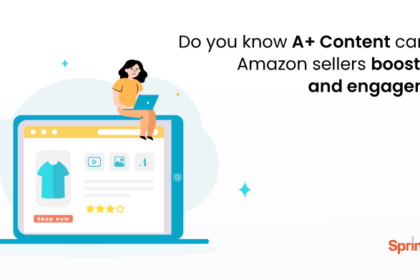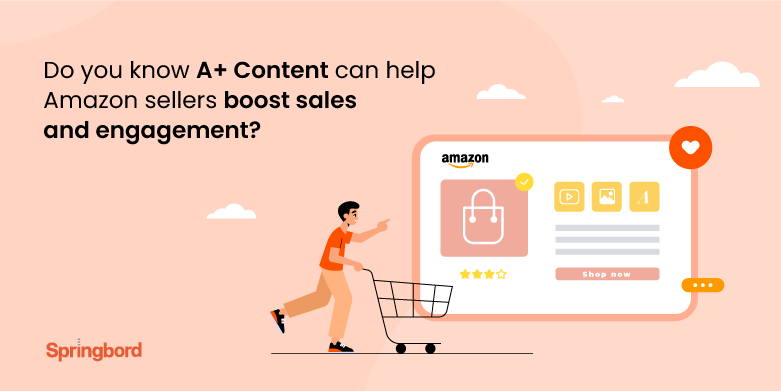 There is no doubt that Amazon provides a great platform for sellers to reach a wider audience and boost sales. However, while signing up and listing products on Amazon is easy, driving traffic and sales is a different story altogether. Amazon is the largest ecommerce marketplace and it continues to add to its selection. As a result, the marketplace is fiercely competitive and crowded. It has over 2.5 million active sellers.
To have any chance of real success on Amazon, sellers need to understand what it takes to cut the noise, make the brand visible, and establish a market position. And the only way to do that is by creating Enhanced Brand Content (EBC), now known as A+ content, for your products.
A+ content, allows sellers to create unique and compelling product description, include striking and attractive images and optimize product listing for search engines. It helps create a visually rich product page with enhanced images and custom copies that are primed to not just improve brand visibility and awareness but also drive traffic and convert potential shoppers.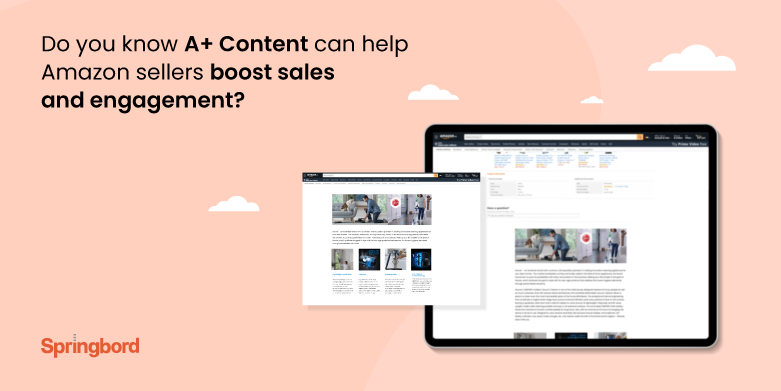 No matter where you are in your effort to creating a compelling brand positioning on Amazon, EBC or A+ content is a powerful way to boost sales, maintain market positioning or elevate brand visibility and drive traffic. Take a look at some of the key benefits of creating Amazon A+ content.
# 1 Make your products stand out
By creating A+ content you will be able to add more content on your product page. Which means you now have the ability to showcase and highlight key and exceptional features in a meaningful and functional way. This would allow your shoppers to get familiar with your product and understand how it can be of use to them. Detailed and useful product information supported with attractive images and videos helps customers get familiar not just with the product but the brand as well resulting in greater affinity and trust and ultimately higher conversion rate.
# 2 Lure shoppers with custom images and videos
It is the age of visual content. And in ecommerce product images and videos play a central role in driving conversions. No matter how compelling your product description is, without supporting images it would fail to convince buyers. People always look for product images and videos even before reading product information. A+ content allows sellers to add high-quality, appealing, and attractive images and videos to create a compelling brand story. Relevant and custom images and videos are key pieces of product information that have interest-grabbing ability. Text alone are not enough, shoppers glean and retain more information through product images. It is the most powerful way to increase engagement and conversion.
# 3 Improve brand discoverability and visibility
Creating Amazon A+ content for your product listing helps boost search engine ranking on Google as well as Amazon. Rich and high-quality product information with relevant and several keywords embedded across the page in right density help these pages get better indexed. Which means, your product pages appear for every possible keyword used by the customer to search for your product or similar products. Greater discoverability and visibility across Google and Amazon increase your chances of driving higher traffic to your page significantly.
# 4 Build trust and brand awareness
With EBC content it is much easier to win customers confidence. When shoppers compare products across brands, pages with high-quality and extensive product information are likely to draw more customer attention and gain trust and confidence. Informative, unique, and compelling product information help create better brand impression and over time better reputation. This in turn help boost brand recognition amongst customers and increase loyalty and engagement.
Sellers on Amazon need to create targeted and informative product pages, because visitors tend to browse quickly and do not spend a lot of time on a page/product listing. So, to grab their interest and encourage them to spend more time, enhanced listing is critical to customer engagement. If you wish to make your Amazon business a success, then creating EBC content is indispensable. What's great is that A+ Content is currently free as long as your brand is approved by the Amazon Brand Registry.
Springbord has been offering targeted and specialized Amazon marketplace management services to boost search ranking, traffic, brand positioning, and sales. Talk to us today to find out how we can help.