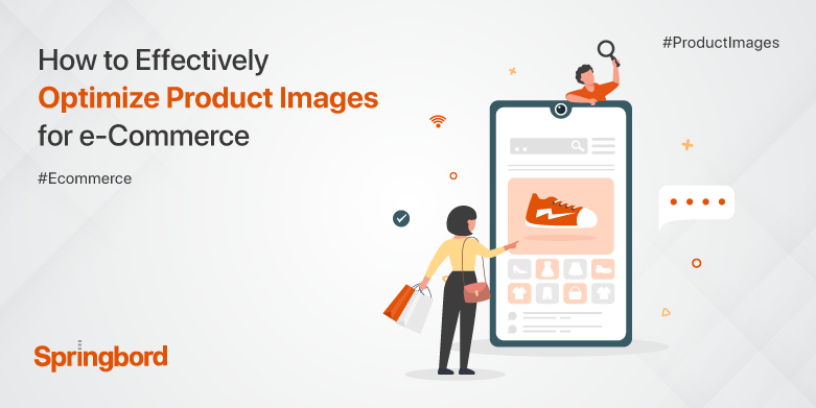 Read time

3

min
For any e-Commerce store, product images play an integral role in driving traffic and sales. Product images have to be optimized not only to enhance the look of your product pages but also to turn visitors into buyers. A clear and detailed product image will improve page rankings and give customers the feeling of buying it from a nearby brick-and-mortar. When you use product images online, make sure to check the file size, dimensions, image format, and resolution. When you pay extra attention to image parameters your customers will ultimately keep coming back to you in the future. That is the power of image optimization!
Having all this said, you would have a big question to ask us. How to effectively optimize images that will help in conversion and boost sales? We have heard you. This blog walks you through all the things you need to know about image optimization. Let us get started!
1. Check file sizes
It is crucial to keep file size in check as it impacts loading time. Generally, image file sizes are measured in KB, MB, and GB. Smaller the file size, the better the image. Images with smaller file sizes look good on your product page and will also grab your customers' attention. On its face, high-resolution images seem the best, but they could ruin your business because of the time it takes to load. Your customers look at images first and hardly spend a few minutes before making a buying decision. They wouldn't wish to wait for images to load. So, images with smaller file sizes are the ideal choice.
2. Choose the right format
As a business owner, you might be aware that images can be saved in multiple formats. The most common ones are PNG and JPEG. Both image formats are acceptable but choose the one that works the best for you. Whichever image format you use, remember that your primary goal is to satisfy your customers. PNG photos have more colors, making the file size larger. You can use this type of image format for lifestyle photos that will make them look real and natural. JPEG or JPG images work the best for thumbnails.
3. Compress images
Image compression can be a mandatory process for images that contain information like date, time, and camera details on them. Compressing the image does not affect image quality. It rather lowers the file size and makes loading quick. There are two types of image compression. They are lossy and lossless. People tend to prefer lossless over lossy as it perfectly recreates the image.
4. Look for the "Save for Web" option
Images that are saved for the web have high quality and will please your customers' eyes. You can find this option in most photo editing software like Photoshop that lets you adjust the image size. You can also view the original and edited image all at once. Get acquainted with the photo editing tools that will help show your products in the best way possible.
5. Keep the background simple
Backgrounds are the actual space occupier and distractor. Images with a heavy background will not highlight your product and make loading slower. So, it is best to keep backgrounds that are simple yet natural. Our objective is to engage customers with your product through images and boost traffic and revenue. This can be easily accomplished using images that come with a simple background, preferably white. Now you need not worry about purchasing tools or software for background removal. There are a plethora of tools online that instantly remove the extra background. They remove what is not needed and give a picture-perfect finish. The best thing is that they are highly advanced and come for free.
Conclusion
Optimizing images add to the aesthetic value and accentuate key details. It isn't a tough nut to crack! Once you understand your customers' requirements, you are there. The tips explained above are simple yet easy to follow. But if you are looking for specialized outsourcing agencies that can help you with image optimization, we are here to your rescue. Springbord is equipped with a pool of experts and has access to the right tools. Partner with us to see your e-Commerce business soar!