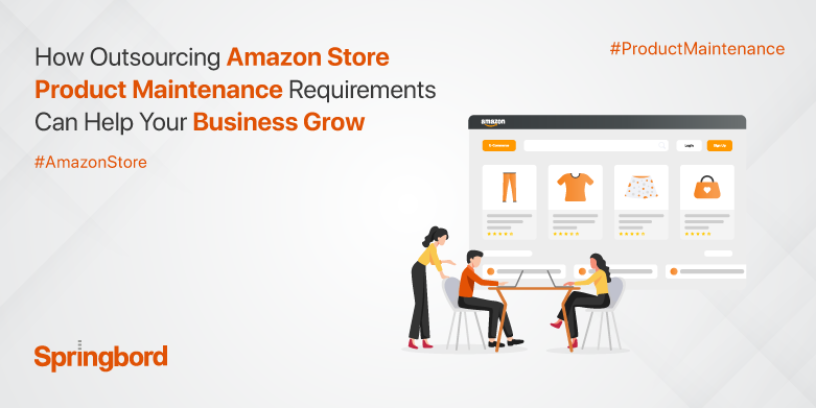 Read time

2

min
Amazon needs no special introduction as it is one of the giants in the e-commerce space. We have all been using it to buy products or just to get more information about the product. It has been helping a number of sellers in the market and provides a convenient and hassle-free shopping experience to its customers. Sellers saw massive growth opportunities and still continue to stay profitable despite all odds and challenges. But, this is not the case with many. Many sellers still struggle to figure out what Amazon store is and how it works. We all live in a world where things grow at an incredible pace, and changes occur every now and then. With that said, no matter whether you set up a new store or run an old one, you are about to encounter and be prepared for the changes and stay abreast.
In this blog, let us tell why you should outsource Amazon store management requirements to a specialist and the benefits you gain by outsourcing.
Benefits of outsourcing Amazon store product maintenance requirements
Creating and managing your Amazon store is one of the prime tasks. Keeping your store's products well-organized and maintained is a never-ending process as it needs to be updated periodically. But, hiring an expert can ease this task and offers innumerable benefits. Let us look at some of the perks of hiring a specialized partner for the management of your product catalog and other e-commerce services.
Boosts sales and profit
Managing your product catalog can do good for you and your business. It can drive traffic, increase sales, and, in turn, profit. Having an expert consultant at your disposal can get the job done. They can assist you with keyword optimization, product management, and product upload. Outsourcing is a cost-effective solution as it cuts down expenses on infrastructure and salary for full-time employees. Not to mention, when you outsource, you get the work done by professional resources, which means you can get quality output and more revenue or profit.
Focus on mission-critical tasks
Running a business is not a simple thing. It involves a lot of processes and requires a great amount of time and effort. This is when outsourcing comes into the picture. You can delegate the task to the outsourcing agency and focus on other critical operations of your business. Since product management is a never-ending task, it consumes a lot of time. When you have a qualified team to look after your Amazon store product maintenance requirements, you can get ample time to focus on other business operations. You can wisely utilize your time by splitting it into small intervals for your existing and new projects. By doing so, you can help other departments of your business and steer towards the path of growth and profitability.
Drives traffic and increases conversion rate
The way you present your online store significantly influences the conversion rate of your e-commerce business. The best way to increase the conversion rate is to improve and maintain your online store. You can attract more customers to your page and generate more traffic via social media. You can reach out to a wide variety of customers by promoting your product through a multitude of social media platforms. Outsourcing will help boost sales and also let you stand out from the crowd.
Conclusion
We hope that you have understood the benefits of outsourcing Amazon store management requirements. Are you now confused about selecting the best outsourcing partner? We are here to help! Known as one of the leading consultants, Springbord is equipped with a pool of highly-skilled professionals who can help your business soar. Talk to us today and learn more about our services and expertise.