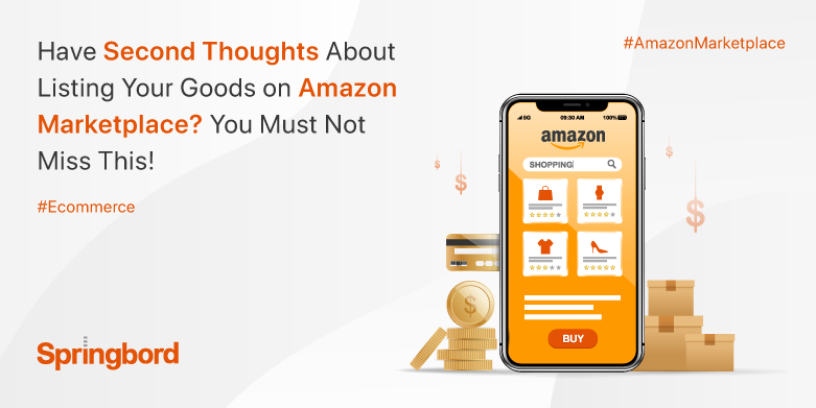 Read time

3

min
Amazon claims to be an ideal marketplace for both buyers and sellers. More than 300,000 small and medium-sized enterprises in the United States are already using Amazon to reach a wider audience, and Amazon is the starting point for product searches for nearly half of all US internet users (46.7 per cent). As these numbers show, Amazon is a disruptive force in the online retail industry.
Despite all of this, some vendors are still not making the most of this exciting venue. They frequently experience difficulties in keeping up with the administrative demands of their Amazon listings, whether from technical difficulties or time limits. Using Amazon's Marketplace Services, these merchants may easily and cheaply advertise their wares to Amazon's massive client base.
As a bonus, nearly every vendor would be interested in making use of this platform. If you find yourself in this group, it would benefit you to educate yourself on the main benefits and drawbacks. Find out what advantages you'll reap by reading about the benefits, and what drawbacks you should be aware of so you can plan around them. Here, therefore, is a rundown of the benefits and drawbacks of doing business in today's online marketplace.
Benefits
One of the best and simplest methods of reaching a wider audience
Amazon is not only the best option for reaching a huge audience but also the most convenient.
A well-organized product listing and shipment of stock to an FBA (Fulfillment by Amazon) warehouse are all that is required. And just like that, you're up and running.
Get On Amazon's Marketplace or Fall Behind
In today's digital age, it's crucial to have a strong online presence. While it's undeniably important to have your own website and keep it updated, it's possible that you won't get nearly as much exposure as you would on Amazon. It's safe to argue that Amazon's hold on the e-commerce market will only strengthen. Even yet, the proportion of Internet users who prefer to shop at Amazon are expected to rise further. For this reason, a company's long-term viability needs to participate in the Amazon marketplace.
Drawbacks
Your Listings Could Easily Be Plagiarized.
Because counterfeit goods use cloned ASINs on Amazon, these items end up with poor reviews. This leads to poor ratings and sales, which ultimately harms the company's reputation. Every issue, however, has a workaround. Using Amazon Listing Optimization, you can avoid this. Your listings are less likely to be duplicated by other merchants if you optimize them from the start. Amazon also plans to use its Brand Central register to crack down on counterfeits to safeguard legitimate businesses' intellectual property. Therefore, if you play strategically, you have nothing to worry about. This sort of activity can be readily avoided by enhancing Amazon's regulations and listing optimisation.
Amazon Is the Boss of the Customer Relationship
When it comes to expanding a company's consumer base, Amazon is hard to beat. Nonetheless, if we're talking about CRM, it's clear that it has complete control over anything having to do with customers. Because of this, establishing a personal connection with buyers is difficult for retailers. In the Amazon marketplace, both sellers and purchasers are considered Amazon customers. Accordingly, it deals with all questions and comments from buyers and sellers. However, there is a solution to this problem that you can employ to your advantage: collecting client data through product warranties or free e-book sign-ups.
Although there are drawbacks to selling on Amazon, the platform's revenue potential is hard to ignore. So, expand your business on one of the greatest eCommerce marketplaces without worrying about the negatives, since they can always be overcome.
Conclusion:
Need help getting started with selling on Amazon? The Best Amazon Marketplace Services Come From Springbord. Join together with Springbord to maximize your success as an Amazon seller.