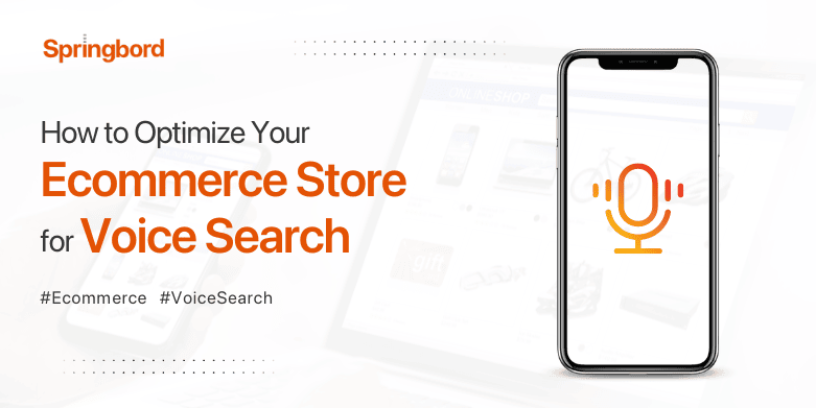 Read time

9

min
Voice search has revolutionized the way we interact with technology, making it easier than ever to find information, make purchases, and navigate the digital landscape.
With the rising popularity of voice-enabled devices like smart speakers and virtual assistants, optimizing your ecommerce store for voice search has become a crucial step towards staying competitive in the ever-evolving world of online business.
---
Introduction:
Voice search is a game-changer in today's fast-paced digital era because it is changing the way users interact with technology and influencing purchases.
With the increasing adoption of voice-enabled devices and the shift in consumer preferences, businesses must adapt their ecommerce stores to cater to the rising demand for voice search functionality.
This article will explore the importance of optimizing your ecommerce store for voice search and provide valuable insights on how to capture new opportunities in this dynamic landscape.
I. Understanding the Power of Voice Search in Ecommerce
A. Exploring the Growth of Voice Search
Voice search has experienced rapid growth in recent years, transforming the way consumers interact with technology and search for information. To truly appreciate its impact on ecommerce, consider the following statistics on the increasing adoption of voice-enabled devices:
By 2022, the number of voice assistants in use is projected to reach 8 billion globally, with smart speakers being the most popular devices. (Source: Juniper Research)
Voice commerce sales are predicted to reach $40 billion in the United States alone by 2022. (Source: OC&C Strategy Consultants)
In a survey conducted by Adobe, 71% of smart speaker owners reported using voice assistants to search for products. (Source: Adobe)
Moreover, there has been a notable shift in consumer behavior towards voice search, driven by the convenience and accessibility it offers:
55% of households are expected to own a smart speaker by 2022, indicating the growing adoption of voice-enabled devices. (Source: Juniper Research)
Voice searches are commonly performed for daily activities such as checking the weather, playing music, and making shopping lists. (Source: PwC)
B. Benefits of Voice Search for Ecommerce Businesses
Ecommerce businesses can leverage voice search to enhance customer experience, improve accessibility, and increase engagement and loyalty. Here are some key benefits:
Enhanced Customer Experience and Convenience:
Voice search allows customers to perform hands-free searches, making the shopping experience more convenient.
Users can quickly find and purchase products using voice commands, reducing friction in the buying process.
Personalized recommendations based on user preferences can be provided through voice-enabled devices, leading to a more tailored shopping experience.
Improved Accessibility and Inclusivity:
Voice search caters to individuals with physical limitations or those who prefer not to interact with screens.
It enables visually impaired users to navigate ecommerce platforms more easily, promoting inclusivity and equal access.
Increased Customer Engagement and Loyalty:
Voice assistants can offer personalized product recommendations, increasing customer engagement and driving repeat purchases.
Voice search can facilitate seamless reordering of previously purchased items, fostering customer loyalty.
II. Key Factors to Consider When Optimizing for Voice Search
A. Voice Search Technology and Its Impact on Search Queries
Understanding the differences between voice and text-based search queries is crucial for effective optimization. Consider the following factors:
Differences between Voice and Text-Based Search Queries:
Voice queries tend to be longer and more conversational in nature compared to text-based queries.
Users often ask questions or provide specific commands when using voice search.
Long-tail keywords and natural language play a significant role in voice search optimization.
Long-Tail Keywords and Conversational Language:
Incorporate long-tail keywords that reflect the way users naturally speak and ask questions.
Focus on conversational language and create content that directly answers user queries.
B. Understanding User Intent and Context
Recognizing user intent and context is essential for delivering relevant search results. Consider the following:
The Importance of Context in Voice Search Queries:
Voice searches are often influenced by the user's location, preferences, and previous interactions.
Contextual factors, such as time of day or weather conditions, can impact search results.
User Intent and Its Influence on Search Results:
Understanding user intent helps ecommerce businesses provide tailored responses and relevant product recommendations.
Analyze common user queries and optimize content to address their specific needs.
C. Optimizing Website Content for Voice Search
To optimize your ecommerce store for voice search, focus on creating content that aligns with user expectations and search engine requirements:
Creating FAQ-Style Content to Answer User Queries:
Identify common questions related to your products and provide comprehensive answers in an FAQ-style format.
Use natural language and address queries concisely, mirroring the conversational nature of voice search.
Structuring Content for Featured Snippets and Rich Results:
Optimize content to appear as featured snippets in search results, as they are often read aloud by voice assistants.
Implement structured data markup, such as Schema.org, to enhance the visibility of your content.
Incorporating Natural Language and Conversational Tone:
Craft content that mirrors how users speak, utilizing conversational language and tone.
Consider implementing voice search optimization techniques, such as question-based content or voice-friendly headlines.
D. Technical Considerations for Voice Search Optimization
Beyond content, technical considerations play a vital role in optimizing your ecommerce store for voice search:
Mobile Optimization and Responsive Design:
Ensure your website is mobile-friendly and responsive, as voice searches are predominantly performed on mobile devices.
Optimize page loading speed to provide a seamless user experience.
Site Speed and Performance Optimization:
Improve site speed by compressing images, minifying code, and leveraging caching techniques.
Fast-loading websites are favored by search engines and provide a better user experience.
Schema Markup and Structured Data for Better Visibility:
Implement schema markup to provide search engines with structured information about your products, reviews, and pricing.
Structured data helps search engines understand and present your content more effectively.
By optimizing your ecommerce store for voice search, you can tap into the growing trend of voice-enabled devices, enhance customer experience, and stay ahead of the competition.
III. Strategies to Optimize Your Ecommerce Store for Voice Search
A. Conducting Keyword Research for Voice Search
When optimizing your ecommerce store for voice search, conducting thorough keyword research is crucial. Start by identifying relevant long-tail keywords and phrases that align with the natural language users employ when using voice assistants. Tools like Google's Keyword Planner or third-party platforms can help you discover these voice-friendly keywords.
Additionally, analyze your competitors' strategies and stay updated on voice search trends. By understanding how other businesses in your industry are optimizing their content for voice search, you can gain valuable insights and identify areas for improvement.
B. Creating Conversational and Natural Language Content
To optimize your ecommerce store for voice search, focus on developing conversational and natural language content. Voice search queries are typically longer and more conversational than traditional text-based searches. To cater to this, create FAQ pages and product descriptions that are structured in a question-and-answer format. Anticipate the questions your potential customers might ask and provide detailed, helpful answers.
When crafting content, use language patterns that match voice search queries. Incorporate common phrases and terms people use when speaking rather than relying solely on formal or technical language. This will align your content with the way users interact with voice assistants, increasing your chances of appearing in voice search results.
C. Leveraging Structured Data and Schema Markup
Structured data and schema markup play a crucial role in optimizing your ecommerce store for voice search. Implement schema markup to enhance the visibility of your website in search results. By using structured data, you can provide search engines with detailed information about your products, such as price, availability, and reviews. This enables search engines to generate rich snippets, which are more likely to be featured in voice search results.
Optimize your product listings and reviews for rich snippets by following structured data guidelines provided by search engines. Ensure that the relevant information is marked up appropriately, increasing the chances of your products being featured as voice search results.
D. Enhancing Mobile Experience for Voice Search
Since voice search is primarily conducted on mobile devices, optimizing the mobile experience of your ecommerce store is crucial. Ensure your website has a responsive design and mobile-friendly interfaces. Mobile responsiveness ensures that your website adapts seamlessly to different screen sizes and provides a user-friendly experience across devices.
Consider incorporating voice-activated shopping experiences and features. For example, enabling voice-based product searches, adding voice-enabled shopping carts, or integrating voice commands for navigation can enhance the user experience and encourage customers to interact more with your store through voice search.
IV. Measuring Success and Iterating Your Voice Search Strategy
A. Tracking and Analyzing Voice Search Performance Metrics
To measure the success of your voice search optimization efforts, it's important to track and analyze relevant performance metrics. Monitor organic traffic and keyword rankings specifically for voice search queries. Analyze the impact of voice search on your website's overall visibility and search engine rankings.
Assess user engagement and conversion rates to understand how voice search impacts the behavior of your website visitors. Track metrics such as bounce rates, time on page, and conversion rates specifically for voice search traffic. This data will provide insights into the effectiveness of your voice search strategy.
B. Conducting User Feedback and Surveys
Collecting user feedback and conducting surveys can provide valuable insights into the user experience with voice search on your ecommerce store. Gain feedback on the ease of finding products, the accuracy of voice recognition, and overall satisfaction with voice-enabled features.
Identify areas for improvement and optimization by addressing user pain points and suggestions. Use this feedback to refine your voice search strategy and enhance the user experience.
C. Iterating and Refining Your Voice Search Optimization Strategy
To stay ahead in the ever-evolving landscape of voice search, it is essential to iterate and refine your voice search optimization strategy. Adapt to evolving search trends and changes in user behavior. Stay updated with advancements in voice assistant technology and adjust your content and technical optimizations accordingly.
Continuously update your content to align with emerging voice search patterns. Incorporate new long-tail keywords, revise product descriptions to match evolving user queries, and implement any additional schema markup required by search engines. Regularly review and improve your voice search strategy to ensure your ecommerce store remains competitive in the voice-driven marketplace.
By implementing these strategies and continuously optimizing your ecommerce store for voice search, you can position your business for success in the voice-driven future of online commerce.
V. The Benefits of Outsourcing Voice Search Optimization
A. Access to Specialized Expertise and Knowledge
One of the key benefits of outsourcing voice search optimization is gaining access to specialized expertise and knowledge. Professional SEO service providers have a team of experienced professionals who understand the nuances of voice search and the strategies required to optimize for it effectively. By outsourcing this task, you can leverage their expertise and benefit from their in-depth understanding of voice search algorithms and best practices.
For example, an outsourced SEO team can conduct thorough keyword research to identify voice-specific keywords relevant to your ecommerce store. They can optimize your product descriptions, metadata, and content to align with the natural language used in voice search queries. Additionally, they can implement schema markup and structured data to provide search engines with the necessary context for better understanding and indexing your ecommerce store's content.
B. Saving Time and Resources for Core Business Activities
Outsourcing voice search optimization allows your internal teams to focus on core competencies and strategic initiatives that drive your business forward. By delegating the responsibility to a trusted SEO service provider, you save valuable time and resources that would otherwise be spent researching and implementing voice search optimization techniques.
Instead of dedicating internal staff to learn and experiment with voice search optimization, outsourcing enables your team to concentrate on delivering exceptional products and services to your customers. It eliminates the need for trial-and-error approaches, ensuring that your voice search optimization efforts are executed with precision and expertise.
C. Gaining a Competitive Edge in the Ecommerce Market
Outpacing competitors in voice search optimization can provide your ecommerce store with a significant competitive edge. By outsourcing this task, you can ensure that you stay ahead of the curve in this rapidly evolving landscape. Professional SEO service providers continuously monitor and adapt to the latest voice search trends and techniques, enabling your store to remain optimized and visible in voice search results.
Moreover, by leveraging outsourced expertise, you can enhance your brand's reputation and customer trust. As more consumers adopt voice search as their preferred method of information retrieval, having an optimized ecommerce store will increase your chances of being selected as the recommended option by voice assistants. This recognition and trust can lead to increased organic traffic, higher conversions, and overall growth for your business.
---
Conclusion:
In conclusion, optimizing your ecommerce store for voice search is no longer an option but a necessity for businesses aiming to thrive in the competitive online market.
By embracing the power of voice search with Springbord, you can enhance the customer experience, increase accessibility, and foster greater engagement and loyalty. While the process may seem daunting, outsourcing voice search optimization to Springbord can provide access to specialized expertise, save valuable time and resources, and give your business a competitive edge.
Take the leap today and embark on a journey toward maximizing the potential of voice search for your ecommerce store. Contact Springbord, your trusted voice search optimization partner, and unlock the limitless possibilities that lie ahead.