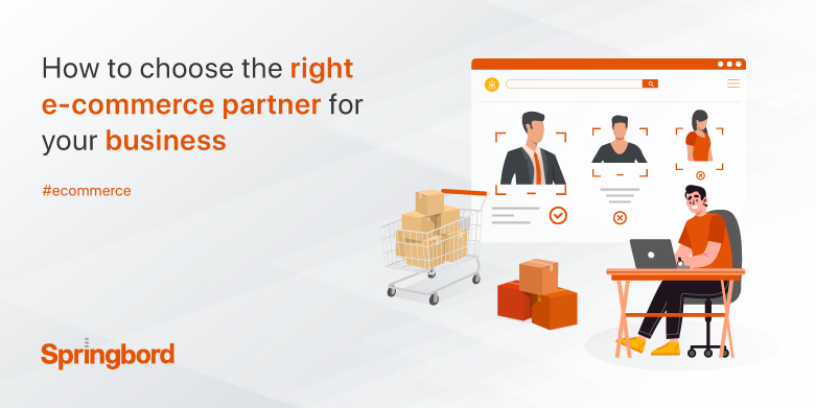 Read time

3

min
In the era where everything is online, businesses are quickly expected to adapt to the ever-changing ways of technology and the market. The customers want the businesses to meet their expectations without notice, hence, one must have the ability to fulfill it at a lightning speed.
How does your business do that when you are trying to sell your product with so many competitors in the market? Well, the answer is quite simple, to stand out by choosing the right e-commerce partner.
Now, the tricky part is to pick the right partner because there is no lack of eCommerce partners that are ready to tie up with you but is it the one for your business! How do you know that this is the one, on what basis will you choose a certain partner, are they fitting for your type of business, and do they have the same goals and mindset?
Let's look at the priorities that you require to shake hands with an e-commerce partner
Experience and integration experience
We can always trust an experienced partner because for every task experience is one of the most reliable proofs that count. Find out how long they have been in the game, their reviews from peers, and follow customer reviews religiously. Take your time to research thoroughly, keep a note of their portfolio, have your details on all their services, their previous deliveries of B2B and B2C.
Coming to integration experience, good integration helps transform a business which is why when you choose a partner they must be an expert in handling the integrations that you are going to or you already work with.
Reliability and support
Having a reliable partner in any kind of relationship is incredibly important, therefore, when it comes to your business every partner you bring on board must be utterly staunch and gets your job done on time. Security breaches are a no joke, leakage of information of your company and customers can reflect heavily on the business, thus, your and customers' security must be an utmost priority. Studying the history of your partner's management capabilities is obligatory, this concludes your e-commerce partner must have a commendable team and technology that keeps your business on track.
Omnichannel
In today's lazy yet hectic technology-driven world, customers expect everything to be available in the palm of their hands. Customer's expectations include them being able to shop how, where, and whenever they want, being able to track their items, get full customer support benefits, being able to enjoy seamless transition from mediums basically finding everything at one place so it's always advised to make their life and experience with your business as easy as possible. This calls for having a partner that understands omnichannel in and out, someone who will be your complete solution so in return you can be one for your customer.
Cultural fit
A good understanding between partners always goes a long way. This can be a little difficult to judge at first but asking the right questions can prove if they are on the same page with you. You will need to figure out their work ethics and principles because being like-minded can be immensely helpful for the growth of your business. The way they interact with their partners must be observed closely so you know if they will let you equally put in ideas and consider your opinions. Do you see yourself being able to collaborate with them for a long period of time, because you will have to deal with them on a daily basis and are they just a solution or are they also an expert in handling your business with creative ideas and of course, don't forget to check if they will match your business' maturity level? Last but not least consider pricing as per your budget but also wisely separate the services you need at the moment from the services that can work without currently if it's not pocket friendly.
Having discussed these points finding the right partner is easier to hunt. At Springbord our experts acknowledge all the requirements of e-commerce with a 360 angle. Our team looks at clients in their own light so that we can provide customized solutions that work solely for them. Here at Springbord we guarantee business growth, exceptional online revenue, reduce in overhead and turnaround time, and much more with innumerable services that every e-commerce needs.