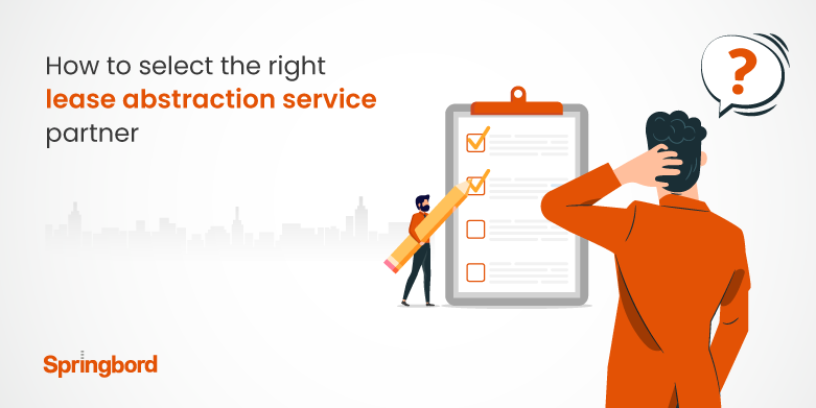 Read time

2

min
Whether it is lease management, lease accounting or common area maintenance (CAM) reconciliation, one thing that is crucial in order to efficiently manage these processes is access to accurate and relevant lease data. The convenience of having lease abstracted in user-friendly formats that is easy to access and understand is simply unparalleled in this market. It saves time and hassle of going through hundreds of pages of lease contracts and also helps avoid errors in terms of missed information or misinterpreted clauses, which can lead to unforeseen challenges.
Considering the key role lease abstraction plays, companies are increasingly looking for outsourcing partners who can help them abstract data from leases quickly and accurately. The benefits of outsourcing lease abstraction services have been proven, although you can derive these advantages only when you choose the right vendor. Here's a quick look at top three things to consider when selecting an outsourcing partner to ensure you have the right vendor to do the job.
Industry expertise
One of the first aspects to consider is whether the vendor has industry experience or not, who provides specialist services. Lease abstraction partners should bring domain knowledge and expertise in managing every type and volume of the lease.
The advantage of working with such a partner is that they bring in demonstrated capabilities and offer top-quality services underpinned by best-of-breed technology tools and industry best practices.
Engagement model
Certain vendors have a lock-in period which leaves no room for contractual flexibility, even if you are not happy with the services. It is therefore important to look for partners who offer flexible engagement models that allow you to engage their services as per business-specific requirements.
The advantage of such contracts is that you also get to scale up or down depending on the volume of work, meeting scalability demands and saving project cost based on the quantum of work. This offers more value for your investment.
Transparent communication
At the heart of any successful outsourcing, the partnership is transparent and timely communication. Look for partners whose policies and practices encourage open, timely, and clear communication.
Look for their reporting approach and timeliness and also able to collaborate as and when needed to ensure the job is done correctly the first time. Clear communication not only helps streamline the workflow, gain visibility into the project but also helps you gain confidence and trust and establish a profitable relationship.
At Springbord we have been helping real estate companies manage their lease portfolio efficiently, minimize risk, identify opportunities, and save cost. To know more about our Lease abstraction services, connect with us today!