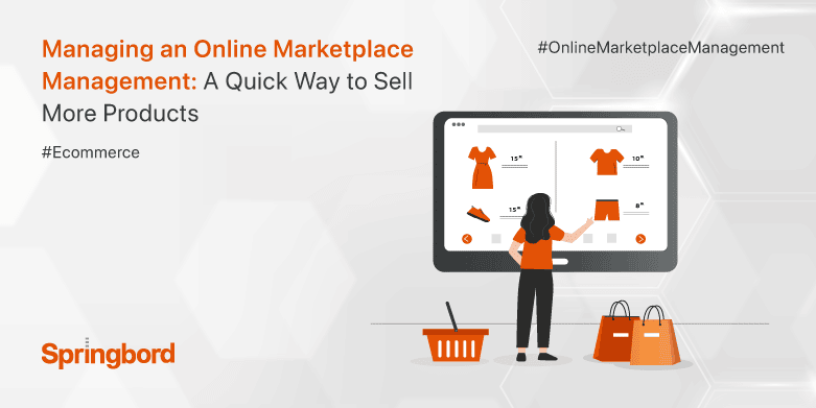 Read time

4

min
Are you ready to ramp up your online business?
One way to do this is through marketplace management, which can help you sell your products faster and more efficiently. In today's fast-paced digital world, it's more important than ever to have a strong online presence and a streamlined sales process.
Marketplace management involves optimizing your listings, managing your inventory, and tracking your sales across multiple platforms, such as Amazon, eBay, and Etsy. By implementing these strategies, you can increase your visibility, boost your sales, and ultimately grow your business.
In this blog post, we'll explore the top tips and tricks for successful marketplace management and how Springbord can help you achieve your goals. If you're ready to level up your online business, read on!
Marketplace Selling Checklist
Marketplace selling can be a great way to reach a wider audience and increase your sales, but it's important to approach it with a plan.
The following is a checklist to assist you in getting started:
1. Research the Marketplace
Understand the different marketplaces available and which one(s) are the best fit for your products.
Research your competitors and understand what strategies they are using to sell their products.
Look at the customer reviews and ratings to understand what customers are looking for in your products.
2. Make Sure Your Products are in Stock
Keep an eye on your inventory levels and ensure that you have enough stock to meet demand.
If possible, use a warehouse management system (WMS) to keep track of your inventory levels in real-time.
Consider using a dropshipping model to ensure that you always have products in stock.
3. Verify That Your WMS is Running Smoothly
Make sure that your WMS is set up correctly and that it's working as intended.
Test your WMS to ensure that it's accurate and reliable.
Troubleshoot any issues that arise to ensure that your inventory levels are accurate.
4. Have Some Safety Stock Prepared
Keep some extra inventory on hand to ensure that you can quickly fulfill any unexpected orders.
This will help you avoid stockouts and keep your customers happy.
5. Ensure Your Shipping and Handling is Ready
Make sure that your shipping and handling process is set up correctly and that it's working as intended.
Test your shipping and handling process to ensure that it's accurate and reliable.
Troubleshoot any issues that arise to ensure that your orders are being shipped and delivered on time.
Tips for Selling On Marketplace
1. Optimize your product listings:
Your product listings are the first thing potential customers will see when they come across your products on a marketplace. Make sure they are clear, concise, and accurately describe the product. Use high-quality images and include all relevant information such as dimensions, materials, and any special features.
2. Utilize keywords:
Utilizing relevant keywords in your product titles and descriptions will help your products appear in search results when customers are looking for specific products. Conduct research on the most commonly searched for keywords in your product category and incorporate them into your listings.
3. Offer competitive prices:
Customers are always looking for the best deal when shopping online. Make sure your prices are competitive with other sellers on the marketplace. If your prices are too high, customers will likely look elsewhere for the same product.
4. Encourage customer reviews:
Positive customer reviews can greatly increase the likelihood of a sale. Encourage customers to leave reviews by following up with them after purchase and making it easy for them to do so. Respond to any negative reviews professionally and try to resolve any issues the customer had.
5. Use social media:
Utilize social media to promote your products and drive traffic to your marketplace listings. Share product images and links on your social media channels and engage with your followers to generate interest in your products.
Importance of Marketplace Management
Monitor performance: Keeping an eye on your marketplace performance is essential for making informed decisions about how to improve your sales. Monitor your sales, customer reviews, and product rankings to identify areas for improvement.
Manage inventory: Properly managing your inventory is crucial for ensuring that your products are always in stock and ready for purchase. Keep track of your inventory levels and restock as needed to avoid running out of stock.
Respond to customer inquiries: Promptly responding to customer inquiries and addressing any issues they may have can greatly improve customer satisfaction and increase the likelihood of repeat business.
Utilize data and analytics: Utilizing data and analytics can provide valuable insights into customer behavior and help inform your sales and marketing strategy. Analyze data on customer demographics, purchase history, and product performance to identify trends and make informed decisions.
Use marketplace management service: Utilizing a marketplace management services like Springbord can greatly streamline the process of managing your marketplace sales. They provide a centralized platform for managing your listings, inventory, and customer interactions, as well as providing valuable insights and analytics.
Conclusion
In conclusion, by following these tips and utilizing marketplace management services, you can increase your sales and improve the overall performance of your products on marketplaces.
From optimizing your product listings to managing your inventory and utilizing data and analytics, there are many ways to improve your marketplace sales and ensure that your products reach the right customers.
With the help of marketplace management services like Springbord, you can simplify the process of managing your marketplace sales and make the most of your online sales efforts.