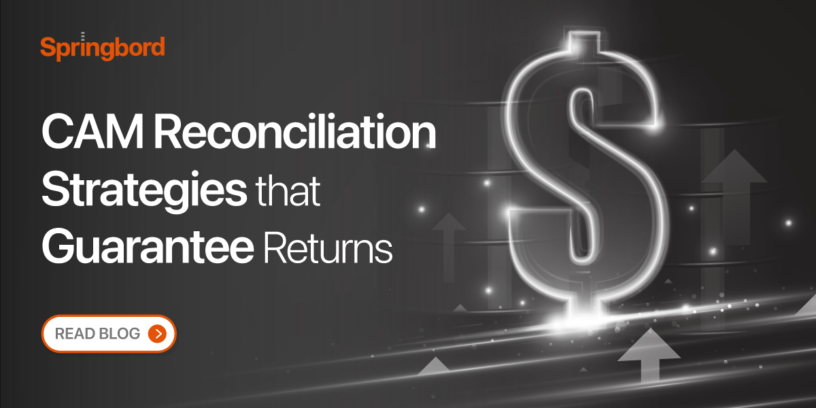 Read time

3

min
In commercial real estate management, achieving the highest possible return on investment (ROI) is a top priority. A critical aspect of this endeavor involves managing Common Area Maintenance (CAM) costs effectively.
Common area maintenance reconciliation, when executed strategically, can significantly impact your property's financial performance.
In this blog, we will delve into effective CAM reconciliation strategies, providing insights and examples to help you maximize your ROI.
Understanding CAM Reconciliation:
Before diving into effective strategies, it's essential to grasp the concept of CAM reconciliation. Common Area Maintenance refers to the costs incurred in maintaining shared spaces within a commercial property, such as lobbies, hallways, parking lots, and landscaping.
CAM charges are typically shared among tenants, and reconciliation involves comparing these charges with actual expenses incurred.
To reap the benefits of effective CAM reconciliation, property owners and managers need practical strategies at their disposal. Here are some actionable tips:
Utilizing Technology and Software:
Invest in CAM reconciliation software to streamline expense tracking, automate calculations, and generate comprehensive reports.
This technology not only improves accuracy but also saves time and resources.
Clear and Transparent Communication: 
Establish a culture of open communication with tenants. Regularly share information on CAM expenses throughout the year, ensuring that tenants understand what they are paying for.
This transparency reduces the likelihood of disputes during reconciliation.
Regular Property Inspections and Audits: 
Conduct routine property inspections to identify maintenance needs and potential cost-saving opportunities. Audits of vendor invoices and contracts should be part of this process.
Identifying discrepancies early can prevent overpayment and improve cost control.
Seeking Professional Assistance When Necessary: 
CAM reconciliation can be complex, and seeking professional assistance from accountants, legal advisors, or property management experts can be a wise investment.
They can offer expertise in navigating intricate lease agreements and complex reconciliations.
Common Pitfalls to Avoid
While effective CAM reconciliation can be a boon, there are common pitfalls that property owners and managers must steer clear of to maintain a smooth process.
Inadequate Record-keeping: 
Failing to maintain detailed records of expenses, invoices, and lease agreements can lead to inaccuracies during reconciliation. Invest in a robust record-keeping system.
Ignoring Lease Ambiguities: 
Lease agreements that lack clarity on CAM expenses can lead to disputes and tenant dissatisfaction. It's essential to address these ambiguities promptly and amend lease terms if necessary.
Neglecting Regular Audits: 
Infrequent audits of vendor invoices and contracts can result in overpayment or missed opportunities for cost savings. Regular audits are essential to maintain financial accuracy.
Poor Communication with Tenants: 
Lack of transparency in CAM expense communication can lead to tenant mistrust and disputes during reconciliation. Proactive, clear communication is key to avoiding this pitfall.
Unlocking Maximum ROI: The Power of Effective CAM Reconciliation
Cost Savings for Property Owners:
When CAM reconciliation is carried out effectively, property owners can identify and rectify excessive expenses promptly. This proactive approach can result in substantial cost savings.
For instance, by scrutinizing vendor contracts and service agreements, property owners may discover overbilling or inefficiencies that, when corrected, can reduce CAM expenses and boost the property's profitability.
Fair and Predictable Expenses for Tenants:
Accurate CAM reconciliation ensures that tenants are charged fairly for their share of common area maintenance expenses.
Predictable expenses help tenants budget effectively, fostering positive tenant relationships. Tenants are more likely to renew leases when they have confidence in the transparency and fairness of CAM charges, reducing vacancy rates and ensuring a steady income stream for property owners.
Impact on Property Value and ROI:
Efficient management of CAM expenses has a direct impact on property value. When CAM reconciliation is consistently handled well, the property's operating costs are optimized.
Lower operating costs increase the property's net operating income (NOI), which, in turn, can lead to a higher property valuation. This, in essence, maximizes ROI for property owners and attracts potential investors.
CAM reconciliation is not a one-size-fits-all process. Tailor your strategies to your property's unique needs, and proactively identify and address potential issues. With the right approach, you can boost your property's financial health and cultivate positive tenant relationships, ultimately maximizing your ROI.
Springbord's comprehensive CAM reconciliation services are designed to streamline your financial operations and optimize your property investments.
Partnering with Springbord brings you one step closer to unlocking the full potential of your commercial real estate assets.