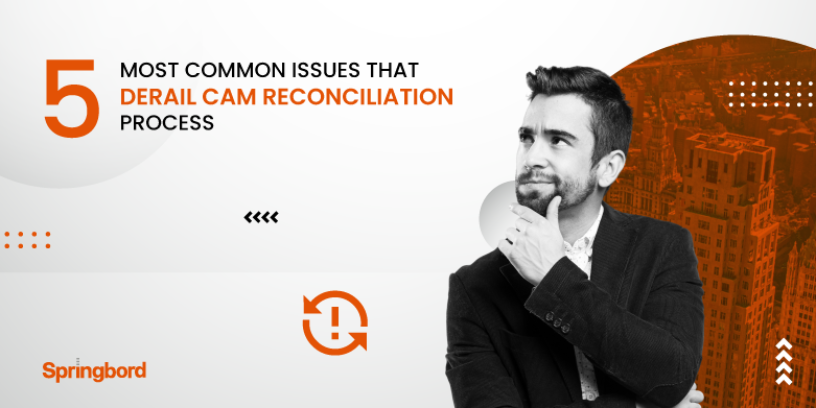 Read time

2

min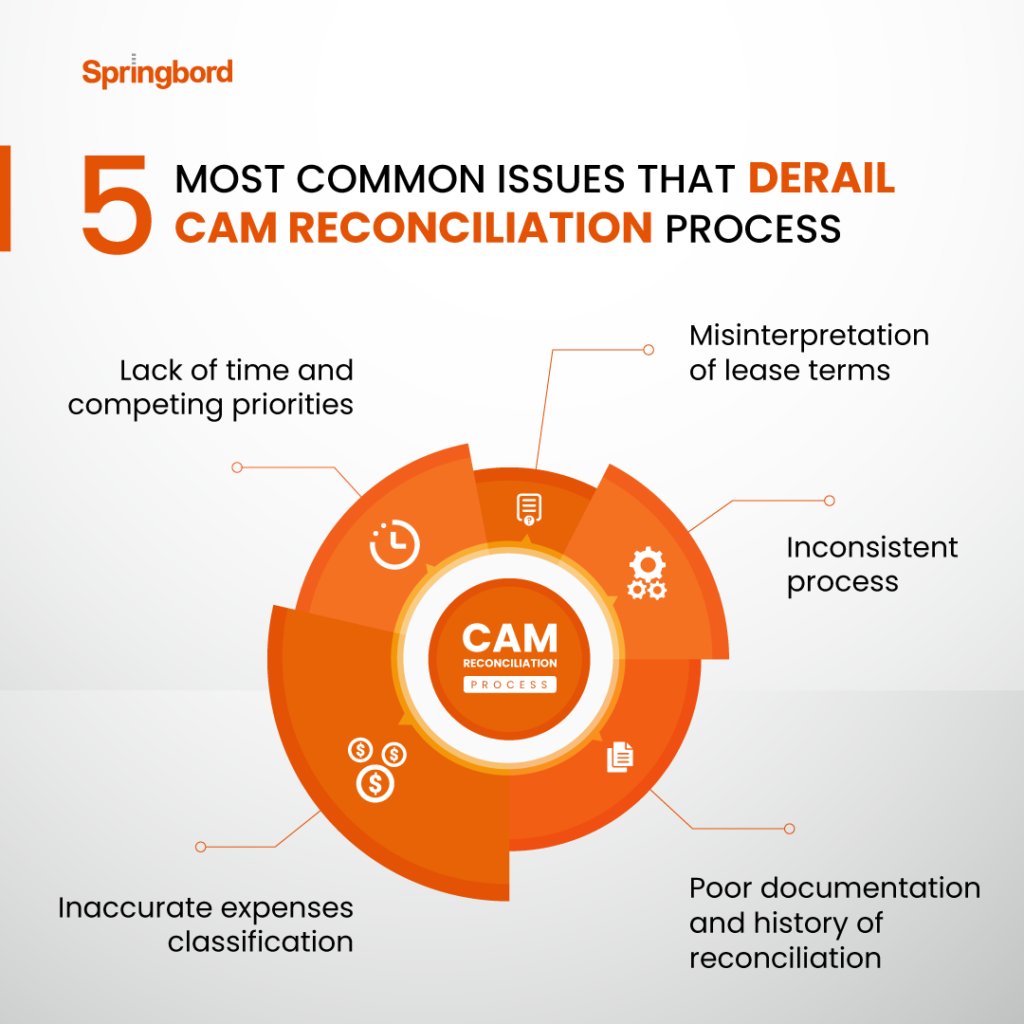 Even though common area maintenance (CAM) reconciliation is one of the critical processes in commercial leasing that contributes to accurate accounting and cashflow, it remains a challenge for most. Because reasons vary as to why CAM reconciliation is a source of stress and anxiety, there are no one-size-fits-all solution for simplifying this process. Even the smallest of issues add up making the process time-consuming and tedious.
There is no contest that accuracy in reconciling CAM charges is of paramount importance. But before one can find a right-fit solution, it is important to understand issues that can derail the process and affect its outcome. We have shortlisted five common issues that can throw a wrench in the works and make the reconciliation even more difficult.
Contents
#1 Inaccurate expenses classification
One of the most common problems that not only leads to slippage but also deeply impacts recoveries. Categorization of operating expense is an integral part of lease accounting data management. However, more often than not real estate companies lack the skill and resources needed to ensure accurate categorization of expenses and data management within the accounting system. Poor CAM and operating expense classifications results in inaccurate reconciliation, which ultimately leads to tenants paying less for the leasehold improvements and maintenance done during the lease term.
#2 Lack of time and competing priorities
Given the myriad tasks that property managers are required to handle to ensure efficient lease management they are often hard-pressed for time. Competing priorities mean they often end up racing to finish CAM reconciliations within the deadline. But CAM reconciliation is a long drawn process that requires dedicated attention and focus. Rushing to complete such a complex task often increases the risk of errors that can be quite expensive. Inaccurate reconciliations, over the years, can result in thousands of dollars in losses.
#3 Inconsistent process
This relates more to the way expense data is managed over time. Most companies lack standard processes to track, record, and manage maintenance and operational costs incurred over the year. Sometimes these expenses are not even tracked on time and are recorded after the fact mostly from memory. This inconsistency presents a huge challenge and risk of losing out on recoding expenses incurred in actual.
#4 Poor documentation and history of reconciliation
Not having access to proper documentation and previous reconciliation records also play a major role in making the task complex and tedious. CAM history offers insights into expense calculation and disputes arising out of it, making it easier to ensure present reconciliation follows best practices. However, lease data management remains a big challenge and therefore access to any kind of historical data is limited at best.
#5 Misinterpretation of lease terms
This is rather new, however damaging, nonetheless. Commercial leases today have become increasingly complex and extensive in the face of rapidly changing and evolving commercial real state sector. But most real estate companies lack resources with up-to-date knowledge and understanding of commercial lease types and its terms. This can be extremely detrimental to the CAM reconciliation process because it solely depends on the agreed contractual terms related to operating expenses. Any misinterpretation could lead to either tenant being charged less or more than they are liable to pay. In either scenario it is damaging for the landlord and negatively impacts tenant relationship and bookkeeping.
Springbord can help you address these issues and streamline the process, talk to us now to know more! We will be happy to answer any of your questions and guide you through our CAM reconciliation service and engagement models.