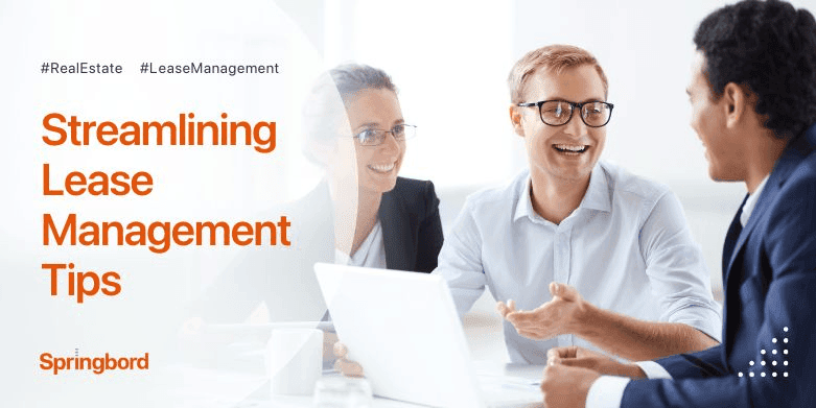 Read time

7

min
Lease management can be a complex and time-consuming task for businesses of all sizes. From tracking lease agreements to managing rental payments and ensuring compliance, the process often involves numerous challenges.
At Springbord, we understand the importance of streamlining lease management to enhance efficiency and reduce the risk of errors.
In this article, we will share invaluable tips and strategies that will help you optimize your lease management process. By implementing these recommendations, you can simplify your workflow, save valuable time, and ensure that your lease agreements are effectively managed.
I. Understanding the Challenges of Lease Management
Effective lease management is vital for businesses of all sizes. However, it can be a complex and time-consuming process, presenting several challenges that can impede operational efficiency and financial accuracy.
By gaining a deeper understanding of these challenges, business owners can appreciate the value of outsourcing lease management tasks.
A. Complex Lease Agreement Structures
Lease agreements come in various forms, such as operating leases, finance leases, and subleases. Each type carries its own intricacies and specific terms and conditions. Tracking and managing these lease agreements manually can be a daunting task, leading to potential errors, oversights, and missed opportunities.
Outsourcing lease management allows businesses to tap into the expertise of professionals who understand the nuances of different lease structures, ensuring accurate and comprehensive management.
For instance, a company with a diverse portfolio of leases spanning multiple locations and industries may find it challenging to navigate the complexities of lease agreement structures. Outsourcing lease management tasks to experts familiar with the intricacies of lease agreements enables businesses to streamline their processes, saving time and minimizing the risk of errors.
B. Time-Consuming Administrative Tasks
Lease management involves a range of administrative tasks, including data entry, document management, and tracking important dates. These tasks are often repetitive and can consume significant resources and manpower. Businesses that handle lease management in-house may face challenges in effectively organizing and retrieving lease documents, abstracting critical lease information, and meeting deadlines.
Outsourcing lease management alleviates the burden of these time-consuming administrative tasks. Professional lease management providers have established systems and processes in place to efficiently handle data entry, document management, and deadline tracking.
By leveraging their expertise, businesses can streamline their operations, enabling their internal teams to focus on core business activities.
C. Compliance and Regulatory Requirements
Compliance with lease accounting standards and regulations is crucial for businesses to avoid penalties and legal complications. However, keeping up with evolving lease accounting standards and ensuring adherence to regulatory requirements can be challenging, particularly for businesses with complex lease portfolios.
Outsourcing lease management offers a strategic solution for mitigating compliance risks. Service providers specializing in lease management possess up-to-date knowledge of lease accounting standards and regulatory changes. They can assist businesses in maintaining compliance, providing guidance on proper lease classification, recognition, and disclosure.
By partnering with experts in lease management, businesses can mitigate compliance risks and gain peace of mind.
II. The Advantages of Lease Management Outsourcing
Outsourcing lease management brings numerous benefits that directly impact a business's bottom line, operational efficiency, and accuracy.
A. Cost Savings and Efficiency
One of the primary advantages of outsourcing lease management is cost savings. By entrusting lease-related tasks to specialized providers, businesses can reduce overhead costs associated with hiring and training dedicated in-house lease management personnel. Outsourcing also eliminates the need for investing in expensive lease management software and technology infrastructure.
Additionally, outsourcing lease management improves efficiency by optimizing resource allocation.
Professional lease management providers leverage their expertise and advanced technologies to streamline processes, resulting in faster turnaround times, reduced errors, and improved productivity. This allows businesses to reallocate resources to revenue-generating activities and strategic initiatives.
B. Enhanced Accuracy and Data Integrity
Lease management requires meticulous attention to detail and data accuracy. Errors in lease abstraction, data entry, or reporting can lead to financial discrepancies, potential legal disputes, and damage to a company's reputation. Outsourcing lease management to professionals who specialize in this domain ensures enhanced accuracy and data integrity.
Experienced lease management providers possess in-depth knowledge of lease-related processes and regulations. They employ rigorous quality control measures to ensure accurate abstraction and reporting of lease data.
By leveraging their expertise, businesses can minimize errors, discrepancies, and associated costs.
C. Mitigating Compliance Risks
Outsourcing lease management plays a pivotal role in mitigating compliance risks. Professional providers have a thorough understanding of lease accounting standards, such as the ASC 842 and IFRS 16, as well as local regulatory requirements. They actively monitor changes and updates to these standards and ensure businesses remain compliant.
Moreover, outsourcing providers are equipped with the necessary tools and systems to manage lease-related compliance requirements.
They can assist businesses in adhering to disclosure obligations, ensuring accurate financial reporting, and maintaining an audit trail of lease-related activities. By partnering with lease management experts, businesses can navigate complex compliance landscapes with confidence.
III. Streamlining Lease Management Practices
A. Centralized Lease Repository
One of the key aspects of streamlining lease management is establishing a centralized lease repository. This entails creating a centralized database where all lease information can be stored and accessed easily. A centralized repository offers several benefits, including:
Improved Accessibility: By consolidating lease documents and data in a centralized system, businesses can eliminate the need to search through multiple physical files or scattered electronic folders. This streamlines the process of retrieving lease information, saving time and effort.
Enhanced Collaboration: A centralized lease repository allows multiple stakeholders within an organization to access lease data simultaneously. This promotes collaboration among different departments, such as legal, finance, and operations, fostering better decision-making and cross-functional coordination.
Cloud-Based Lease Management Systems: Cloud-based lease management systems offer additional advantages, such as remote access, scalability, and data backup. With a cloud-based solution, businesses can access lease information anytime, anywhere, ensuring flexibility and continuity of operations.
B. Automated Tracking and Notifications
Automation plays a crucial role in streamlining lease management processes. By leveraging lease management software tools, businesses can automate the tracking of key lease dates, such as lease expirations, rent escalations, and renewal deadlines. This automation provides the following benefits:
Elimination of Manual Errors: Manual tracking of lease dates is prone to human error, leading to missed deadlines and financial penalties. Automated systems, on the other hand, ensure accuracy and reliability, sending timely notifications and reminders to relevant stakeholders.
Increased Efficiency: By automating lease tracking, businesses can save significant time and effort spent on manual monitoring. This allows lease administrators to focus on more strategic tasks, contributing to improved overall operational efficiency.
Lease Management Software Tools: There are various lease management software tools available on the market that facilitate automated notifications. These tools can be customized to match specific lease terms and requirements, ensuring comprehensive tracking and reminders.
C. Streamlined Lease Abstraction
Lease abstraction refers to the process of extracting essential lease data and organizing it in a structured format. Streamlining lease abstraction is crucial for efficient lease management. The following strategies can help in achieving streamlined lease abstraction:
Standardized Abstraction Templates: Developing standardized abstraction templates ensures consistency and uniformity in capturing lease data. These templates can include fields for critical information such as lease commencement date, lease term, rent amounts, and renewal options.
Efficient Data Extraction: Accurate and consistent data extraction is essential for effective lease abstraction. Manual abstraction can be time-consuming and error-prone. To overcome these challenges, businesses can consider outsourcing lease abstraction services to professional providers who specialize in extracting relevant lease data accurately and efficiently.
Data Organization: Once the lease data is extracted, it should be organized in a structured manner for easy retrieval and analysis. Proper categorization and tagging of lease information facilitate quick searching and reporting, enabling businesses to make informed decisions based on lease data.
D. Regular Audits and Reviews
Conducting regular lease audits and reviews is a fundamental practice in streamlining lease management. These audits help identify discrepancies, ensure compliance with lease terms, and optimize lease agreements. Outsourcing lease auditing processes can offer several benefits, including:
Expertise and Objectivity: Professional lease auditing providers have specialized expertise in identifying potential risks, financial discrepancies, and lease term violations. They bring an unbiased perspective to the auditing process, ensuring thorough and accurate analysis.
Time and Resource Savings: Lease audits require significant time and resources, especially for businesses managing a large portfolio of leases. By outsourcing this process, businesses can save valuable internal resources and focus on core activities while ensuring comprehensive audits are conducted by experienced professionals.
Mitigating Financial Risks: Regular lease audits help businesses uncover hidden financial risks, such as overpayments, incorrect charges, or missed opportunities for cost savings. Identifying and rectifying these issues can result in substantial financial benefits and improved lease management practices.
IV. Choosing the Right Lease Management Outsourcing Partner
Outsourcing lease management processes require careful evaluation and selection of the right outsourcing partner. Consider the following factors when choosing a lease management outsourcing partner:
A. Evaluating Experience and Expertise
It is crucial to partner with an outsourcing provider that possesses relevant experience and expertise in lease management. Consider factors such as the provider's track record, industry reputation, and client testimonials. An experienced partner will bring valuable insights, best practices, and a deep understanding of lease management complexities.
B. Technology and Security Measures
Ensure that the outsourcing partner utilizes advanced technology infrastructure and robust security measures to safeguard sensitive lease data. Data privacy and confidentiality are of paramount importance, so it is essential to assess the outsourcing provider's data protection protocols, compliance with regulations, and disaster recovery capabilities.
C. Flexibility and Scalability
Choose an outsourcing partner that can accommodate your business's growth and evolving lease management needs. Flexibility in terms of service offerings, scalability, and adaptability to changing lease requirements is essential. Discuss the provider's ability to handle fluctuations in lease volumes, expand service scope, and integrate with your existing systems.
Conclusion:
Efficient lease management is crucial for businesses to stay organized, maintain compliance, and effectively utilize their leased assets. By incorporating the tips and strategies outlined in this article, you can streamline your lease management process and experience significant benefits.
Springbord is committed to assisting companies in optimizing their lease management through our expert services. From digital lease tracking solutions to personalized support, we have the tools and expertise to help you simplify your lease management and focus on growing your business.
Embrace these tips, leverage technology, and let Springbord be your partner in achieving seamless lease management. Get started today and experience the transformation firsthand!