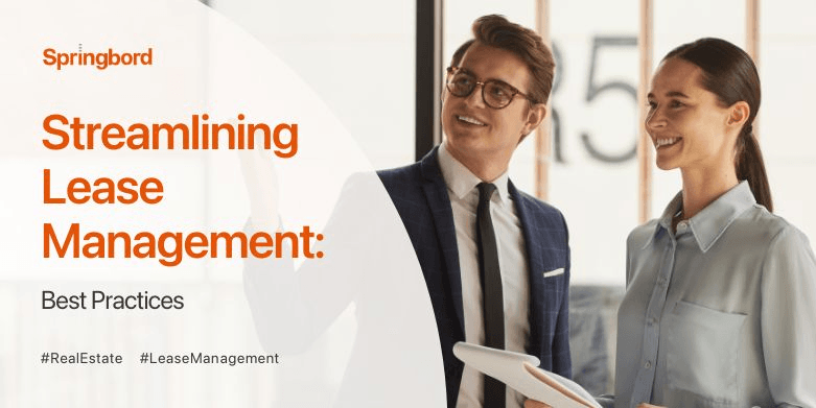 Read time

9

min
Lease management can be a complex and time-consuming task, often involving numerous documents, calculations, and interactions with tenants. Traditional manual methods not only drain valuable resources but also increase the risk of errors, legal complications, and missed opportunities. To overcome these challenges and ensure a seamless leasing process, it is essential to adopt best practices that promote efficiency, accuracy, and tenant satisfaction. In this article, we will delve into some proven strategies for streamlining lease management, empowering property professionals to enhance their operations and achieve long-term success.
The Importance of Efficient Lease Management
1.1 Cost Reduction and Financial Optimization
Efficient lease management is crucial for businesses looking to achieve cost reduction and financial optimization. By carefully analyzing lease agreements, businesses can identify opportunities to renegotiate terms, reduce rental expenses, and optimize lease durations. Additionally, effective lease management enables businesses to identify cost-saving measures, such as eliminating unnecessary leased assets or consolidating multiple leases into a single agreement.
For example, a retail chain with multiple store locations can analyze lease agreements to identify underperforming stores or negotiate lower rents for certain locations. By streamlining lease management, the company can reduce overall real estate expenses, leading to improved financial performance.
Studies have shown that businesses that actively manage their lease portfolio can achieve significant cost reductions. According to a survey conducted, companies that implemented robust lease management strategies reduced their annual real estate expenses by an average of 15%.
1.2 Compliance and Risk Mitigation
Compliance with lease terms and regulations is vital for businesses to avoid legal disputes and financial penalties. Non-compliance can result in costly litigation, damage to reputation, and potential disruptions to operations. Streamlining lease management processes helps mitigate these risks by ensuring that lease agreements are consistently monitored, and all obligations are fulfilled in a timely manner.
By centralizing lease information and implementing automated tracking systems, businesses can stay up to date with critical dates, such as lease expirations, rent escalations, and renewal options. This proactive approach allows businesses to take necessary actions well in advance, reducing the risk of non-compliance.
A recent study by a consulting firm revealed that businesses that streamline their lease management processes experience a 30% reduction in compliance-related issues. This reduction not only saves money but also helps businesses maintain a strong reputation and build trust with landlords and other stakeholders.
1.3 Enhanced Operational Efficiency
Streamlining lease management processes has a positive impact on operational efficiency. By adopting digital tools and automation, businesses can simplify lease administration tasks, reduce paperwork, and eliminate manual errors. This allows employees to focus on value-added activities and strategic decision-making, rather than being burdened by time-consuming administrative tasks.
Furthermore, centralized lease management systems provide real-time visibility into lease-related information, enabling better resource allocation and informed decision-making. For instance, if a business needs to expand its operations, having access to lease data, including lease terms, square footage, and rent rates, facilitates faster and more accurate decision-making regarding site selection.
A study found that companies that implemented streamlined lease management processes experienced a 25% improvement in operational efficiency. This improvement resulted in enhanced productivity, reduced administrative costs, and improved overall business performance.
Challenges in Lease Management
2.1 Complexity of Lease Agreements
Lease agreements can be highly complex, often containing intricate terms, conditions, and clauses. Understanding the legal language and implications of these agreements requires expertise in lease management. Additionally, businesses that manage multiple leases simultaneously face the challenge of keeping track of various agreements, which increases the likelihood of confusion and errors.
For example, a multinational corporation operating in multiple countries may have to deal with leases subject to different legal frameworks, tax regulations, and accounting standards. Managing such diverse lease portfolios without proper systems and processes can lead to costly mistakes and missed opportunities.
2.2 Manual Processes and Data Management
Many businesses still rely on manual lease management processes, such as paper-based documentation and spreadsheets. These methods are prone to errors, time-consuming, and inefficient in handling large volumes of lease-related data. Without a centralized system for storing and retrieving lease information, businesses face challenges in accessing critical data when needed.
Moreover, manual processes make it difficult to ensure data accuracy and consistency. Updates or changes to lease terms and conditions may not be promptly communicated, resulting in outdated or conflicting information. This lack of data integrity can lead to incorrect financial reporting, compliance issues, and missed opportunities for cost savings.
2.3 Monitoring and Renewals
Monitoring lease milestones, such as expiration and renewal dates, can be a cumbersome task for businesses. Failure to proactively track these events can result in missed renewal opportunities, leading to increased costs, disruption of operations, and potential loss of valuable locations.
For instance, a restaurant chain that overlooks lease renewal dates may face challenges in securing favorable terms or finding suitable alternative locations. This could result in higher rents, relocation costs, and potential gaps in their market presence.
By streamlining lease management processes, businesses can implement automated notifications and reminders for lease milestones. This ensures that renewal opportunities are identified well in advance, allowing businesses to negotiate favorable terms or explore alternative options before it's too late.
Best Practices for Streamlining Lease Management
Lease management plays a vital role in the efficient operation of businesses that rely on leased properties or equipment. However, without effective strategies in place, lease management can become a cumbersome and time-consuming task. In this section, we will explore best practices for streamlining lease management, focusing on the following key areas:
3.1 Centralized Lease Repository
One of the fundamental best practices for streamlining lease management is the consolidation of all lease agreements into a centralized repository. By doing so, businesses can reap several benefits that significantly improve their lease management processes.
Firstly, having a centralized lease repository enables ease of access. Instead of searching through various physical or digital storage locations, lease administrators can quickly retrieve lease agreements and related documents from a single, organized location. This accessibility saves time and minimizes the chances of overlooking critical lease information.
Furthermore, a centralized repository enhances data organization. Lease documents can be properly categorized, tagged, and indexed, making it easier to locate specific agreements or extract relevant information. This organization leads to improved efficiency and reduces the risk of errors or missed deadlines.
Additionally, a centralized lease repository fosters improved collaboration among stakeholders. Multiple departments, such as legal, finance, and operations, can access the repository, ensuring that everyone involved has access to the latest lease information. This collaboration streamlines communication, facilitates decision-making processes, and reduces the chances of misalignment or misunderstandings.
3.2 Automation of Lease Processes
Automation plays a pivotal role in streamlining lease management by reducing manual effort, eliminating errors, and accelerating critical lease processes. By automating lease management tasks, businesses can achieve significant time and cost savings.
One of the primary areas where automation proves beneficial is in document generation. Lease agreements often involve standardized clauses and terms. Through the use of lease management software or tools, businesses can automate the generation of lease documents by populating them with relevant information. This automation ensures consistency and minimizes the chances of errors or omissions.
Additionally, automating lease approval workflows can significantly expedite the process. By defining predefined approval rules and integrating them into the lease management system, businesses can streamline the approval process, eliminating bottlenecks and reducing the time it takes to obtain necessary authorizations.
Moreover, automation enables timely notifications. Lease management systems can be configured to send automated reminders for critical dates, such as lease expirations, rent escalations, or renewal options. These notifications help lease administrators stay proactive, ensuring that important actions are taken on time, thus mitigating the risk of penalties or missed opportunities.
By automating lease management tasks, businesses can save substantial amounts of time and reduce costs associated with manual labor, while also minimizing the likelihood of errors and delays.
3.3 Lease Data Standardization and Integration
Standardizing lease data formats and integrating lease management systems with other business systems are vital steps in streamlining lease management. This best practice enables businesses to achieve improved accuracy, reporting capabilities, and informed decision-making.
Standardizing lease data formats involves establishing consistent naming conventions, categorizations, and data structures across lease agreements. By doing so, businesses ensure that lease information can be easily analyzed, searched, and compared. Consistent data formats also facilitate data integration with other business systems, such as accounting or enterprise resource planning (ERP) systems.
Integrating lease management systems with other business systems allows for seamless data flow and eliminates the need for manual data entry or duplication. For example, by integrating lease data with the accounting system, businesses can automate rent calculation, invoicing, and financial reporting. This integration minimizes the risk of errors, enhances accuracy, and saves valuable time.
Furthermore, data integration enables comprehensive reporting and analytics. By consolidating lease data with other business data, such as financial or operational data, businesses can gain valuable insights into lease performance, occupancy costs, and overall portfolio health. These insights empower informed decision-making, facilitate strategic planning, and identify opportunities for cost optimization or risk mitigation.
3.4 Lease Portfolio Analysis and Reporting
Analyzing lease portfolios and generating comprehensive reports is a crucial best practice for efficient lease management. By conducting regular portfolio analysis, businesses can identify opportunities for cost optimization, risk mitigation, and strategic decision-making.
Lease portfolio analysis involves assessing key lease metrics, such as lease expirations, rental rates, occupancy costs, and critical dates. By consolidating this data, businesses can identify leases that are up for renewal or renegotiation, enabling them to proactively negotiate favorable terms or explore alternative options.
Additionally, portfolio analysis allows businesses to evaluate lease performance and identify underperforming assets or locations. By assessing factors such as rental rates, occupancy rates, or maintenance costs, businesses can make data-driven decisions to optimize their lease portfolio. For example, they may decide to consolidate multiple leases into a single location, negotiate lower rental rates, or explore alternative leasing arrangements.
Comprehensive reporting is an integral part of lease portfolio analysis. By generating reports that provide insights into key lease metrics, businesses can effectively communicate lease performance to stakeholders, such as executives, investors, or auditors. These reports enable transparency, accountability, and informed decision-making at both strategic and operational levels.
The Case for Outsourcing Lease Management
In addition to implementing best practices for streamlining lease management, businesses should also consider the option of outsourcing lease management to specialized service providers. Outsourcing lease management offers several advantages that can further enhance operational efficiency and cost-effectiveness.
4.1 Expertise and Specialization
Outsourcing lease management provides businesses with access to expertise and specialized knowledge in lease administration and compliance. Lease management service providers have dedicated teams of professionals who possess in-depth knowledge of lease-related regulations, accounting standards, and industry best practices.
By leveraging the expertise of these professionals, businesses can ensure that their lease management processes are carried out accurately and in compliance with relevant regulations. This expertise minimizes the risk of errors, penalties, or non-compliance, providing businesses with peace of mind and allowing them to focus on their core competencies.
4.2 Cost Savings and Scalability
Outsourcing lease management often results in significant cost savings compared to in-house management. By outsourcing, businesses can eliminate the need for hiring and training dedicated lease management staff, investing in lease management software or tools, and maintaining internal infrastructure for lease administration.
Additionally, outsourcing provides scalability benefits, particularly for businesses with a growing lease portfolio. As the number of leases increases, the workload associated with lease management also grows. Outsourcing allows businesses to easily scale up lease management operations by leveraging the resources and capabilities of the service provider. This scalability ensures that businesses can efficiently handle lease management regardless of the size or complexity of their portfolio.
4.3 Focus on Core Competencies
Outsourcing lease management allows businesses to redirect their resources and efforts towards their core competencies. Lease management, although crucial, can be a time-consuming and administrative-heavy task. By outsourcing this function, businesses can free up internal resources, enabling them to focus on activities that directly contribute to their core business objectives and revenue generation.
Moreover, by entrusting lease management to specialized service providers, businesses can ensure that their lease management processes are handled efficiently and effectively. This strategic outsourcing enables businesses to leverage external expertise, access advanced technology and tools, and benefit from industry best practices, ultimately leading to improved overall performance and competitiveness.
Conclusion:
Efficient lease management is the cornerstone of a successful real estate business. By embracing best practices and leveraging cutting-edge technology, property professionals can streamline their leasing processes, save time and resources, and stay ahead of the competition. Springbord understands the intricacies of lease management and offers tailored solutions designed to meet the specific needs of property owners and managers. With their expertise and innovative tools, Springbord empowers businesses to navigate the complexities of lease management with ease, ensuring improved tenant satisfaction, enhanced profitability, and peace of mind. Don't let lease management become a burden—partner with Springbord and unlock the full potential of your property portfolio. Experience the difference today and witness how streamlining lease management can transform your business for the better.