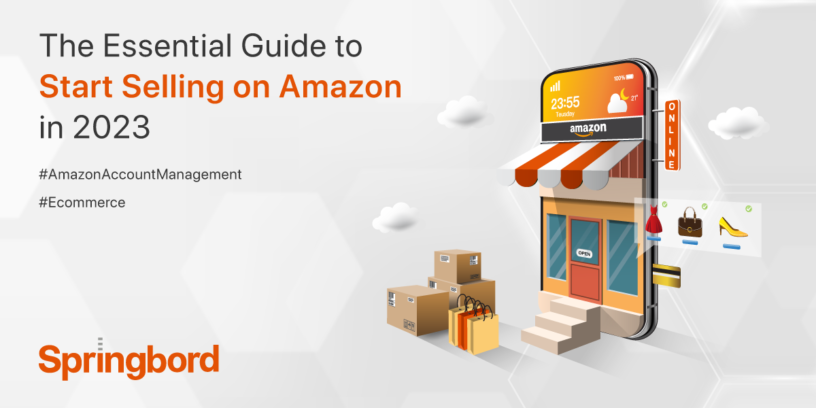 Read time

4

min
In order to use Amazon's Fulfillment by Amazon (FBA) service, you must first sign up as an Amazon seller and enable FBA in your seller account settings. Your company's setup must follow the rules outlined on the website. Get started selling on Amazon by making use of the platform's tools for listing and managing inventory. Get your goods ready for shipping, and drop them off at Amazon's warehouse. Amazon FBA will handle all aspects of order fulfillment, including providing customers with shipment confirmations and tracking numbers, when they place an order. The service is provided round-the-clock, seven days a week, for both buyers and sellers.
There are more than 350 million monthly active users on Amazon, making it the largest online marketplace in the world. You can open your shop on Amazon for next to nothing and start selling to customers all over the world. Amazon FBA oversees over 200 fulfillment centers and helps sellers with product picking, packing, and shipping. Signing up for Amazon's marketplace and starting to sell there is an easy process.
A Complete Guide to Start Selling on Amazon
Make a Business Strategy 
If you want to succeed at selling on Amazon, you need a well-thought-out business strategy. Some of the topics that should be covered in a business plan are the company's goals, market analysis, products, marketing, sales, and financial predictions. First, you need to figure out what kind of things you want to sell, how much you want to spend on sourcing those products and advertising and promoting them, and how the market for those products currently is. Create a rough schedule detailing important business events and your company's daily operations.
Conduct a Market Analysis 
Next, you'll want to confirm your business plan with market research after you've put it through its paces. Keep a detailed sales log of all of your rivals. If you watch what the other players in your industry are doing, you can get a clearer understanding of the current trends. In addition, it is possible to inquire about the products' satisfaction rates with numerous vendors or buyers. You can proceed with your plan once it has been determined that the market's sales data are accurate.
Identify Potential Suppliers 
The next thing to do is search for a reliable service provider. There are a plethora of business-to-business (B2B) sites available to assist in the search for reliable vendors. Investigate the firm thoroughly by reading up on its background, past clients, and the firms they compete with. Trade shows are another great place to network with potential vendors. Attending a trade show is a great way to meet potential vendors face-to-face and learn more about the goods and services they offer.
Get to know the items, prices, MOQ, order limit, quality, shipping expenses, and storage space available in the samples. Learn the terms and conditions of your suppliers' various payment options. Obtain sample units for quality control purposes. Inspect the product in person or have qualified quality inspectors do so before deciding on a provider.
Open a Seller Account on Amazon 
Start by signing up for a seller account on Amazon if you don't have one already. Obtain the following items before registering:
Access to international billing on your credit card
Valid government-issued identification
Data for tax purposes
Contact info: phone number or email address
Having access to a bank account
Then, decide on a strategy that will help you make the most sales. Each sale made by a member costs them $0.99. No matter how many products you sell, the Professional plan will always cost you $39.99 per month. In addition, Amazon receives a referral fee for both programs, the amount of which varies depending on the category of goods purchased and the percentage of the total transaction Amazon receives.
Publish Your Goods Here 
Before you can start selling on Amazon, you must first add your products to Seller Central like Springbord. The following details are included in a product listing:
A number assigned to a product can be used to track and trace it.
Inventory tracking requires a unique identification.
Identifying information such as the item's title, manufacturer, market, summary, and images
Promotional and price-cutting offers for your goods
Words and phrases that customers might use to find your product online
To increase its presence and sales on Amazon, Springbord has been assisting e-commerce businesses. Learn how our devoted staff can manage and optimize your Amazon operations while you focus on growing your business strategically.
Product Description on Amazon
Amazon does use the product description when determining where a product will rank in a search. You don't have to add any extra work to make it keyword-rich, though. Because the description section is less heavily weighted than the title, bullet points, and backend search terms, it's best to focus on those areas when writing your meta description.
Take Control of Your Stock 
FBA sellers on Amazon must pay close attention to stock levels. Stock levels should be prioritized. The best way to ensure proper inventory management and replenishment is to do it regularly. In order to maximize your profits from sales and market penetration, you must always have a sufficient supply of your products on hand.
As orders are placed, Amazon will immediately remove items from your available inventory. Make sure your stock levels are updated often so that customers can see whether or not the product they want is still available. Data on sales and stock levels can be combined using an advanced method. You should adjust your marketing strategy and put orders with suppliers to refill inventory if you realize that you are running low on a product.
Conclusion
Focus on what you do best—creating and delivering great products—while we handle the rest. In order to reap the benefits of Amazon A+ content creation, it takes expertise, time, and constant testing and optimization. At Springboard, we take a strategic approach to creating A+ content, and it has paid dividends for some of the most recognizable brands.