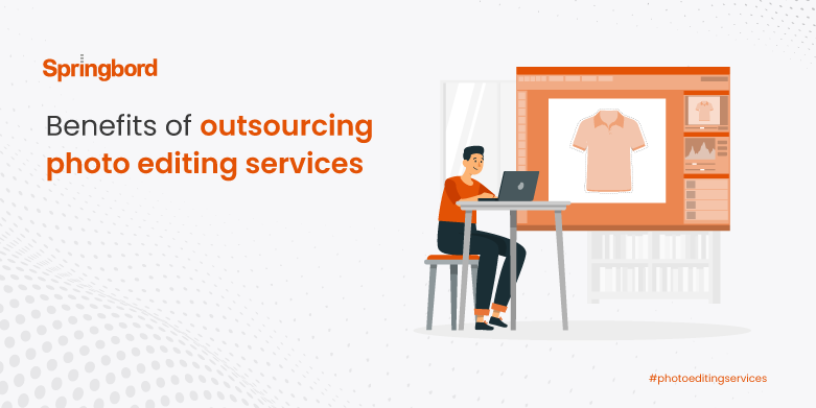 Read time

2

min
The digital world is a highly competitive one. The only way businesses can target prospective customers is to stay on top of the game. So, they come up with a million out-of-the-box ideas to entice the customers into feeling that their product is exactly what the consumers need. But what many businesses fail to understand is that there is one simple tool that can make or break the deal; Product imagery. Product images are what defines the brand. It is the simplest way to highlight a brand's message, concept, and quality to the consumers. The product may be stunning and amazing, it may even have all the qualities the target audience needs, and more; but they will just scroll past by if the product images are of really poor quality. A picture speaks a thousand words. A perfectly edited one will speak a million.
Now that the importance of product images has been made clear, the question remains whether the photo editing services be outsourced or in-house. The following points will make things clear;
Outsourcing photo editing services is a common and necessary practice today. Whether it is retail, services, fashion, or even the food industry, every business does it. Why? Because it provides a multitudinous of benefits for the business, including the benefit of increasing profits.
Photo editing is not as simple as it seems. It is tedious and time-consuming; time that can otherwise be spent on developing and improving other aspects of the business, if the photo editing services are outsourced.
Photo editing agencies have experts in the field, ready to dedicate their time and energy towards perfecting images. This way, companies do not have to worry about quality results, since they are hiring professionals by outsourcing their photo editing work.
Outsourcing photo editing services will not only produce quality work, but also curated work. They will customize images according to the targeted platforms, keeping in mind the brands' identity and their unique message.
When businesses outsource their photo editing services, they are hiring expert professionals with years of experience, which means they can deliver quality work in less time.
Being experts in the field also means that the photo editing agencies are up to date with the knowledge on what works in the market today. Hence, outsourcing provides a competitive edge to the business.
Editing images in-house is an expensive ordeal. The equipment, infrastructure, resources, and software required for the same will easily cross the budget. This will affect the business's overall profit, making it safe to say that outsourcing photo editing services is easier, mess-free, and budget-friendly.
Since outsourcing photo editing services is less expensive, businesses can focus on investing their capital on other aspects of their company, like business development, infrastructure,marketing, advertisement, and growth.
When photo editing services are outsourced, the results are quality images. Images are the first thing a consumer notices, so a high-quality image creates a positive impact on the consumer's mind. This, in turn, increases the conversion rates.
Outsourcing photo editing services to professionals provides a third person perspective, a fresh pair of experienced eyes who have the knowledge and capability to curate better quality images that are unique, creative, and just what the business needs to get that competitive edge.
It is now quite apparent that outsourcing your photo editing needs is the smartest step you can take in order to make your business bigger and better. It is important that the agency you select is the right one.
Well, look no further. We, at Springbord, know just what you need and have the expert skillset to provide the assured quality that will leave you more than satisfied. Have a look at our services to know more.