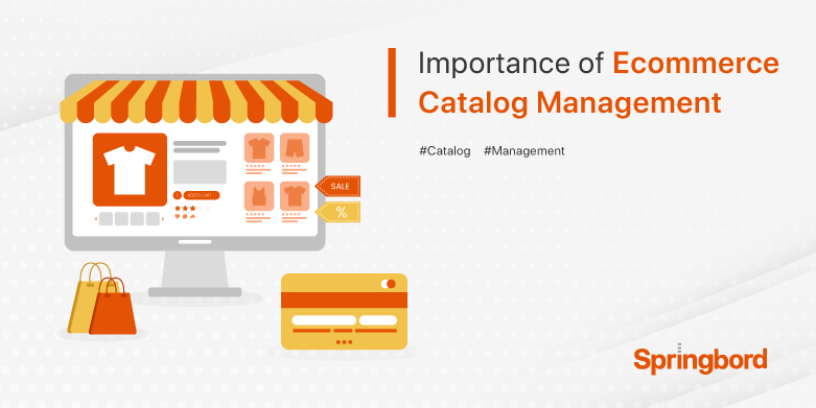 Read time

2

min
Ecommerce has infiltrated into every brand in recent years. People are accustomed to online purchases and identify brands based on their online presence and defined website content. You can be a B2B or B2C business owner but the reasons for your success boil down to how well you manage your e-commerce product listings.
What is product catalog management?
Catalog management is the efficient organization and standardization of product information that maintains consistency across all the sales platforms and smoothens back-office operations. As simple as it may sound, the actual process is much more complicated when the sale spans several channels- including thousands of products, each with its own set of specifications and descriptions.
Why do you need e-commerce product management?
The primary notion of product management is to provide the customers with an optimal and consistent user experience. Website design and product information management provide them ease of navigation, filtration, and all the details they require to make a comfortable, informed purchase.
Customized catalog creation:
A good catalog with accurate product listings can be the difference that fetches you suppliers and retailers. Separate customized catalogs for B2B and B2C avoids confusion. A strong catalog management system can simultaneously manage both catalogs. Periodic audits help in rectifying issues in the catalogs and inventory management.
Product data management:
Uploading product information is easier with product information management which organizes data automatically in multiple channels according to the respective categories. Scaling and streamlining new product lines into the existing system need not be strenuous anymore. Regular product updates avoid backorders and merchants can spend little time managing product catalogs and tracking the inventory. Reorder notifications and management gives you real-time updates to stock up on time.
Product descriptions:
Detailed descriptions assure the users and build brand loyalty. The descriptions have to meet the requirements of the sales platform and at the same time not change it into something else. When the product has specific measurements, color, fit or material that can be filtered, product categories and tags need to match with the product. Listing similar products together gives more options to choose from. Suggesting relevant products and services that are brought with the searched item can add value to the purchase. Images and other multimedia can be added to strengthen your game. Good product descriptions give better search relevancy and SEO. One mismatch or lack of information can increase return rates and discourage buyers.
Product information management is crucial to a business brand. All of these processes require expertise, time and resources, and are ongoing with maintenance and updates. Outsourcing catalog management is a smart decision and a good investment. Product management service providers can fine-tune the workflow of your business and show good results in a short span of time.Grow your Ecommerce with Springbord! We offer a complete suite of customizable e-commerce catalog management solutions to suit your every need. Read more about our product information services here: https://www.springbord.com/industries-we-serve/e-commerce-services.html