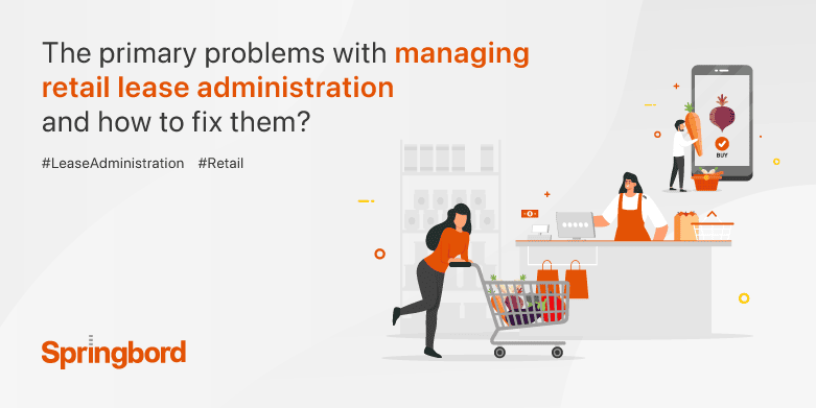 Read time

3

min
While trying to maximize profits and add value through lease restructuring and management, retailers must contend with several difficult challenges due to the market's volatility and uncertainty.
Companies can help leasing companies and lessees make more profitable decisions with the help of better data management when they have access to the right tools and processes. Sadly, many do not have the necessary technological framework to realize these dreams.
Listed below are the top concerns of commercial lessors and lessees, as well as solutions that can be implemented utilizing effective lease administration software.
Tenant Improvement Allowances and Their Treatment in the Books
If you have multiple properties, accounting for tenant lease improvements is essential to maintaining compliance with accounting standards because they are assets. Visibility and completion tracking is particularly important for commercial properties due to the higher costs associated with renovations.
The company's finances could suffer if these costs aren't properly recorded and depreciated. This is why purchasing property lease management software is highly recommended. Custom-built software can free up resources by reducing manual data entry and administrative red tape while giving everyone on the team a bird's-eye view of the company's financial standing.
Discussions regarding lease extensions
When a lease is up for renewal, both parties have the chance to renegotiate the terms of the lease to make it work better for their needs. Your business will be better prepared for productive negotiations if it actively engages the other side and studies recent commercial real estate market data.
Unfortunately, it's not always that simple, especially if you have to negotiate multiple lease renewals at once. The chance to improve your lease agreement depends on your careful attention to several details and deadlines.
Lease administration can be complicated, but with the right software, you can handle both operating and financing leases with ease. By having everything in one place, you can easily monitor progress towards deadlines and enter into negotiations with confidence. To make sure nothing gets missed, you can even set up automated alerts or repetitive tasks with strict deadlines.
Opening up channels of communication
The extended real estate team can set up open lines of communication and work on projects in real-time when they can all access and collaborate on contracts within the same platform.
Because of the time savings enabled by lease management software, your company can devote more resources to cultivating connections with buyers and brokers and gaining insight into potential prospects.
Handling Complicated Lease Arrangements
Some stores are growing their online operations while downsizing their physical locations, while others are looking to open physical stores to sell their wares and interact with customers in person. Some stores are even trying out pop-up shops and leasing out tiny sections of bigger ones to see how they do with smaller-scale concepts.
To stay relevant with today's consumers, you need to offer flexible lease terms and subleasing. Lessors need to get creative when it comes to leasing out their properties in light of the growing popularity of online shopping and omnichannel retail.
Lessors need to be familiar with new trends such as unconventional lessees, mixed-use buildings, and subleases for online retailers.
Efficient and precise data access
Lease administrators are often forced to work with non-secure email attachments or manually locate spreadsheets that are rife with errors from manual data entry. And it gets even trickier when a store has thousands or millions of records about its stores, locations, and leases from all over the world.
You can better assess opportunities and make data-driven decisions when you have access to lease, deal, and comparables data in one convenient location. Lessees and lessors alike can benefit from enhanced risk management, increased profitability, and more accurate liability assessments with the help of comprehensive lease management.
Better data management, improved cybersecurity protocols, more efficient management of complex lease structures, and a centralised hub for accessing and interacting with information in real-time are all possible because of the processes and tools available to modern businesses.
In addition to streamlining processes across large teams, a centralised system can eliminate errors caused by miscommunication and manual data entry. In the end, these solutions help both landlords and tenants make wise, profitable choices.
Conclusion
The administration of leases is a crucial part of any retail business and must be handled with the utmost care and precision.
It presents several obstacles, but there are many ways to deal with them. Outsourcing is one option worth considering.
Here at Springbord, we're experienced in managing all kinds of leases, and we provide all-encompassing services that are tailored to your needs and your budget.