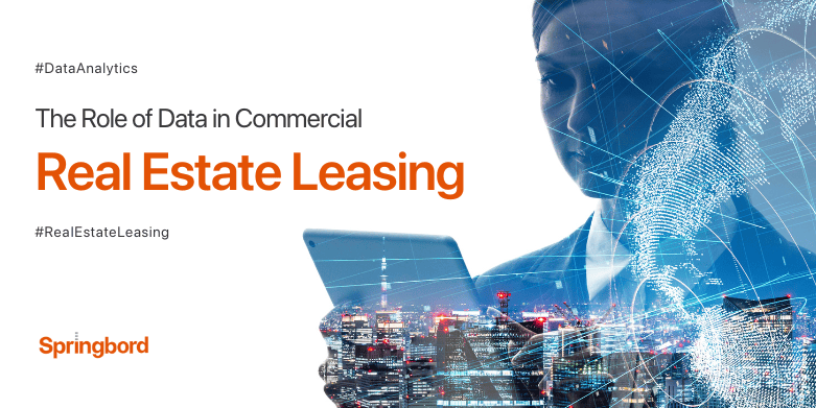 Read time

6

min
Staying ahead is essential in today's fast-paced, competitive corporate environment. Commercial real estate leasing requires informed decisions.
Data strategy gives you an edge. Data can transform leasing tactics and expand businesses. Real estate owners may find new possibilities, improve lease processes, and increase profits by using the plethora of information accessible.
This article discusses data's significance in commercial real estate leasing and its benefits. See how data-driven decision-making may change leasing and why outsourcing data-related jobs may unlock its full potential.
Introduction:
Data powers today's businesses. Organizations are using data-driven decision-making in marketing, sales, operations, and finance to compete. Commercial real estate leasing is no different. Data can disrupt this sector's particular issues and complexities.
In this blog, we will discuss the commercial real estate leasing market and how data may optimize leasing tactics. This article also promotes data use and outsourcing data-related jobs in commercial real estate leasing.
As we explore data and its importance in real estate, buckle up.
The Challenges of Commercial Real Estate Leasing
Commercial real estate leasing poses significant challenges for Business Owners, requiring them to navigate complexities and make critical decisions in a dynamic market environment.
Several key challenges include:
---
Market volatility and the need for agility in decision-making: The commercial real estate market is subject to fluctuations influenced by economic conditions, market trends, and regulatory changes. Business Owners must stay nimble to respond quickly to shifting dynamics and make informed decisions.
Limited visibility into market trends, tenant preferences, and competitor activities: Without comprehensive data, Business Owners lack a clear understanding of market trends, tenant demands, and competitor strategies. This lack of visibility can hinder their ability to make strategic leasing decisions.
Difficulty in accurately predicting tenant demand and optimizing leasing strategies: Business Owners often struggle to accurately gauge tenant demand, leading to potential vacancies or misaligned leasing strategies. Without data-driven insights, it becomes challenging to optimize leasing strategies to maximize occupancy and profitability.
The Rise of Data in Commercial Real Estate Leasing
In recent years, the real estate industry has witnessed a significant shift towards data-driven decision-making. This transformation has been facilitated by the availability of diverse datasets and advanced analytics tools.
The key aspects of data's evolving role in commercial real estate leasing include:
---
Harnessing the power of data analytics to drive better decision-making: By leveraging data analytics tools, Business Owners can gain valuable insights into market trends, tenant behavior, and property performance. These insights enable informed decision-making and help mitigate the risks associated with leasing.
Types of data available for commercial real estate leasing: Business owners now have access to a wide range of data sources, including market data, property data, tenant data, and demographic data. Market data provides information on market trends, vacancy rates, and rental rates. Property data encompasses details about specific properties, such as location, size, and amenities. Tenant data helps in understanding tenant preferences, lease terms, and occupancy rates. Demographic data provides insights into the surrounding population and target market.
Importance of data quality, reliability, and accuracy: Accurate and reliable data is crucial for effective decision-making. Business owners must ensure the data they rely on is sourced from reputable providers and undergoes rigorous quality checks. Inaccurate or outdated data can lead to flawed conclusions and poor leasing outcomes.
Benefits of Data-Driven Decision-Making in Commercial Real Estate Leasing
Adopting a data-driven approach to commercial real estate leasing offers numerous benefits, empowering business owners to make informed decisions and optimize leasing strategies.
The key benefits include:
---
Enhanced market intelligence: Data-driven insights enable business owners to gain a comprehensive understanding of market trends, demographics, and competitor activities. They can identify emerging market opportunities, analyze market saturation, and adapt their leasing strategies accordingly. For example, data may reveal underserved markets or highlight areas with high demand for specific property types.
Improved tenant targeting: By leveraging data, business owners can identify and target the most suitable tenants for their properties. They can analyze tenant preferences, behavior patterns, and occupancy histories to identify potential tenants that align with their property's unique features and location. This targeted approach increases the likelihood of securing long-term, quality tenants.
Optimal pricing strategies: Data analysis helps business owners determine the most competitive and profitable rental rates for their properties. By evaluating market trends, demand-supply dynamics, and property performance metrics, business owners can set rental rates that attract tenants while maximizing revenue. Data-driven pricing strategies ensure competitiveness while avoiding underpricing or overpricing.
Streamlined leasing processes: Data-driven tools and technologies automate various tasks and workflows, streamlining the leasing process. Business owners can leverage property management systems and customer relationship management (CRM) platforms that integrate data from various sources. Automation reduces administrative burden, enhances efficiency, and allows business owners to focus on high-value activities such as strategic decision-making and tenant relationship management.
The Case for Outsourcing Data-Related Tasks
In today's increasingly data-driven world, the role of data in commercial real estate leasing has become vital for informed decision-making and gaining a competitive edge.
However, building and maintaining an in-house data infrastructure can be a daunting task for many companies.
---
This section explores the challenges of in-house data infrastructure and presents a compelling case for outsourcing data-related tasks in the context of the commercial real estate leasing industry.
4.1 Challenges of Building and Maintaining an In-House Data Infrastructure
Developing and managing an in-house data infrastructure involves significant challenges. Here are a few key obstacles that businesses may encounter:
a) Technical Complexity: Establishing a robust data infrastructure requires expertise in various technical domains, including database management, data integration, data quality assurance, and data security. These complexities can consume valuable time and resources, diverting focus from core business activities.
b) Infrastructure Costs: Building an in-house data infrastructure involves substantial upfront investments in hardware, software, and IT infrastructure. Additionally, ongoing maintenance, upgrades, and hiring skilled data professionals further escalate the costs. These financial burdens can strain a company's budget and hinder its growth potential.
c) Data Governance and Compliance: Handling data in a compliant and secure manner is crucial in the real estate industry, where sensitive information such as financials, tenant details, and property valuations are involved. Ensuring data privacy, regulatory compliance, and cybersecurity measures demands dedicated resources, knowledge, and constant vigilance.
4.2 Cost-Effectiveness of Outsourcing Data-Related Tasks Compared to In-House Solutions
Outsourcing data-related tasks offers a cost-effective alternative to building and maintaining an in-house data infrastructure. By leveraging the expertise and infrastructure of a specialized outsourcing partner, businesses can enjoy several cost-saving advantages:
a) Reduced Capital Expenditure: Outsourcing eliminates the need for upfront investments in hardware, software, and infrastructure. Instead, the outsourcing partner bears these costs, providing businesses with immediate access to a comprehensive data infrastructure without the capital outlay.
b) Scalable Pricing Models: Outsourcing allows businesses to align their data-related costs with actual usage. Service providers often offer flexible pricing models, such as pay-as-you-go or subscription-based plans, enabling businesses to scale their data operations up or down based on their evolving needs and budget.
c) Operational Efficiencies: By outsourcing data-related tasks, companies can focus their internal resources on core business activities. This leads to increased operational efficiencies and productivity gains, as employees can concentrate on their areas of expertise, while the outsourcing partner handles data management and analysis tasks.
4.3 Access to Specialized Expertise and Cutting-Edge Technologies Through Outsourcing Partners
Outsourcing data-related tasks provides businesses with access to specialized expertise and cutting-edge technologies that may not be available in-house. Here's how partnering with an outsourcing provider can be advantageous:
a) Domain Expertise: Data service providers specializing in commercial real estate leasing possess deep industry knowledge and experience. They understand the unique data requirements, industry trends, and regulatory landscape, allowing businesses to leverage their expertise for better decision-making.
b) Advanced Analytics and Insights: Outsourcing partners often employ advanced analytics techniques, such as predictive modeling, machine learning, and data visualization, to extract actionable insights from vast amounts of data. These capabilities empower businesses to make data-driven leasing decisions and gain a competitive advantage.
c) Continuous Innovation: Data service providers are committed to staying at the forefront of technological advancements. By outsourcing data-related tasks, businesses can tap into the outsourcing partner's investments in research and development, ensuring access to the latest tools, technologies, and methodologies without the need for constant upgrades.
4.4 Improved Scalability and Flexibility in Data Management
Outsourcing data-related tasks provides businesses with enhanced scalability and flexibility in data management. Here are the key benefits:
a) Elasticity: The ability to scale data-related operations up or down quickly is critical in the dynamic commercial real estate leasing industry. Outsourcing partners can seamlessly handle fluctuating data volumes, ensuring businesses have the required resources and capabilities to accommodate changing demands.
b) Access to Diverse Data Sources: Data service providers often have access to extensive data sources, including market data, tenant information, property performance data, and more. This broader data landscape enables businesses to gain comprehensive insights and make well-informed leasing decisions.
c) Rapid Deployment: Outsourcing data-related tasks allows businesses to expedite the deployment of data initiatives. The outsourcing partner's existing infrastructure and expertise can accelerate the implementation process, reducing time-to-market and enabling businesses to derive value from data insights sooner.
---
Conclusion:
Finally, data is crucial to commercial real estate leasing. Data-driven decision-making gives business owners a competitive edge, streamlines lease processes, and improves financial results.
Building and sustaining an in-house data infrastructure is difficult and time-consuming. Data outsourcing can change that.
Business owners can save on expenses and gain specialized experience, cutting-edge technologies, and scalable solutions by working with expert service providers.
---
Data outsourcing success stories demonstrate its enormous potential and actual benefits. Don't miss out on data's power in leasing tactics.
Explore outsourcing relationships to boost your business. Get started on your data-driven journey with Springbord today.
Let's use data to improve leasing methods.