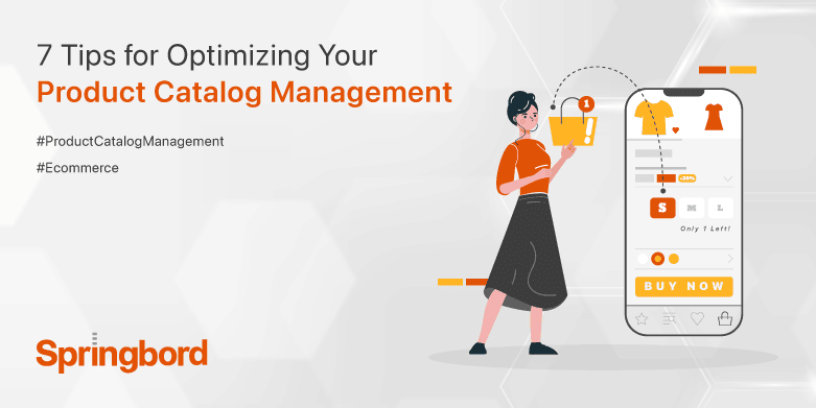 Read time

4

min
Catalogs provide the same level of detail as in-store browsing, allowing customers to make informed purchasing decisions.
Having a catalog of products that is well-organized is helpful not only for you but also for the customer. Your company can soar with this framework supporting it.
In this article, we will explain 7 tips to optimize your product management…
Product Catalogue Management
Managing your product catalog is a strategic process with the overarching goal of presenting consistent, reliable, and up-to-date product information across all of your sales channels.
A well-organized product catalog is essential for retailers who sell to niche markets and keep tabs on stock levels across multiple sales channels, as it provides a transparent view of inventory turnover, makes it easier for customers to make purchases, and yields actionable data for planning future advertising initiatives.
It is a major challenge for online stores to provide detailed and accurate product descriptions. However, sales and patronage can be lost without a foolproof system for managing your online store's catalog of products.
How can businesses then help consumers feel secure in their purchasing decisions? The key is the efficient management of product catalogs. Let's take a look at 7 ways that companies can improve their e-commerce offering and avoid losing customers just as they're about to make a purchase.
Product catalog optimization: the seven best practices
If you want to take your web store merchandising to the next level, here are seven practices that will help you optimize your products more effectively:
1. Real-time data updates for your products
The worst possible shopping experience is one in which a customer spends time looking for an item, makes a purchase, and then learns that the item is out of stock. Failure to deliver an order or to deliver it on time poses a serious risk to the reputation of an online store.
Building a reliable brand requires maintaining an always-current catalog of goods. Therefore, the only efficient way to prevent out-of-stock and other disruptions in supply chain operations is to automate your product data updates.
---
2. Create a Wonderful Experience for Your Customers (UX)
A good landing page isn't enough to guarantee a positive user experience, though. If they can't find what they're looking for quickly (like, within 10 seconds), 79% of visitors will leave for a competitor's site.
To design a memorable shopping journey for your customers, you need to focus on their goals and motivations as buyers. This is what we could be looking at:
Having the catalog displayed as a series of product pages that can be navigated individually and with the help of advanced search and filtering features
Using search-based interactive wizards to drill down through product information.
Educating consumers about a product in detail so they don't feel the need to look elsewhere for answers before making a purchase.
---
3. Upselling and Cross-Selling
By prioritizing the creation of a well-structured, all-encompassing online product catalog, retailers can increase sales via cross-selling and up-selling. The following are a few illustrations of this practice.
Tags that help with product searches: To encourage further browsing, related or alternate products are displayed.
Customized catalogs: Uses customers' preferences, location, currency, and other factors to display products.
---
4. Control stock levels in real-time
When making a purchase, there is nothing more disheartening than learning that an item is temporarily out of stock after you have already committed to buying it.
Avoiding this situation is possible by integrating your e-commerce product catalog with a real-time inventory management system. A shopper can be nudged into making a purchase decision by an inventory management system's "3 more available" message, or they can be notified when an item is once again in stock.
---
5. The Product Descriptions Should Be SEO and Customer-Friendly
One component of a high-quality user experience is the distribution of informative, interesting, and convincing content, which is something that few manufacturers are known for producing on their own. However, to cut costs and increase efficiency, many retailers simply replicate their product descriptions.
It's not just bad for your SEO and traffic numbers if you publish the same thing again, but it also means you're missing out on a chance to connect with your audience.
So, use their language to create content that will appeal to your target audience and rank well in search engines. Increased traffic, higher conversion rates, and less customer defection to the competition are all results of this strategy.
---
6. Research Innovative Methods of Online Advertising
After you've taken the necessary efforts to improve your e-commerce product catalog, you can put your hard work to use in dynamic social media marketing. Based on a user's activity on your site, they can send them a message promoting a product they've shown interest in purchasing.
With up-to-date and detailed product information powering your ads, you can bring customers back to your site and catalog for additional purchases.
---
7. Manage Catalogs Across Multiple Platforms
Improving operations, customer relationships, and revenue can all be accomplished through the integration of your product catalog with other systems in your technology stack.
---
Conclusion
Taking charge of your information is the first step toward optimizing your product catalog.
There are many advantages to using Springbord, a popular open-source platform for managing digital experiences and leveraging various tools to create a pleasant purchasing experience.
Many of our past projects have been fruitful in updating our clients' e-commerce product catalogs and improving their businesses' overall efficiency.