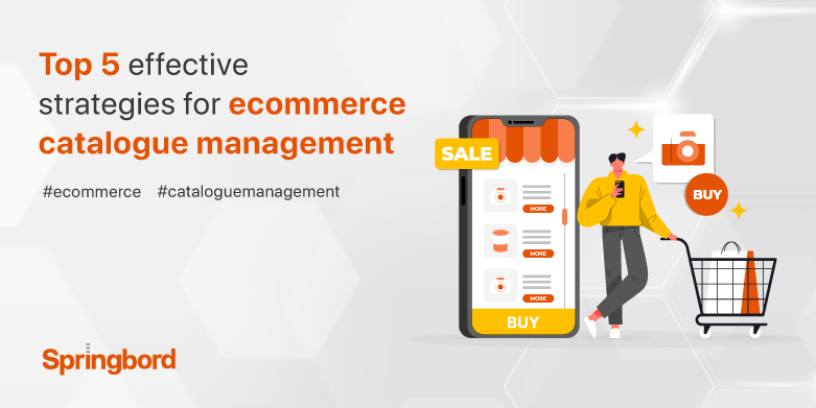 Read time

3

min
When we shop online, we expect an ecommerce catalogue to have an uncomplicated layout, complete product details, good quality pictures and so on. These are some of the points which if you pay attention to can help conquer sales, improve product visibility and build a trustworthy relationship with buyers.
Handling an ecommerce catalogue usually comes with challenges that include
Tools you choose for the catalogue management
Maintaining data quality
Problems in finding the right updates as per customer's preference
Managing your products across several channels
Expanding your catalogue
Organising complex details of products
Having understood the problems you could face, here are the top 5 effective strategies for ecommerce catalogue management:
Tagging and categorizing
Tagging and categorizing should be done carefully with every product falling under exactly where they are meant to be. This improves your product visibility and allows the customer to have a smoother experience. Utilize the categorization tools and options offered by your ecommerce partner and make sure to be consistent with your measurements, for example, if your customers are used to XS, S, M, L, XL and so on, use alphabets for all the similar products that can be measured with this unit. Avoid using too many complex descriptions, leave it short and crisp with list of ingredients and materials. Do add the additional attributes for the products which can help you catch the eye of the buyers.
Building trust with honest and quality information
How often do we read reviews that accuse the sellers of less transparency with their products, yes, more often that we'd like to think! This puts the business in a negative light, therefore, avoid hidden costs, ingredients and materials either way. Be a responsible seller which shows that you care about your customers, giving a detailed information about what goes into producing your items builds a bond which in the long run creates loyal customers and gives your brand a good reputation.
Upselling and cross selling
Upselling and cross selling guides your customers to find items and boosts sales. Use upselling technique by suggesting products that are of better quality when the buyer is looking at an item. You can cross sell by suggesting what goes with the item the customer is selecting, for example if they are selecting a blue purse, you can suggest what would go along with it or what other customers bought along with that product.
Map your catalogue management process
A catalogue consists of several things that require updating from time to time and when you do so it must be a headline in your company in order to keep the entire team on the same page. You never know what might come up, having a map for management process sends out updates to whoever must be aware about it so the changes are made immediately by the team responsible. Process map points every department towards what they require to do when changes take place and with its careful design every process stays on schedule giving your site and business a flow.
Choose the right tool for catalogue management
There is no lack of tools that can help in catalogue management but it depends on what your business needs. In case you find a software, which is more suitable for garments ecommerce business but you use it for electronics, it might have its limitations. There is browser based, downloadable software, spreadsheet software and a product information management system available, what you require are tools that will make things simple and is of superior quality.
Catalogue management is an essential for ecommerce as it plays a vital role for the portrayal of your business. It allows employees gets the benefit of smart work style and also it augments the experience of your customers. Managing and organizing catalogue can be expeditious when you have the right team and system working for you. Springbord swears to provide services brought to you by experienced professionals who understands this subject in depth and has the best tools for any kind of ecommerce requirements.
Our team and tools work rigorously to maintain each client's catalogue keeping everything up to date and delivers excellent services on time. Springbord's features are easily customizable and has outstanding performance ability which makes catalogue management painless for the business and appealing for the eyes of buyers.