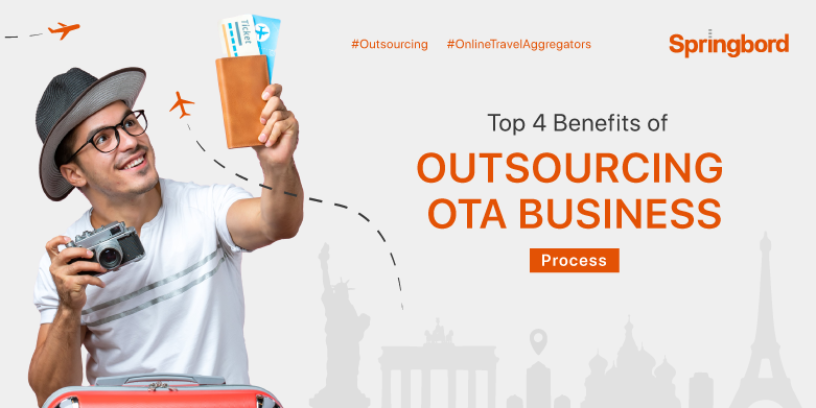 Read time

2

min
The travel business is a lucrative one with scope for aggressive scaling up if you go about it the right way. This is especially true for online travel aggregators (OTA), a segment where there is immense competition and equal number of challenges. The creation and maintenance of a successful business model can be time-consuming. This is why a large number of OTAs choose to outsource their non-core business tasks.
The business process outsourcing (BPO) industry has been flourishing since the 90s. Here, organizations hire service providers to perform certain tasks for them. Statistics indicate that the market size for global outsourcing was at $92.5 billion in 2019. Outsourcing of OTA business processes can have certain benefits such as:
Enhanced Customer Relationships
Travel companies often need to function across time zones and different countries. Language barriers and seamless continuation of services across time zones can be the challenges here. With outsourcing, you get access to specialized staff with proficiency to interact with customers in their native language. This also helps you offer access to your services within the customer's time zone and thus, corner a larger share of the market in that particular region.
Focus on Core Functions
When the non-core operations are outsourced, you are free to concentrate on the primary business tasks that can help grow your organization. For instance, outsourcing duties such as payroll and hiring can help you focus your efforts on highlighting your organization's unique offerings. When you have a reliable service provider who manages the data, it is easier for you to turn your attention to marketing your travel itineraries instead of verifying their accuracy.
Increases Efficiency and Speed
Outsourcing companies keep updated with the latest in automation and security systems, eliminating manual effort. This can help speed up mundane tasks such as indexing or mapping locations accurately. The use of innovations such as cloud computing models reduces the chance of errors and ensures efficiency. The use of the latest technology can help with better protection of client data too.
Reduce Operational Costs
The cost associated with hiring and managing a large in-house staff goes down substantially when an OTA opts for outsourcing. This can help increase profits while helping you maximize benefits for existing employees. For instance, instead of hiring web designers, you can outsource the web design project. This will get you access to not just talent but also the latest in technology. Here, you save the cost of upgrading your computer or software and hiring a full-time web designer. You also get the option of using variable-cost models to retain employees instead of fixed-cost models.
These are just some of the ways in which business process outsourcing can help you get ahead of the competition. At Springbord, we have an experienced team of professionals who can help you streamline your travel business processes. Reach out to us to know more about how we can help customize solutions for your specific requirements.