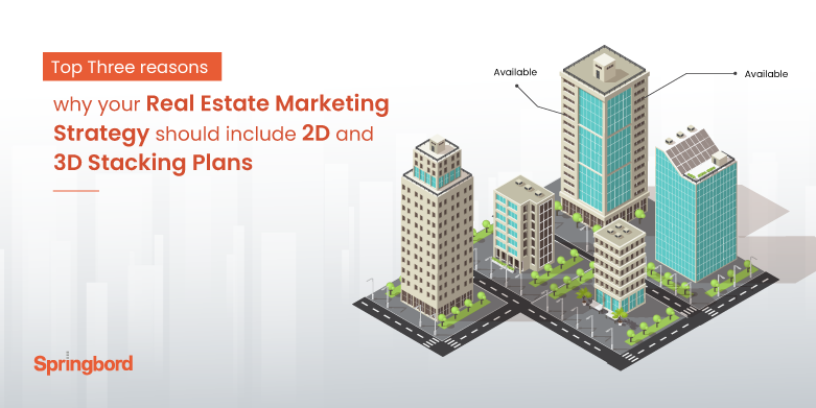 Read time

3

min
Introduction:
Real estate business is an eyeballs business. No client would part with their funds without ensuring that the house of their dreams or commercial property of their choice is exactly the way they have envisioned it. Real estate players are coming up with innovative ways of showcasing their inventory and stacking plans are just one of the few marketing services that are being used extensively to gain a competitive edge in real estate. In an industry with just too many real estate players providing a wide range of choices, what comes out starkly is how your company leverages digital technology to showcase your product uniquely in a 2D and 3D stacking plan. The right real estate marketing services partner will make or break the deal with your prospective customers.
Here are the top three reasons why your real estate marketing strategy should include 2D and 3D stacking plans.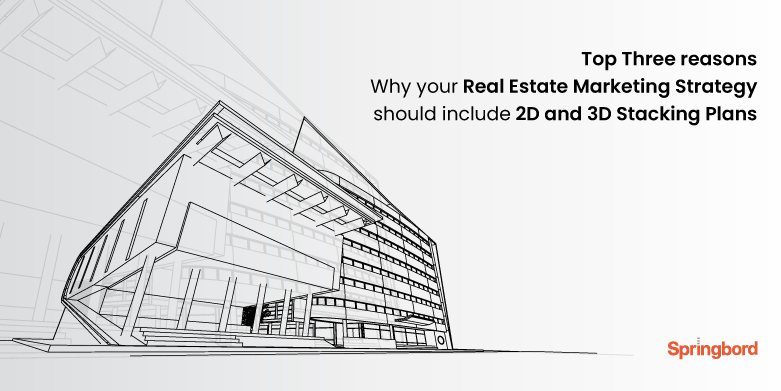 With the COVID-19 disruption, be prepared
With the CoronaVirus wreaking havoc to most industries, everyone is scrambling to get digitally armed so they can continue to run their businesses online. As clients move to a non-tangible entity called the World Wide Web hook, line and sinker, marketing tactics using digital technologies are coming to the rescue of real estate players. From 360 degree virtual tours to creating 2D and 3D stacking plans, real estate players are doing it all to ensure that their prospective customers have the best information at hand to make that 'king' decision. A good 2D or 3D stacking plan services provider can help boost your current click-through rate by almost 30 to 50%.
Supercharge your real estate ad results
On one hand, your 2D and 3D stacking plans can help boost the click-through rates of your real estate ads by 30 to 50%. Let us look at the reasons why this user behavior is noticed when it comes to using 2D and 3D stacking plans in your ads. The key point here is that the stacking plans are not just visually appealing renditions of your property but are also dynamic enough to display intricate details such as existing tenants, lease expirations or expansion and renewal options etc., in the same stacking plan. What this does is get you very relevant leads with highly specific requirements, landing on your products page with a clear intention to buy.
High recall rates for your brand
With 2D and 3D stacking plan renditions, you can rest assured that the visual elements of your stacking plans will bring in the highest recall rates for the brand/product on display. By engaging a stacking plan services company like Springbord to do your 2D and 3D stacking plans, you can get several of your brand elements neatly displayed across all your web assets, social media channels, ad copies, landing pages, newsletters and mobile applications, thus making a distinct mark on your prospective customers. The robustness of 2D and 3D stacking plans can be really high – displaying every key interior detail of your property, from kitchen plans to landscaping, from layout and dimensions to furnishing; thus giving a real-time experience of the property to your clients early during the buying decision phase itself.
Conclusion:
You don't have to waste your bucks on highly-priced stacking plan software. Springboard is a 2D and 3D stacking plan services outsourcing company and can help you get the best of your real estate products by showcasing them in the most professionally designed renderings. Our clients have trusted us with their architectural drawings and designs to create photorealistic stacking plans as well as initiate remarketing for their products. Through our efforts, we have boosted the slow-moving products to great momentum and have had the popular products sold out in no time.
Contact us today for a consulting conversation to see how we can help you boost your sales with our stacking plan services.