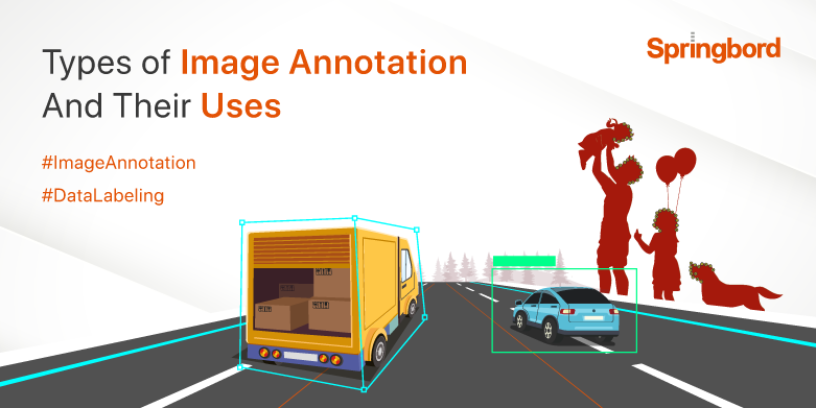 Read time

4

min
Image annotation is a method of adding captions to images. It has emerged as an essential mode of communication in the digital era.
Image annotation has many use cases in the modern-day workplace. There are ten types of image annotation and their use cases, which will be discussed in detail on this page under the following headings:
Semantic Segmentation
One form of image annotation is called image segmentation, and it allows us to identify individual items inside an image. It will enable businesses to categorize the data contained within images and organize them accordingly.
These are the kinds of components that automotive firms utilize in the production of autonomous vehicles. Clothing firms frequently utilize this format for the creation of virtual fitting rooms. Another industry that uses this type is the healthcare and medical industry for medical imaging, diagnostics, and MRI scans.
Bounding Boxes
Due to their adaptability and ease of usage, bounding boxes are a popular kind of image annotation in computer vision. Objects of interest can be more easily located by a computer. vision network with the help of bounding boxes. The declaration for one of these boxes requires only the X and Y coordinates of the top left and bottom right corners.
Bounding boxes can be applied to virtually any item and have significantly enhanced object detection systems' precision.
Line Annotation
The process of creating lines and splines for use in image annotation is known as line annotation. These features are primarily utilized to define the boundaries between different sections of an image. When a region that needs to be marked can be conceptualized as a border but is either too small or too thin for a bounding box or another sort of annotation to make sense. Line annotation is the method that is utilized.
Annotations for splines and lines can be easily created. They are frequently used for situations such as teaching warehouse robots to differentiate between different segments of a conveyor belt or teaching autonomous vehicles to differentiate between different lanes.
Landmark Annotation
A type of image annotation that computer vision systems can perform is landmark annotation. This type of image annotation is also known as "dot annotation" because it requires the creation of dots or points all over an image. It is possible to label objects in images with many small things using only a few dots, but it is more common for many dots to be joined together to represent the outline or skeleton of an object. Labeling objects in images with many small things can be done using just a few dots.
There is some leeway in terms of the size of the dots, and sometimes larger dots are utilized to differentiate important or landmark places from the areas that surround them.
3D Cuboids
A powerful form of image annotation known as 3D cuboids is comparable to bounding boxes because they provide the regions of an image in which a classifier should seek items. Nevertheless, three-dimensional cuboids include depth in addition to height and width dimensions.
Anchor points are generally positioned around the item's edges, and the area in-between each pair of anchors is often filled in with a line. This results in creating a three-dimensional representation of the object, which enables the computer vision system to learn to differentiate between characteristics of the thing, such as its volume and position within a three-dimensional space.
Instance Segmentation
An image annotation known as instance segmentation works in a manner analogous to semantic segmentation. Using this function, you can determine whenever an object occurs. A computer is employed to perform this activity, which consists of locating and identifying an object.
Automotive companies use image annotation of this kind for the development of self-driving cars.
Polygonal Segmentation
Objects with irregular shapes can be captured by a procedure called polygonal segmentation, which involves annotating them with multiple complex polygons. Polygonal segmentation is preferred over bounding boxes when accuracy is crucial. Polygons are superior to bounding boxes for precision because they record the object's contour while excluding the noise contained therein.
Ellipse Annotation
When using this kind of annotation, the circles drawn on a chart serve to annotate the various parts of the data displayed on the chart.
Manufacturing, the automobile industry, retail shops, agriculture, and the medical sector are other business sectors that use this type in their operations.
Detection And Recognition Of Objects
Annotating an image with the presence, location, and count of one or more items is known as object detection.
Companies in the security industry, the agricultural sector (for animal identification and people detection), and others employ this service or method.
Image classification
Image annotation takes the form of Image Classification, which looks for consistently portrayed items in photos throughout a dataset.
Example: medical imaging in the health care or medical industry relies heavily on this form of image annotation.
Object recognition in satellite imagery or machine vision is another use of picture classification.
Companies in the advertising, retail, and agricultural industries also use image annotation.
Conclusion
With the correct set of tools, you can achieve just about everything you can imagine with computer vision. Regardless of the kind of image annotation, Springbord can assist in getting your next machine learning project off the ground, which is of tremendous value. Get started by contacting our Springbord team.