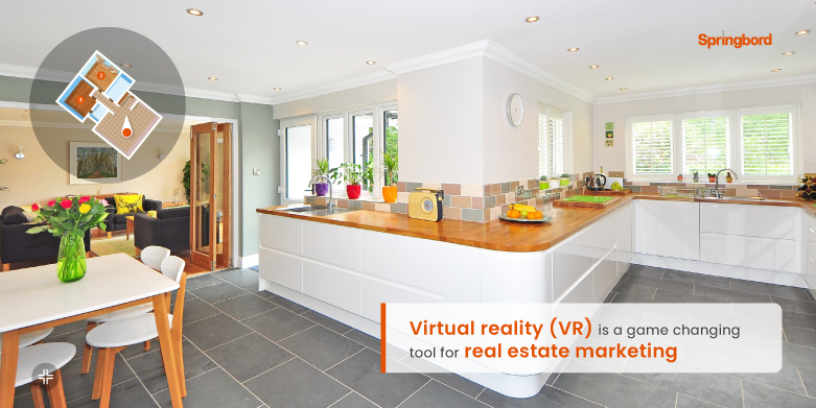 Read time

3

min
Virtual reality (VR) promises to unlock great possibilities within the real estate marketing sphere. While this technology seemed out of reach for smaller and medium organizations at the beginning, over the years its adoption has been steadily rising given its tangible business benefits. In fact, Goldman Sachs estimates the VR technology revenue would reach $2.6 billion within the real estate sector by 2025.
So far, the biggest impact of VR technology in the real estate industry has been on the process of home staging and tours. While home tours have been an integral part of real estate marketing, it is fraught with tedious and expensive processes and is extremely time-consuming for both realtors and prospects. However, VR applications have brought in a paradigm shift. We have listed some of the popular applications of the technology and how it benefits real estate players.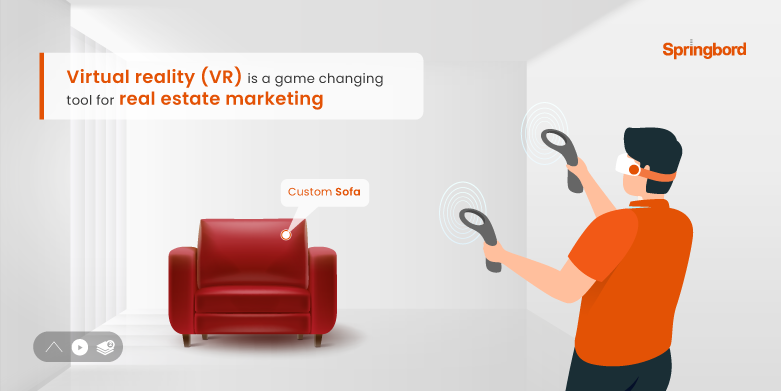 Virtual home tours at scale
Home shopping entails property visits before prospects settle on the final one. Home tours play a critical role in the decision making process. But property visits are time-consuming affair for both the parties, including the time and effort it takes to stage the properties. Plus, the challenge with physical tours is that there are only so many properties you can show to the buyer within a period of time, which is also subjected to the prospect's availability and convenience.
In an increasingly competitive market, not being able to tap into as many prospective buyers can be damaging for business. You can quickly lose prospects to your competitors who are more progressive and tech-savvy in their approach. VR technology helps overcome every hurdle that realtors face when showcasing the properties physically while offering an immersive experience to their clients. With VR apps you are equipped to reach out to hundreds of prospects at the same time. VR home tours offer real-life experience through 3D walkthroughs of properties. By using VR technology, you help your prospects to visit multiple properties within a matter of minutes across several locations. It offers an unparalleled ability to showcase your entire listing at scale.
Engaging and interactive experience
The VR technology offers sophisticated and rich features that allow you to provide a life-like experience to your prospects. It offers the ability to stage the properties which ever way you wish to style it in. And the renderings are so real that it offers an exact view of the space in relation to the furniture and fixtures. What's best, is that you can go for any interior décor styling with minimal investment.
You also have the power to create interactive VR tours that enable users to select and explore areas and spots within a property by simply clicking on spots within the area of view. This helps you to showcase the property in a way as if you are really there to conduct a guided tour, thus making the entire experience more engaging and immersive. Moreover, the ability to explore and view the property so thoroughly makes it easier for prospects to make an informed decision quickly.
Substantial time and cost saving
Sure, getting VR applications demand some investment. However, this cost is nowhere close to what you would need to spend in order to stage and schedule physical property tours. In addition to this, you also need to spend a substantial amount to market the physical property tours and promote the event.
With VR technology you can almost eliminate the cost of physically staging every property in the market and creating promotional materials. All you need to do is simply send the resource to hundreds of prospects in one go. Plus, it saves a great amount of time allowing your realtors and agents to better engage clients and focus on selling the properties.
VR technology within the real estate marketing has proven to be a game-changer in the way realtors showcase and stage their listings. It offers significant business value in terms of better sales funnel, huge cost savings, and optimized resource utilization.
Springbord offers an entire gamut of real estate marketing services to help clients successfully drive better business outcomes. Talk to us to find out how we can help you harness the power of VR technology to your competitive advantage.