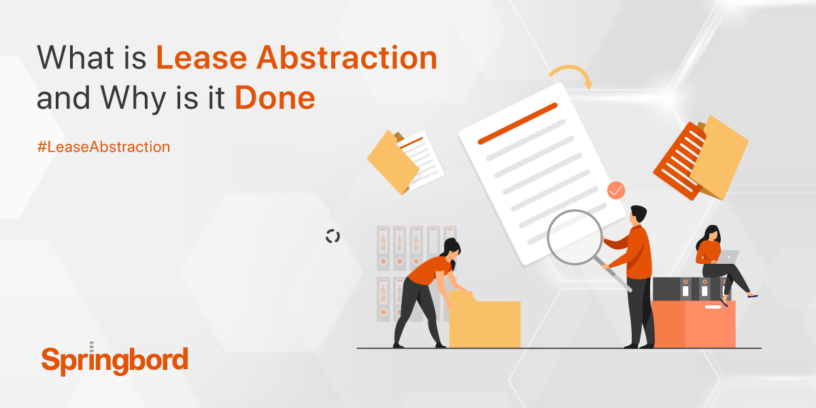 Read time

2

min
Any commercial property that is leased will have a lease document that outlines the property information. But people neither have the time nor the patience to read every single line of the document. Agree? That is how lease abstraction services took roots. A lease agreement is a document that contains hundreds and thousands of pages of property information like tenants' and landlords' names, lease terms, address, base rent, square footage, etc. In most cases, the information is either redundant or contains legal jargon. When you sit down to read and understand the terms of the lease, you feel perplexed.
The purpose of lease abstraction is to create a lease agreement that is simple and easy to read. The process involves gathering all relevant and critical data from the lease document, which was signed by both the tenant and the landlord. Lease abstraction disregards any trivial data and saves a lot of time by covering only what is required. This process has gained popularity in recent times since it has significantly helped clients and investors.
Importance of lease abstraction
We hope we have shed light on lease abstraction. Now, let us discuss why lease abstraction is imperative and how it is helping the real estate sector.
An abstract lease document includes all financial information and statistics of the property and aids investors and lenders in many ways. In a sale or an acquisition, going through the lease document becomes tiresome and time-consuming. In such a scenario, one can just skim the abstract lease document to verify and validate previous sales and other crucial data. If you wish to know more information about the property, you can simply look at the reference section provided in the abstract. Having a summarized version of the lease document saves a lot of time and acts as an ally for clients and investors.
One major advantage lease abstraction offers is convenience. Anyone would want to understand the terms of the lease on the go instead of spending hours together reading the original lease document. Lease abstracts can be designed as per the client's requirements and aim to avoid inconvenience. Lease administrators, executives, agents, or property managers can give lease abstract a glance to identify property-related references or other critical information.
Lease abstraction also helps arrest errors. When you skim through the lease document, the chances of missing dates or other parameters are high, affecting the business's growth and leading to financial losses. By abstracting the lease, you could possibly cover all critical parameters and eliminate risk. It also determines the pre-existing value of the property that could previously be missed inadvertently. An organization can track and review its portfolio and performance by the use of analyzed data, which is obtained by combining lease abstracts with the latest technologies.
Conclusion
This blog tells what lease abstraction is and the major role it plays in helping landlords, tenants, and agents. Lease abstraction effectively handles and manages critical data that could be daunting otherwise. It neatly outlines all the required and even complex terms of the original lease in simple terms that everyone from clients and lenders to investors can understand. A well-abstracted lease document saves time and money, eliminates risk, and avoids possible consequences.
If you are not familiar with the lease abstraction process and want the help of an expert, do reach out to us. Springbord has constantly been helping clients around the globe create lease abstracts that are simple yet legitimate. Outsourcing lease abstraction services deliver precision and consistency throughout. Our resources are adept in handling and processing lease abstracts, so you can rest easy knowing that your data is in the right hands.