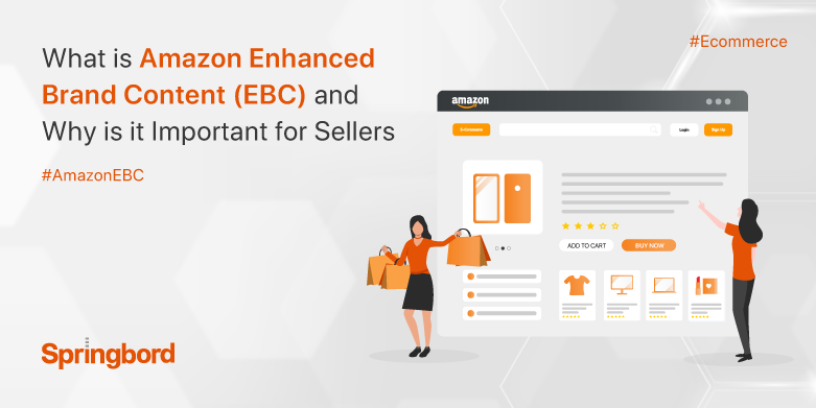 Read time

2

min
Amazon is one of the best places for both buyers and sellers. Selling on Amazon is no cakewalk. Not all sellers see a profit. But there are quite a few techniques and methodologies that can help you in the long run. One such approach is EBC. Enhanced Brand Content or EBC or A+ content acts as your brand's representative on Amazon. It is said that A+ content increases sales once it is added to the product listings. Sellers strive really hard to attract customers and set their product listings apart. Are you super-thrilled to know more about EBC? Then continue reading!
Amazon offers this excellent feature where sellers can add informative content along with images to the product listings. It also lets them incorporate bullet points that add aesthetics. But, sellers are eligible to use A+ content or modify listing only if they are registered on the Amazon Brand Registry. Customers are more likely to choose products that have A+ content as they give detailed information about the product in addition to self-explanatory images. So, EBC clearly boosts revenue and profit.
Benefits of Enhanced Brand Content
We hope that you are now aware of what EBC or A+ content is. Let us now delve into the benefits of Enhanced Brand Content in detail.
A+ content helps boost sales and ROI by attracting more and more customers to your page and building awareness and trust for your brand. By grabbing the attention of the customers, EBC aids in showing how your product differs from your competitors and reduces bounce rate as well. With attractive and enticing A+ content, you can make your customers read the product description, which doubles the chances of turning a visitor into a buyer. Another exceptional feature that EBC offers is comparison charts. Using these charts, customers can compare the features and specifications of other products, which will help them in making informed decisions.
Providing customers with exact and precise information, such as product description, features, specifications, benefits, et al., gives them a complete understanding of the product and ushers them in buying the product with confidence. This accuracy in data steers your page to profitability and reduces bad or negative reviews for your products and returns as well.
Enhanced Brand Content allows you to add storefronts that define your brand and help customers to understand and explore your products. This means that you can achieve a higher conversion rate, which in turn inflates revenue. With the help of mobile optimization tools, you can interact more easily with your customers through A+ content. So, you can play around with words and be creative. This not just increases sales and profit but also improves brand awareness and credibility.
Conclusion
On its face, Enhanced Brand Content might seem like a daunting task. But once you get to understand the process and nuances right, you can master it in no time. As said earlier, EBC helps create awareness for your brand and drive traffic. A+ content impacts sales, conversions, and returns and can make or break purchasing decisions. So, it is wise to outsource content writing services to specialized agents like us. Springbord has experienced and skilled professionals who can help deliver persuasive product content and a high-quality product listing. Partner with us today and see your page top the search results.