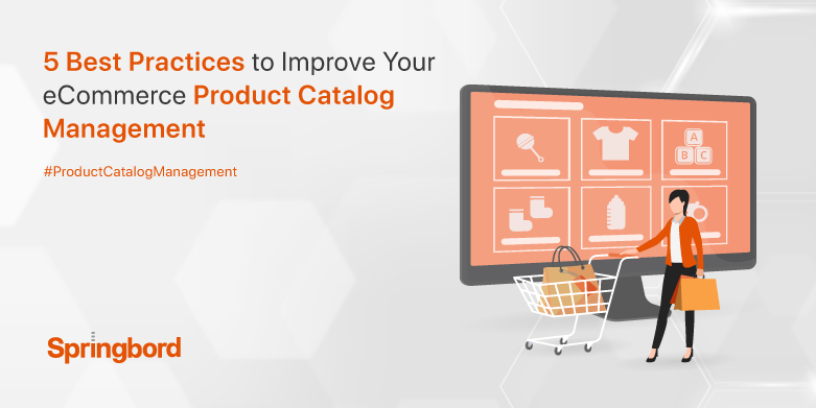 Read time

3

min
Managing your product catalog is an art! It requires knowledge and expertise in order to achieve conversion and sales. What can you do to hit your target and meet customers' expectations? Here is the answer! Develop new ways and strategies and follow the best approaches that will do good for your business. Not sure of how to start the play? This blog will take you through the 5 best practices that you can implement to see good sales and revenue.
Keep your product data up-to-date
E-commerce is rapidly growing with many new products reaching the store almost every day. In such a case, maintaining your product catalog may be challenging for you. But with experts at your reach, you can do that with ease. What does it mean to keep your catalog up-to-date? Simple! Keep tabs on the product availability, color options available, price, and so on. If your catalog is not updated on a regular basis you may lose your credibility and ultimately your customer. No customer wants to see a product catalog that gives them less or false data. So ensure you provide only relevant and true information to your customers by updating your product catalog every now and then.
Use amazing images and videos
A bright and high-quality image is sure to catch everyone's attention at first sight. Make sure you use visuals that are captivating, functional, and highly detailed. A customer who gets impressed with your images is sure to return to your page more often. Use features such as image zoom that will help your customers know more about the product and also gives them the touch and feel experience. Do not stop just there. It is no fault to use product videos. A rare or complex product or even a simple, daily-use item when published with videos that show various angles or the operation of the product will be beneficial for the customer when purchasing your product.
Add tags and categorize your product rightly
Tags when added to a product will make it easy for your customer to find it online. It is also one of the best approaches to seeing a good number of footfalls. These product tags will help in identifying a product and simplify the search. Also, make sure you are categorizing it rightly. Check the taxonomy and see that the products are mapped to the right tree. Create filters to refine the search, for instance, you can add filters to color, pattern, price, size, etc. Doing this will help your business soar and offer your customers the ultimate shopping experience.
Up-sell and cross-sell products
This is for sure a feature that will give mutual benefits. Yes, you read that right! When you up-sell and cross-sell products that are relevant to the search or items in the shopping cart you mean you're tempting your customer to shop more. In this way, they will also get to know about the product and how and why they should be buying along with it. There are chances that a customer may not be aware of the accessories or the item that their actual product needs. Up-selling and cross-selling it does the business for you. But make sure you don't deceive your customers by promoting irrelevant items.
Offer personalized experience
We all like personalization in some form or the other. Be it gifts, food items, dresses, or jewelry. This is the same as that. When you provide a personalized shopping experience to your customers you actually please them and make them feel special. This is how catalog personalization works! Tailor the page to show offers and products based on their search history, last purchase, etc, and know your customers' expectations well ahead. This will help in conversion and also in boosting sales.
Conclusion
Now that you know how to efficiently improve product catalog management. A well-organized product catalog not only makes things easy just for you but for your customer too. This structure will lend a helping hand to bring your business to great heights. If you think this is tricky and time-consuming and want an expert to scale up your business, reach out. We at Springbord, have a pool of experienced professionals who have worked on various such projects and can deliver you quality work.