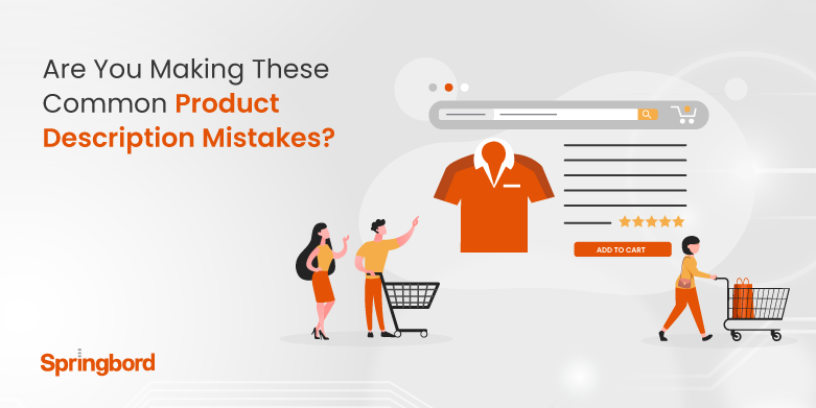 Read time

3

min
We all know the power of a smashing good product description. When shoppers are contemplating spending their money on a product or service, it is what your business communicates and how your business communicates that becomes the deciding factor. When your product description stands out and manages to connect with the shopper, and makes them feel like they not only want it, but need it, that's when you know you have got the perfect pitch.
Sounds easy enough, right? Well, not exactly. Never underestimate the destructive nature of a bad product description. A poorly written product description leads to lower conversion rates and negative reviews of your brand. Nobody wants that. So, have a look at a few of the most common product description mistakes that you can avoid while writing yours.
Bad grammar and spelling mistakes
Before you wonder, yes, shoppers do look at grammatical errors and spelling mistakes. A poorly written description with major typos looks extremely off-putting and the reputation of your business and your brand may plunge to an all-time low. A grammatically correct product description can never be substituted, so it is always good to proofread your description before publishing it.
Monotonous language
Reading product descriptions should never feel like you are reading out of a dictionary. Dull and monotonous language is exceptionally unappealing. Shoppers stay on your website for only a few minutes, so you need to have content written in a language that is interesting and captivating enough to make them stay longer.
No emotional connection
Many businesses forget to add an emotional touch to their description. Emotions are what connects to people. It is what leaves a lasting impression in the customers mind about your brand. Adding a personal touch in your description forges a bond between your brand and the consumer. This bond is what creates loyalty and increases sales.
Too little or wrong information
Shoppers need all their queries and confusions to be sorted out before they make their purchase. So, if your description is too little or wrong, it will leave the shoppers disappointed and in search for their needs elsewhere.
Too much information
Too much information can sometimes be overwhelming. When a shopper looks at your product description and sees too much information, they would not even bother to read it and would scroll past by. Since customers usually scan the page for relevant information, you can use bullet points to write your product descriptions. This makes it easier to read and quickly understandable.
No target audience
A very common mistake amongst all businesses alike. Many brands feel that writing product descriptions that appeal to a variety of consumers is the key to more sales and conversion rates. But in reality, it does the exact opposite. A generic product description, without any specific focus, would fail to resonate with any consumer. So, understanding your target audience and writing descriptions specifically for them will improve the quality of your content and attract shoppers.
No Call to action
Another common mistake made by brands. It is only obvious to assume that if they love the product description, then they will buy the product. Remember that a product description is nothing but a product sales pitch, so it is important to add a call to action to your description. This will reel customers in to make them buy right away, instead of delaying it and then forgetting about it and not buying altogether.
No social proof
If your product does not have any real customer reviews of the product, the chances of conversions reduce drastically. Humans are social animals and make a habit of following other people. A social proof of your product is very important because it is tremendously influential and will be compelling enough to make a sale.
If you think you are struggling with coming up with the perfect product description devoid of mistakes, don't worry, Springbord's got it covered for you. We have a team of expert professionals who will ensure that your products have descriptions that will make shoppers coming back for more. Have a look at our website to know more.