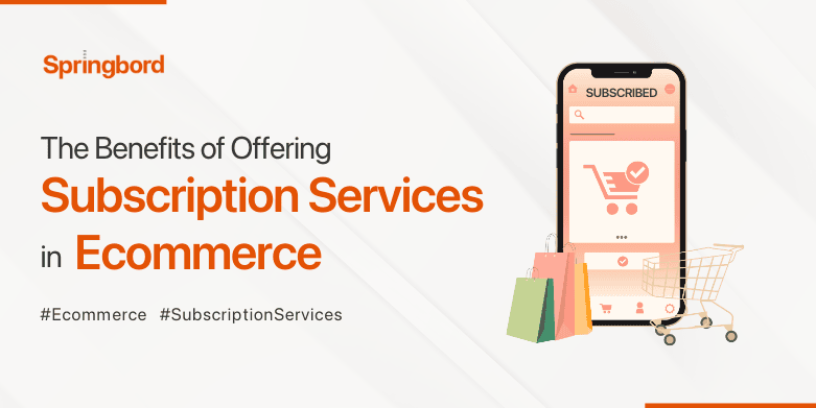 Read time

9

min
In today's rapidly evolving business landscape, companies are constantly seeking innovative ways to stay ahead of the competition and meet the ever-changing needs of consumers. One such strategy that has gained significant momentum in recent years is offering subscription services in e-commerce.
By embracing this approach, businesses can tap into a host of benefits that can transform their operations and enhance customer satisfaction. In this blog, we will explore the advantages of offering subscription services in ecommerce and delve into the key considerations for successful implementation.
Introduction:
The digital age has revolutionized the way consumers interact with businesses. As technology continues to shape our lives, the traditional concept of ownership is gradually being replaced by the desire for convenient access.
This shift in consumer behavior has given rise to the subscription economy, where customers seek out flexible and personalized experiences without the burden of long-term commitments. As a result, ecommerce businesses are capitalizing on this trend by offering subscription services that provide a wide range of benefits for both companies and customers.
Changing Consumer Landscape
2.1 The Rise of the Subscription Economy
The ecommerce landscape has undergone a significant transformation with the rise of the subscription economy. Increasingly, consumers are shifting from one-time purchases to subscribing to products and services on a recurring basis. This shift is driven by factors such as convenience, cost-effectiveness, and the desire for personalized experiences.
---
2.2 Consumer Preferences and Behavior
Today's consumers seek convenience and flexibility in their shopping experiences. They value hassle-free purchasing processes and prefer to avoid the repetitive task of reordering products. Subscription services provide a seamless and automated solution, allowing customers to receive products regularly without the need for repetitive ordering.
---
2.3 Shifting from Ownership to Access
The traditional model of ownership is gradually giving way to a preference for access. Consumers are moving away from owning physical products and towards accessing them as services. Subscription services align perfectly with this shift by offering customers access to a wide range of products and services without the burden of ownership. This change in mindset opens up new opportunities for ecommerce businesses to tap into this growing market.
Benefits of Subscription Services
3.1 Customer Retention and Loyalty
Subscription services foster long-term relationships with customers, leading to improved retention rates and enhanced customer loyalty. By providing a seamless and convenient shopping experience, businesses can establish a stronger connection with their customers, making it more likely for them to continue subscribing. This loyalty translates into recurring revenue and increased customer lifetime value.
---
3.2 Revenue Stability and Predictability
One of the key advantages of subscription services in ecommerce is the stability and predictability of revenue. With a steady stream of recurring payments from subscribers, businesses can better forecast their cash flow and make informed decisions about inventory, marketing, and expansion. This stability provides a solid foundation for sustainable growth and reduces the reliance on one-time purchases.
---
3.3 Enhanced Customer Experience
Subscription services enable businesses to deliver a personalized and tailored experience to their customers. By understanding customer preferences and purchase histories, ecommerce companies can curate customized product recommendations and exclusive offers, fostering a sense of exclusivity and delight. This level of personalization enhances the overall customer experience and encourages long-term engagement.
---
3.4 Data-driven Insights and Personalization
Subscription services generate a wealth of data about customer behavior, preferences, and consumption patterns. By leveraging this data, businesses can gain valuable insights into their customers' needs and preferences. These insights can be used to optimize product offerings, marketing campaigns, and customer interactions, ultimately driving higher conversion rates and customer satisfaction.
---
3.5 Scalability and Growth Potential
Subscription services have inherent scalability, as they are not limited by the constraints of traditional retail models. With each new subscriber, the revenue base expands, and businesses can easily accommodate growth by adjusting their operations and supply chains. Furthermore, the subscription model encourages upselling and cross-selling opportunities, allowing businesses to maximize their revenue potential.
Exploring Outsourcing Opportunities
4.1 Understanding Outsourcing in Ecommerce
In the fast-paced world of ecommerce, outsourcing has become a strategic approach for businesses to streamline operations and enhance their competitive edge.
By outsourcing subscription services, companies can leverage specialized expertise and resources to deliver exceptional customer experiences while focusing on their core competencies.
---
4.2 Advantages of Outsourcing Subscription Services
Outsourcing subscription services in ecommerce offers several key advantages that contribute to the growth and success of businesses.
Improved Cost Efficiency: Outsourcing subscription services allows companies to avoid significant upfront investments in infrastructure, technology, and human resources. By partnering with a service provider, businesses can benefit from economies of scale and cost-sharing arrangements, resulting in reduced expenses.
Access to Specialized Expertise: Subscription services require a deep understanding of customer acquisition, retention strategies, and revenue optimization. Outsourcing to a specialized partner grants access to a team of experts who possess the knowledge and experience to design and implement effective subscription models, pricing strategies, and customer acquisition tactics.
Scalability and Flexibility: As businesses grow, their subscription service requirements may fluctuate. Outsourcing enables scalability, allowing companies to quickly adjust service levels based on demand. A reliable service provider will have the capacity to handle increased volumes and ensure a seamless customer experience during peak periods.
Faster Time-to-Market: Launching a subscription service can be time-consuming, requiring extensive planning, development, and testing. By outsourcing, businesses can tap into a service provider's established infrastructure and processes, significantly reducing time-to-market. This advantage is particularly crucial for companies aiming to capitalize on market trends and gain a competitive edge.
Enhanced Focus on Core Competencies: By outsourcing subscription services, businesses can free up internal resources and focus on their core competencies. Instead of allocating time and effort to non-core activities, companies can concentrate on product development, marketing strategies, and overall business growth.
---
4.3 Selecting the Right Outsourcing Partner
Choosing the right outsourcing partner is crucial for the success of an ecommerce business offering subscription services. Consider the following factors when selecting a partner:
Industry Expertise: Look for a service provider with a proven track record in ecommerce and subscription services. They should have a deep understanding of your industry, target audience, and the unique challenges faced by subscription-based businesses.
Technology Capabilities: Assess the service provider's technology infrastructure, ensuring that they have the necessary tools and platforms to support your subscription services effectively. This includes robust billing systems, customer management platforms, and analytics capabilities.
Scalability and Flexibility: Ensure that the outsourcing partner has the ability to scale their operations according to your business requirements. They should be equipped to handle both current and future growth, allowing for seamless expansion as your subscription base increases.
Service Level Agreements (SLAs): Establish clear SLAs with the outsourcing partner, outlining performance expectations, response times, and key metrics. This ensures accountability and helps maintain service quality throughout the partnership.
References and Client Testimonials: Request references and seek feedback from other businesses that have outsourced subscription services to the provider under consideration. Client testimonials can provide valuable insights into the partner's reliability, expertise, and customer service.
Best Practices for Implementing Subscription Services
5.1 Identifying the Right Subscription Model
When implementing subscription services, it's essential to choose the most suitable subscription model for your business and target audience. Consider factors such as pricing structure, frequency of delivery, and value proposition. Common subscription models include:
Product-Based: Customers subscribe to receive physical or digital products on a regular basis.
Membership: Subscribers gain exclusive access to premium content, services, or perks.
Software as a Service (SaaS): Customers pay a recurring fee to access cloud-based software applications and updates.
Curation: Subscribers receive customized selections of products or experiences based on their preferences.
Hybrid Models: Combining multiple subscription models to offer a comprehensive and personalized experience.
---
5.2 Pricing Strategies and Revenue Optimization
Pricing is a critical element of a successful subscription service. Consider these strategies to optimize revenue and maximize customer value:
Tiered Pricing: Offer multiple subscription tiers with different levels of benefits and features to cater to various customer segments.
Free Trials and Freemium: Provide a free trial period or a limited free version to entice potential subscribers and showcase the value of the service.
Annual Billing: Encourage longer-term commitment by offering discounted rates for annual subscriptions, boosting customer retention and cash flow.
Upselling and Cross-Selling: Present opportunities for subscribers to upgrade to higher-tier plans or purchase complementary products or services.
---
5.3 Customer Acquisition and Onboarding
Effective customer acquisition and onboarding processes are vital for the success of a subscription service. Consider the following best practices:
Targeted Marketing: Identify and target specific customer segments through personalized marketing campaigns, leveraging data analytics and customer insights.
Seamless Onboarding: Streamline the onboarding process by providing clear instructions, user-friendly interfaces, and intuitive account management features.
Value Communication: Continually communicate the value and benefits of the subscription service through engaging content, testimonials, and customer success stories.
---
5.4 Retention Strategies and Churn Management
Retaining subscribers is key to the long-term profitability of a subscription service. Implement these strategies to reduce churn:
Proactive Engagement: Regularly engage with subscribers through personalized communication, exclusive offers, and loyalty programs.
Usage Metrics and Insights: Monitor customer behavior and usage patterns to identify at-risk subscribers and take proactive measures to retain them.
Customer Support: Offer responsive and efficient customer support channels to address queries, concerns, and technical issues promptly.
---
5.5 Leveraging Technology and Analytics
Leverage technology and analytics to enhance the performance and optimization of your subscription service:
Analytics and Reporting: Utilize data analytics to gain insights into customer behavior, subscription trends, and revenue metrics. Use these insights to refine marketing strategies, pricing models, and customer experiences.
Automated Processes: Implement automation tools to streamline billing, subscription management, and customer communications, ensuring accuracy, efficiency, and scalability.
By implementing these best practices and considering the benefits of outsourcing subscription services, ecommerce businesses can unlock new revenue streams, improve customer satisfaction, and gain a competitive advantage in the ever-evolving digital landscape.
Overcoming Challenges and Mitigating Risks
6.1 Addressing Customer Concerns
Subscription services in ecommerce offer several benefits that can help businesses overcome customer concerns and enhance their overall experience. By providing a subscription model, businesses can offer customers a convenient and hassle-free way to access their products or services regularly. This ensures a seamless experience for customers, as they no longer need to remember to make individual purchases or worry about running out of supplies.
Moreover, subscription services often come with added benefits such as discounts, exclusive offers, and personalized recommendations based on customer preferences. These incentives not only attract new customers but also foster loyalty among existing ones, leading to increased customer retention rates.
For instance, consider an online grocery store that offers a subscription service for regular grocery deliveries. By addressing customer concerns related to the time and effort involved in visiting a physical store or placing individual orders, the business can provide a convenient solution that meets the needs of busy customers. This approach helps build trust and encourages customers to rely on the subscription service for their grocery needs.
---
6.2 Managing Operational Complexities
Implementing subscription services in ecommerce requires businesses to effectively manage operational complexities. From inventory management to fulfillment and logistics, various factors need to be considered to ensure smooth operations.
One major advantage of outsourcing subscription services is the ability to leverage the expertise and resources of specialized service providers like Springbord. Outsourcing allows businesses to focus on their core competencies while relying on the experience and infrastructure of a dedicated subscription service provider.
Outsourcing enables businesses to tap into the provider's established systems and processes, including order management, inventory forecasting, and delivery logistics. This reduces the burden on the business and ensures efficient operations, even during periods of high demand.
---
6.3 Ensuring Data Security and Privacy
Data security and privacy are of paramount importance in ecommerce, particularly when handling sensitive customer information such as payment details and personal preferences. Businesses must ensure that their subscription services are built on a secure foundation to protect customer data from unauthorized access or breaches.
Outsourcing subscription services to a reliable and trusted service provider like Springbord can help mitigate the risks associated with data security. These providers have robust security measures in place, including encryption protocols, secure payment gateways, and compliance with relevant data protection regulations.
By outsourcing subscription services, businesses can benefit from the provider's investments in advanced security technologies and expertise in maintaining data privacy. This reassures customers that their information is in safe hands, further enhancing their trust and confidence in the business.
Conclusion:
In conclusion, the benefits of offering subscription services in ecommerce are undeniable. By embracing this innovative business model, companies can foster customer loyalty, achieve revenue stability, and provide enhanced experiences that meet the evolving needs of consumers.
However, successful implementation requires careful consideration of best practices, outsourcing opportunities, and overcoming potential challenges. To unlock the full potential of subscription services, businesses must strive for continuous improvement, leverage technology and data-driven insights, and prioritize customer satisfaction.
If you're ready to transform your ecommerce business and reap the rewards of subscription services, reach out to Springbord, your trusted partner in navigating the exciting world of ecommerce subscriptions. Start your journey today and revolutionize your business for a prosperous future.