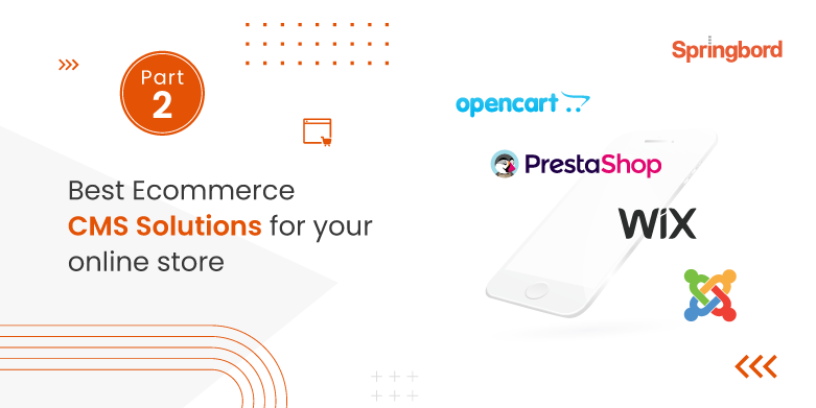 Read time

2

min
This is the second part of the two-part blog about CMS Solutions for E-commerce services. (You can read the first part here that talked about other CMS solutions such as Shopify, Magento, BigCommerce, and WooCommerce.)
OpenCart
OpenCart is a lightweight, open-source CMS platform that is multifunctional, free to use, and upgrade. It has numerous templates that can be quickly set up apart from an impressive plugin marketplace. OpenCart also integrates with over 20 payment gateways and a variety of shipping methods. This CMS platform helps manage and view all customers, sales, orders, sales analytics, etc from a single dashboard. Enjoy the ease of managing multiple stores from a single admin interface. Not just that, it also helps backup and restores all data in cases of emergencies. You can also easily update and edit your products, catalogs, categories, etc.
PrestaShop

PrestaShop is an open-source, freemium, and downloadable E-commerce CMS platform that allows you to manage your online store in real-time. As per PrestaShop, over 300,000 e-businesses worldwide are using this platform. With over 275 features to help manage store, products, marketing, reporting, etc., this CMS solutions provider is popular for the ease of installing, using, and upgrading. You can determine your level of technical control over the business by selecting a fully-hosted or self-hosted version. You can create categories basis customer behavior, customize the message for out-of-stock products, and offer discounts on various products. Apart from the sleek built-in functionality of PrestaShop, you can also extend the platform through plugins and themes.
Wix
Wix is extremely popular as the 'beginner-friendly CMS' and for good reasons. Its drag and drop interface makes it really easy to create website pages that impress your customers without costing you a lot. You have a bunch of pre-made templates you can choose from – they are fully responsive, hence the best choice for all devices such as mobiles, laptops, and PCs. You can also add loads of apps to your online portal from Wix App Market (these apps work like WordPress's plugins). Wix's multiple built-in features and a no-code approach make it an appealing option for beginners and non-coders.
Joomla
 Joomla is yet another popular open-source content management platform that helps users build websites. Although E-commerce isn't part of its core functionality, Joomla features many free extensions that can help you modify your online portal into an eCommerce store. As all other CMS platforms discussed in this blog, Joomla also has lots of templates and extensions to choose from. In fact, many web hosts offer a simple 1 click installation. If you're looking to build something bespoke or complicated, Joomla is your choice for the flexibility and choices it offers. As it is open-source, you get ample community support in case of glitches or issues.
Conclusion
Choosing the best eCommerce CMS solution for your E-business is tied to various influencing factors, such as the size and maturity of your business, the products you sell, your content strategy, your sales volume, and your business goals. Our two-part blog on CMS platforms for E-commerce services will help you choose the best Ecommerce CMS Platforms for your business.