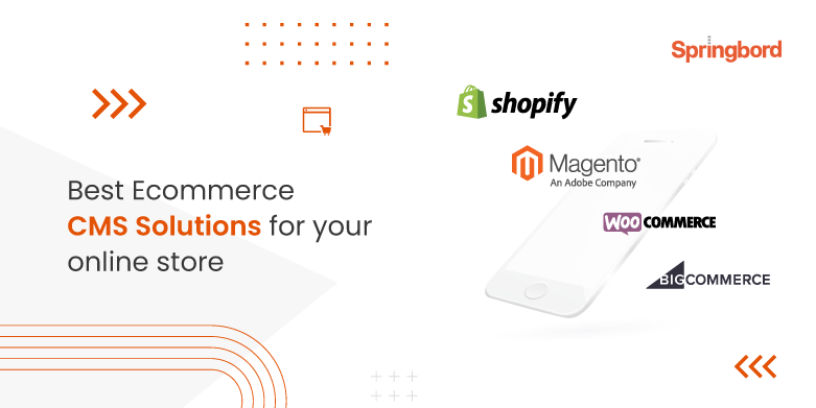 Read time

2

min
According to Statista, global retail e-commerce sales will reach $6.54 trillion US by 2022, which is twice more than in 2019. Numerous businesses are moving sales online and the competition in the online market is fierce. To survive, succeed and sustain in today's eCommerce market, your online business needs to be fast, affordable, and easy to use. To achieve this, most smart businesses will opt for a Content Management System CMS) solution for E-commerce services. Wondering which CMS platform to choose for your online business?
Here are the top four Ecommerce CMS Solutions:

Shopify
Shopify is unofficially the crowd favorite and makes it a point to manage every aspect of your E-commerce content. It allows even beginners to build eCommerce websites without the need for coding and doesn't involve any software installations or hosting services.
Business owners can set up their own online stores, manage all their products and orders in a single dashboard. Shopify's biggest advantage is the free integration with eBay and Amazon without custom code.
Magento
Magento is a popular open-source eCommerce platform that is widely known for its 'drag and drop' technology. It supports businesses of all sizes and consistently meets business needs for B2B, Mobile Commerce, Omnichannel, etc. Apart from its functionality and a diverse extension marketplace, Magento's prime advantage is the seamless integration with various enterprise-level software such as ERP, CRM, chatbots, etc.
WooCommerce
WooCommerce is currently the world's most popular E-commerce CMS Solutions with about 28.24 percent market share as of April 2020. With over 1300 eCommerce themes and almost 300+ free/paid extensions, WooCommerce is an instant favorite for those looking for easy customization and simple installation. It is built on WordPress so personalization is the second nature of the CMS platform and works perfectly for online businesses. There are product plug-ins that the customers can use to customize the product they're shopping for on your online store. You can also add dropdowns, checkboxes, sample images, and more to ensure your customers get the exact product with less hassle.
BigCommerce
BigCommerce is indeed one of the big players in CMS solutions for E-commerce service providers. It supports more than 60,000 merchants worldwide and offers a powerful platform that facilitates the quick growth of the online business. Apart from the wide range of built-in features and CMS functionalities, BigCommerce is also known for its advanced SEO integration. From catalog management to order processing to inventory management to payment gateways, BigCommerce helps you manage every operation efficiently and with minimum effort.
This is the first part of a two blog series on CMS solutions for Ecommerce services. We are bringing the second part shortly. Talk to us to know more about the our ecommerce services.